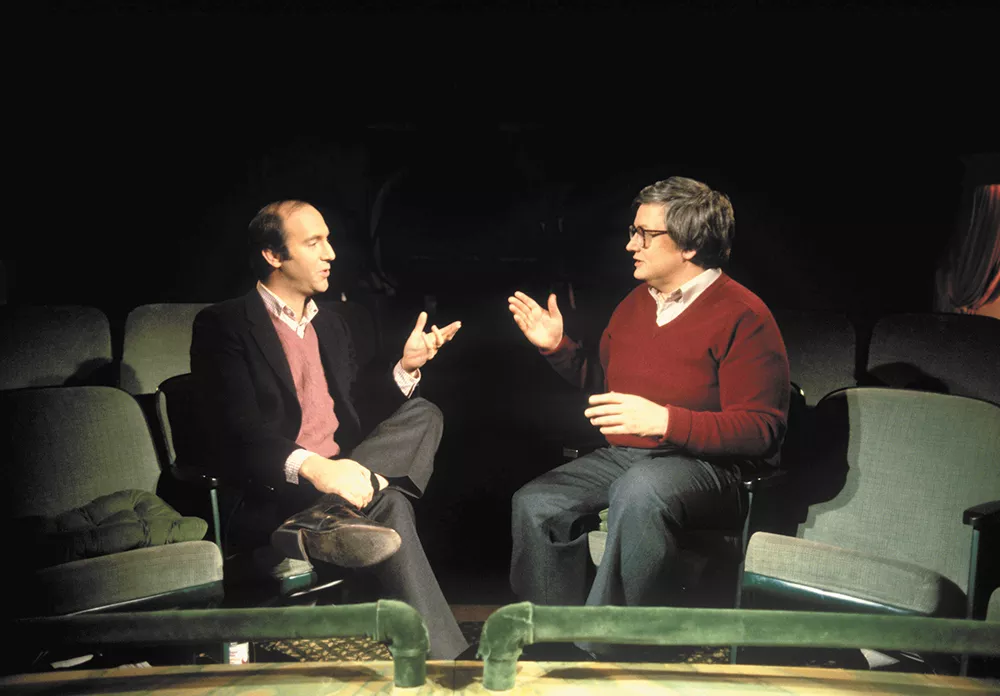 Softcore-porn filmmaking king Russ Meyer, who really admired Roger Ebert, used to tell me stories about wining and dining him, as well as setting Ebert up with some of his zaftig friends ("zaftig," not surprisingly, was one of Meyer's favorite words). Meyer lived in an A-frame, where he would be upstairs cooking while Ebert was downstairs working on the screenplay for Beyond the Valley of the Dolls. As Meyer cooked, Ebert typed. Whenever the typing stopped, Meyer would scream down, "Ebert, keep writing!" until the typing started again.
Possibly the best known, most widely followed popular film critic in America, there Ebert sat in Meyer's carefully crafted shrine to the overwhelming ampleness of female breasts, writing one of the great underground classics of mainstream-American studio filmmaking. Rather than a contradiction, this is an indication of the extraordinary range of interests and talents Ebert possessed.
This deeply loving documentary by the gifted Steve James (Hoop Dreams) evokes the man, husband, friend, critic, TV celebrity and writer, and captures and celebrates an extraordinary human being.
Ironically, Ebert — the movie critic for the Chicago Sun-Times — first found a national audience with a biting attack on George Romero's Night of the Living Dead, just two years before he authored Beyond. In 1975, he joined Gene Siskel, reviewing movies on TV and changing the course of his career and American film criticism. Although decidedly mainstream, the bottom line was that both critics loved movies, with Ebert invariably embracing the more ambitious, obscure, difficult and independent productions.
This documentary, intimately detailing the last years of Ebert's life, not only inspires and entertains, but presents a more fully realized portrait of Ebert than I'd ever encountered. It is in love with its subject; it's hard not to be. Being a study of Ebert, it is, by necessity, also a film about movies.
Eloquent, it is surprisingly moving and beautifully structured. There is a scene in which the filmmaker Ramin Bahrani, whose work Ebert championed, is talking to him in the hospital and relaying Werner Herzog's compliments to Ebert. As Bahrani imitates that familiar German accent, the film cuts to Herzog himself talking about what a soldier for film Ebert was. It is a purely cinematic moment that sent chills running down my spine. Appropriate to this man, who lived his life for films, is this movie that transcends subject and form to get at a portrait that is not just intimate and revealing, but cinema-loving, life-affirming and inspiring. ♦