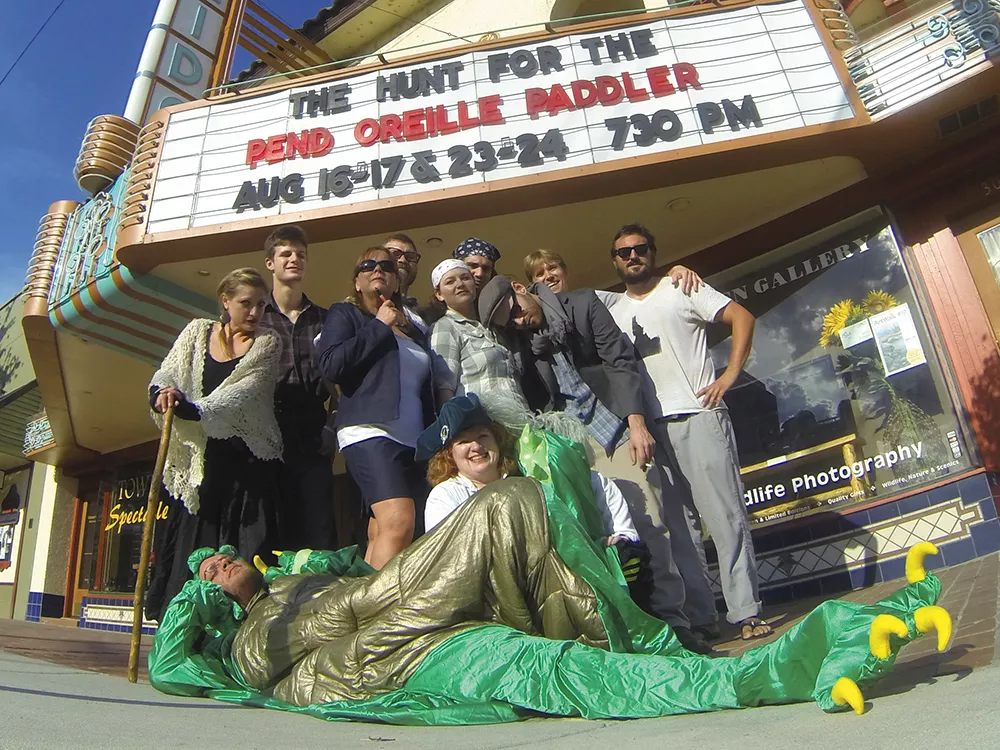 Ben Olson hasn't stopped pushing for social change in his native Sandpoint; he's just altered the form it takes. Instead of rolling the rock uphill — like Sisyphus in the Greek myth or Albert Camus' existential antihero — Olson has channeled his passion and angst into his music, his photography, and especially his writing.
"I have this stubborn, atavistic desire to keep my town real, to forbid any changes that pull us closer to douchebaggery, to resist the influence of money and development," says Olson.
His involvement with the Sandpoint Reader from 2004-08 (the newspaper closed in 2012) honed his journalistic skills and provided a ready forum for his musings (some would say rants). His reputation as a gadfly climaxed in 2008 during an only slightly tongue-in-cheek Airsoft pistol duel between himself and former city councilman John T. Reuter.
Now his activism comes in the form of writing, says Olson, whose first theatrical production, Death of a Small Town in the West, was about a rich developer planning to bulldoze the town. Consider his band, Harold's IGA, named for a longtime Sandpoint grocery store leveled to make way for a behemoth bank building.
After Death, Olson lightened up a bit with Sperm! The Musical, highlighting infertility, but also touchy subjects like abortion and genetic modification.
Although Olson says he doesn't like musicals, music is another matter.
He writes music, sings — slightly nasal and raspy but pleasant, like weathered, rough-hewn wood — and plays guitar for Harold's IGA. They perform locally, occasionally in Portland or Seattle, sometimes featuring up-and-comer Holly McGarry.
Some songs, like "Western Heroes?" carry political overtones about historically important and controversial figures, such as "Unabomber" Ted Kaczynski and Industrial Workers of the World founder Bill Haywood. Others, like "Lighthouse Man," might remind you of Jakob Dylan's overcast soulful stylings, peppered with unusual instruments like the xylophone, accordion, ukulele, and banjo.
He wrote a few songs for his next production, The Hunt for the Pend Oreille Paddler, which runs Aug. 16-24 at the Panida Theater. It follows four residents of Northsaint (Sandpoint's doppelgänger), all intent on ferreting out the monster from the lake believed responsible for the death of a local fisherman.
The idea for the play came from regional folklore. "There have always been lots of explanations for the supposed lake monster," says Olson. "A submarine, a giant sturgeon, a strange wave phenomenon, a floating log."
But it was a conversation with someone convinced the creature was real that piqued Olson's interest in turning the story into a play. It's rife with campy humor and a few musical numbers, which Olson describes as "fairly absurd, sometimes lewd, and always atypical for what you would expect in a play."
Olson's way of railing against the absurdities in life, sometimes, is to embrace them, turn them on their ear.
"I don't want to write a play that is like anything else... in fact, I want to write a play that people who don't like plays can enjoy," he says, admitting he had zero theater experience and crediting actor-turned-director Andrew Sorg with being his "ace in the hole."
"He is an inexhaustible force in the theater world who I give full credit to when the play comes out great," says Olson of Sorg. "I also blame him when it doesn't."
Like his writing, Olson's photography is straight-up, unsentimental and a bit quirky, like the black-and-white that photos landed him in the Tinman Gallery's 2011 "20 Under 40" juried exhibition.
"Stylistically, I've always been drawn to odd, morose photographic styles" and portraiture like that of Walker Evans and Mike "Disfarmer" Meyer, says Olson, whose interest in photography kicked in with Mark Story's Living in Three Centuries project. Olson's job for Story's photographic catalog of centenarians, which received awards from Photo Review and Lucie International, was to travel across the U.S. in search of subjects, then help Story shoot the photos.
"It's all part of the same output; photography, writing, playing music... I've got something inside that needs to get out," says Olsen. "Someday, when I merge them all together into one final form, it might be good enough to break down the barriers. For now, I'm content to keep learning, keep honing my craft."
The Hunt for the Pend Oreille Paddler • Panida Theater • 300 N. First Ave., Sandpoint, Idaho • Fri-Sat, Aug. 16-17 and Fri-Sat, Aug. 23-24 at 7:30 pm • $10 advance/$12 at the door • (208) 263-9191 • panida.org