ORMSBY OUT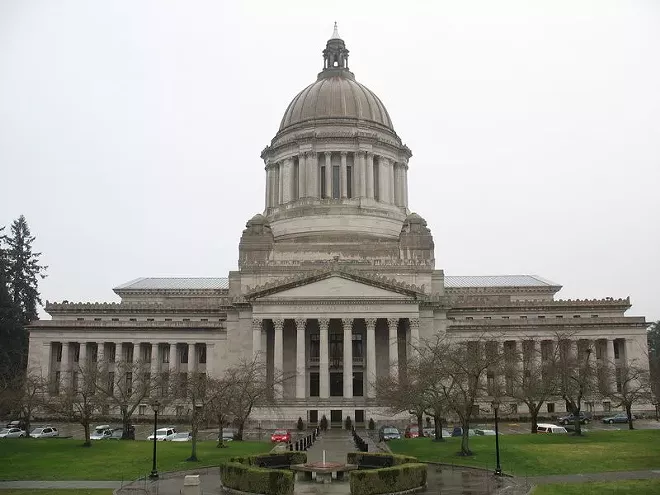 Last week, MIKE ORMSBY stepped down from his post as U.S. Attorney for the Eastern District of Washington.
Ormsby and numerous other top federal prosecutors resigned after the Trump administration called for 46 prosecutors appointed under the Obama administration to leave office.
Ormsby was appointed by President Obama and confirmed in 2010.
The move to sweep federal prosecutors' offices of the previous administration's appointees is not necessarily unusual for a new administration, though some past presidents have allowed holdover U.S. Attorneys to stay on until the new nominee is confirmed. Career prosecutor Joseph Harrington will serve as the Acting U.S. Attorney for the Eastern District until the Trump administration chooses a permanent replacement. Harrington, a graduate of Gonzaga Law School, has worked for the Eastern District of Washington for more than two decades.
It's unclear if Trump or U.S. Attorney General Jeff Sessions have a permanent replacement in mind, though at least three local jurists have expressed an interest: Spokane County Prosecutor Larry Haskell, Spokane County District Court Judge Vance Peterson and former U.S. Attorney Bill Hyslop.
Haskell is an Air Force veteran who took over the Spokane County Prosecutor's Office in 2015. He bills himself as a tough-on-crime guy with nearly 20 years of experience in criminal prosecution.
Peterson is an Army veteran with 26 years of experience as a judge. In 2010, he founded a specialized local court dedicated to helping veterans caught in legal trouble.
Hyslop served as the U.S. Attorney for the Eastern District from 1991-93 as a George H.W. Bush appointee. He has practiced law in Spokane for 37 years and recently served as president of the Washington State Bar Association. (MITCH RYALS)
RIGHTS OF RAPISTS
Under current Washington law, a rape survivor who gets pregnant and decides to keep her child can be forced to CO-PARENT WITH HER RAPIST, but lawmakers are trying to change that.
House Bill 1543, which passed the House 94-2, allows for parental rights to be terminated if a victim can provide clear, cogent and convincing evidence that the person seeking parental rights raped or sexually assaulted them, resulting in the pregnancy, rather than having to show a conviction.
The bill is now before the Senate's Law and Justice Committee, which is chaired by Sen. Mike Padden, R-Spokane Valley.
"'Clear and convincing evidence' is the right standard of proof for these kinds of cases," argues Sara Ainsworth, advocacy director of Legal Voice, a progressive feminist organization that pushes for legislative changes, and Andrea Piper-Wentland, executive director of the Washington Coalition of Sexual Assault Programs.
"It's the same standard Washington state courts use in all other termination of parental rights cases. And if a rape conviction were required, the law would not protect the vast majority of rape survivors and their children," the two write in an editorial supporting the bill.
Most rape victims never report, and when they do, rape prosecutions and convictions are "notoriously low," Ainsworth and Piper-Wentland explain.
Out of every 1,000 rapes, 310 are reported to police. Of those, only 7 will lead to a felony conviction, according to statistics compiled by the Rape, Abuse and Incest National Network. (SAMANTHA WOHLFEIL)
The original version of this story mistakenly said Spokane Rep. Mike Volz voted against House Bill 1543. He was absent for the vote.