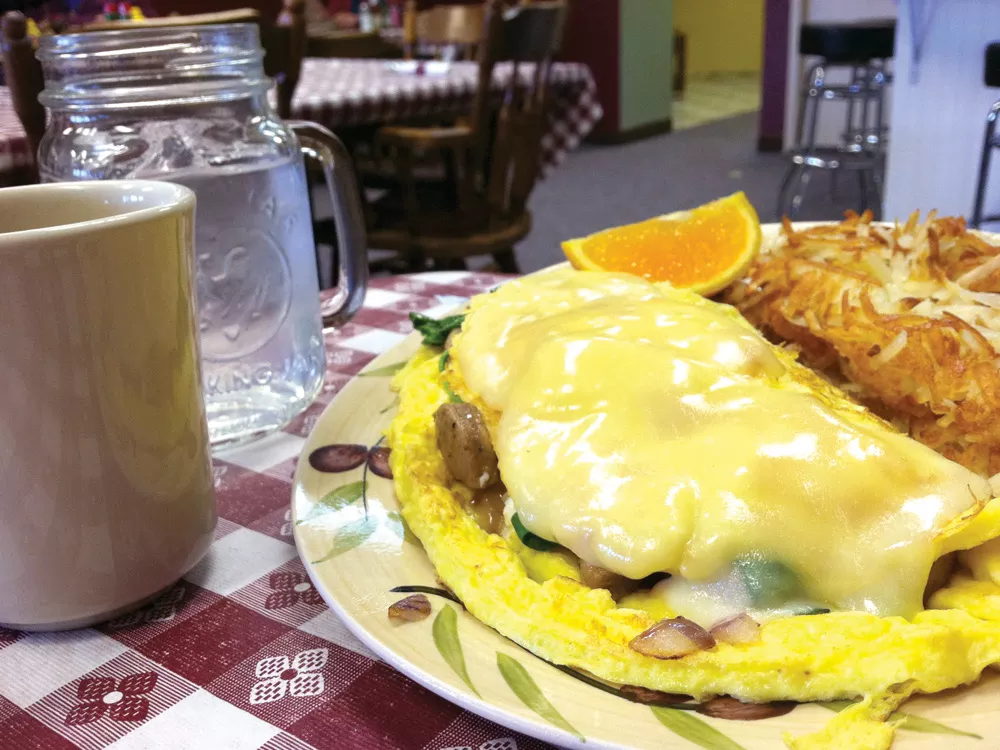 As a little girl growing up in Spokane, Kari Turnbough learned to cook on a woodstove in her Grandma Zula's kitchen. While her new Post Falls restaurant, appropriately called Grandma Zula's Kitchen, isn't an exact replica, it does include a woodstove. And knick-knacks on the walls. Water is served in mason jars. And menu items are homemade, comfort-food goodness.
"My grandma loved cooking for people, and I think I inherited that trait," says Turnbough.
That means from-scratch baked goods — wheat bread, rye, sourdough, sandwich buns, even biscuits (wheat or white), with homemade gravy ($5-$7). Griddlecakes are made with real buttermilk ($4-$7) while the Johnny Apple Cakes include red applesauce and a honey-cream cheese topping ($7).
You can taste the fennel and pepper in Turnbough's specially seasoned sausage, featured in the Little Italy omelet — which comes complete with tomato, spinach, onion, provolone and ricotta ($8). Breakfast side options include "endless" hash browns — perfectly crisp and lightly seasoned — without even having to ask. Or grits, which are more common to Missouri breakfast joints — which is where Grandma Zula (and Grandpa Elmer) lived before moving to the Inland Northwest.
The lunch menu features an assortment of salads, deli sandwiches and one-third-pound burgers, all under $8.
What intrigues us, however, are quirky menu items like Grandma Zula's Best Burger with fried egg ($6.50). The sweet BBQ Pulled Pork is topped with slaw and melted pepper jack for that sweet-hot kick ($7.50). And as if pot roast isn't already a mouthful of comfort, here it's topped with grilled onions and melted Swiss cheese ($8.50).
Look for espresso being served in the currently vacant front room of this former Wooden Shoe location, as well as the possibility of dinner service. We're pretty sure Grandma Zula would be plum tickled. (Carrie Scozzaro)
Grandma Zula's Kitchen • 306 N. Spokane St., Post Falls • Open daily 6 am-3 pm • (208) 457-0228
Change is Good
Eric Conte gets antsy. He says most chefs do, having to make the same things, the same way, order after order. It's why he has gone out of his way to make sure things never quite stay the same at his restaurant.

Gnosh opened in Moscow last April with a philosophy a little different from what the region is used to.

The menu rotates, featuring cuisines from all over the world. It can be a tricky process, but Conte welcomes it.
"As a chef, we have wanderlust a lot," says Conte, who has worked at some of the area's finest restaurants, including Nectar and Black Cypress. "I want to make sure that I'm forcing myself to change the menu. It makes it exciting for me and for other people, too."
Putting together Gnosh's menu is complicated. Conte must factor in what ingredients are locally available, what's in season, and how to pull off traditional methods of preparation and presentation. It involves a lot of research, a lot of adjustment and "buying a lot of books," says Conte.
Gnosh has previously showcased Hungarian, Cuban, and Caribbean cuisines, and it's currently featuring French Creole and Cajun-inspired dishes in honor of the upcoming Lionel Hampton Jazz Festival.
The small-plates portion of the menu is where the restaurant's concept really shines. Right now, diners can treat themselves to something as simple as chickpeas with Cajun spices ($2.50) or be more adventurous with a dish like the frog legs, mushroom puree, sauce piquante and dirty rice ($8).
While Gnosh may always be transforming, there are some favorites that always remain. Their array of steaks — which can be purchased a la carte or as an entrée — pretty much stay the same, save for their sides. The brined pork loin ($17.50 entrée, $13 a la carte) with roasted red pepper puree and deconstructed potato salad was a stand-out, dripping with juices and not the slightest bit tough.
Adding a much-needed vegan dish to the area, Conte also wins with his blackened cauliflower steak ($14 entrée, $7 a la carte).
Gnosh is definitely a spot to keep an eye on — it'll be exciting to see what Conte comes up with next. (Tiffany Harms)
Gnosh • 215 S. Main St., Moscow, Idaho • Open Tue-Sat, 4 pm-2 am; Sun, 10 am-2 pm, 4 pm-9 pm • gnoshmoscow.com • 208-882-7830