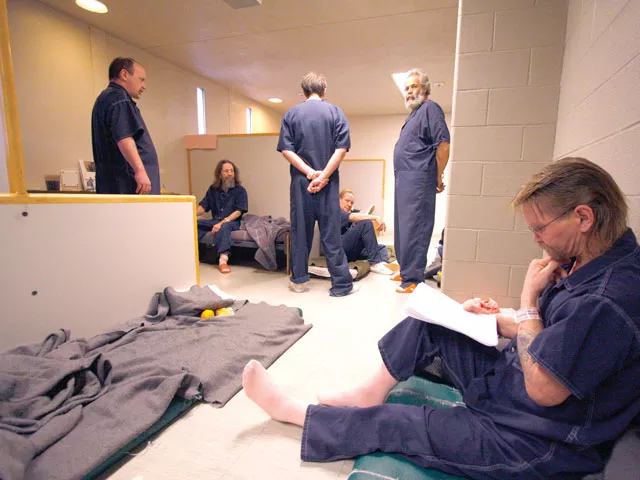 Like a runaway car approaching a cliff's edge, Spokane County is in trouble. As county commissioners prepare to adopt a $150 million budget that's still $10.5 million short, it's easy to wonder who's in the driver's seat.
Is it the commissioners, who must make the hard decisions on what to cut? Is it Tim Eyman, who was successful in convincing voters eight years ago to put a cap on property taxes, a major source of revenue for all counties? Is it the sheriff, whose department siphons off a lion's share of the county's spending? Is it the county's cities, which over the past decade have snatched tax-rich land from the county through the powerful tool of annexation?
According to Commissioner Bonnie Mager, the answer, though nuanced, is simple. "I like to call it 'Growth Management meets Eyman,'" she says. Or, put another way, everyone's driving, but nobody has control.
A Citified County

Once upon a time, the county was rich. But in 2001, voters approved Initiative 747, which capped property tax increases at just 1 percent a year. With property taxes representing almost half of Spokane County's revenues, the vote hobbled the county's ability to match incoming money with outgoing.
The same year that I-747 was first passed, Liberty Lake incorporated, and two years later, so did Spokane Valley. Before this, the number of rural folk in the county roughly equaled the number of urbanites. But in 2003, 120,000 people lived outside of cities, and 309,000 lived within. This population switch translated to real dollars. In the first year that Spokane Valley was an official city, it collected $20 million that would have gone to the county.
And when the city of Spokane annexed land that included the North Division Costco last year, the county lost $1.4 million in sales tax, says Commissioner Todd Mielke. He foresees a $2 million drop in revenue when the city and Airway Heights divvy up the West Plains — which includes a Wal-Mart. (The county will still collect some of the sales tax, just not as much: In unincorporated areas, the county collects one penny on every dollar spent; in cities, the county gets just 15 percent of a penny for the same dollar, and the city gets the rest.)
"Here's the bottom line: Revenues don't keep pace with mandated expenditures. And I underline mandated," Mielke says, pointing to services such as maintaining roads, ensuring public health and guarding elections. "We are an extension of the state. A lot of people don't recognize that."
A Medieval Mandate

The primary duty of county government, as the state sees it, is that of public safety and criminal justice: It oversees superior, district and juvenile courts, the jails, prosecution and defense teams, and the clerk's office.
But the most expensive aspect of public safety is the sheriff's office. Last year, the department was allocated $34 million, almost a quarter of the county's general fund. This year, it's facing more than $3 million in cuts, but will still represent most of the county's spending. Even as a supporter, Mielke says the justice system has come to look something like a collection of 21st-century dukedoms.
"It's the strangest government system you'll ever find. … It's based on the feudal system," Mielke says. "The county's paramount responsibility is criminal justice, [but it's] separated into all these elected officials. The decision-making authority is not specific. You have a separately elected sheriff that has his own autonomy. … And you have district court judges, superior court judges, separately elected and sovereign even among themselves. ... And you have a separately elected prosecutor."
And just to make things more complicated, the county and cities split up some of the costs, adding another layer of "authority." For instance, if somebody is arrested for a misdemeanor within city limits, the city pays to house the lawbreaker at the county jail. If that same person is arrested in the same place on a felony charge, the county pays.
Regardless of such intricacies, Marshall Farnell, the county's CEO, says the sheriff's office must shrink for the county to remain viable. "What affects us is the sheriff's department," he says. "We really haven't cut the expenditures there."
As land is lost to annexation, Farnell says, the sheriff's office has generally remained the same size. Deputies still patrol and investigate, while less and less people pay for the same services. It's such a large chunk of cash that Commissioner Mager recently shepherded in an efficiency expert to look exclusively at the county's legal justice system and identify waste.
Sheriff Ozzie Knezovich says his department has taken hits and will have lost 19 positions at the end of this year.
"This is a true public safety emergency," he says.
As for not trimming his staff after annexation, Knezovich says there's a simple explanation.
"Even though we've lost areas to annexation, it is the business areas that were annexed … the revenue generators. The housing areas around those weren't," he says. In the West Plains, he has one deputy covering a large jurisdiction, bordered by Spokane's western city limit, Lincoln County, Stevens County and I-90. "I can't say I will reduce that one officer just because that business area was annexed."
"I know that is a perception, that cities cherry pick," Spokane Mayor Mary Verner says. "The city [doesn't] cherry pick."
She points to the recent acquisition of Greenfield Estates, a residential development on the east side of town that petitioned to be absorbed and is expected to cost the city money. "We get the good and the bad. We get some commercial revenue, but we also get some antiquated infrastructure that will be very costly for us to upgrade."
A New Way to Govern

According to a recent county study, the 1 percent cap on property tax growth will be disastrous in the coming years. In 2008, the county received $40.8 million in property taxes. In 20 years, this figure will drop by $13 million.
As for annexation, nobody expects it to end anytime soon. There is still plenty of land — on every side of Spokane — left within the urban growth boundary that has yet to be incorporated.
What's a county to do? For people who've been paying close attention to what's been happening to the county, the answer comes quick: look to a new way of governing.
For the last year, Mielke has strongly advocated for some sort of regional government, headed by the county. Knezovich — who acknowledges there's some redundancy in law enforcement between the city and county, especially when it comes the region's drug forces — says now is "one of the prime opportunities for us to have that discussion."
Verner says greater cooperation between the city and county is inevitable, and in a perfect world there would be regional collaboration on transportation and social services. But she speaks clearly on what the county must do in the near future.
"We, collectively in Spokane County, are going to have to restructure the way we do business," she says. "The cities rely on the county. … We don't want to see the county be in financial trouble. We need them to be whole. [But] Urban Growth Areas have been designated for a matter of years. Now that cities are actually going ahead and annexing into those areas — it's been anticipated that this was going to happen, so it's no surprise to the county — the county is going to have to accelerate its pace of shifting to providing just the regional services without relying on the urban revenues."
Farnell, the county's CEO, says the county must downsize to survive.
"That's exactly what we have to do. If we're losing land, if we're losing tax bases, then that's what we have to do," he says. "We have to figure out a way we can merge things together so we don't compete with the Valley, with the city of Spokane. … If this continues, something will give. Something has to give."