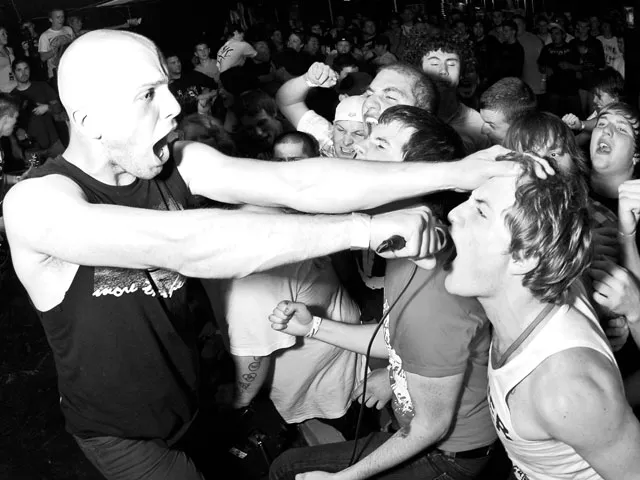 Spokane's hardcore fans have embraced Vanguard like one of their own. They're a band that Spokane kids go nuts for — opening up the floor, dancing their asses off, piling on top of each other to sing along to every word in every song. It's not surprising: the five-piece band is noted for combining punk rock ferocity with a startlingly positive outlook.
They're on a mission to change the world for the better, and their brand of "posi" hardcore makes them distinctive. The band plays its eighth (and final) performance here next Thursday. Before they say goodbye to Spokane's hardcore kids for good, we chatted with singer Mark Dailey (a Spokane native) about bleeding fans, the band's demise and why Spokane is one of their favorite places to play.
INLANDER: An obvious question: Why the decision to end Vanguard?
MARK DAILEY: Vanguard has always been something that we've had to be very intentional about making time for. Over the last two years, this has become more and more pronounced. We didn't want to burn out, so we decided to quit while we still love it.
Best memories?
One time, a friend of ours in Calgary slit his wrist at our last Calgary show — not intentionally: He was hanging onto a ceiling beam, singing along, and as he dropped to the floor he caught his wrist on an exposed bolt, ripping it open. The paramedics came and were bandaging him up, then somehow he convinced them to wait for him while he ran back inside and sang along to our last song. Blew my mind.
In a scene that has lately been overrun by tough guy bands, where did Vanguard fit in?
[We've] always tried to maintain some sort of positive vision, not in a deluded, oblivious-to-the-world's-f—ed-upped-ness sort of fashion, but rather with a desire to take the pain and anger that we witness and experience and somehow use it to create something better. [Personally], I'm very troubled by music and bands that express/perpetuate senseless violence, ignorance, bigotry, oppression … I think punk rock has always been about challenging accepted norms and creating one's own values, so I find it very exasperating to see the systematic "evils" of the world-at-large being widely represented in hardcore. I don't find it particularly surprising though: sub-cultures don't exist in a vacuum. I think that the "solution" is a constant process of self-reflection and self-revolution — recognizing and purging the worst things about ourselves.
Do you think Spokane has made positive contributions to the Northwest hardcore scene?
Absolutely, and I think that it's become more obvious in the past few years. Small or off-the-beaten-track cities are often hotbeds for creative energy — lots of anger, frustration, and boredom floating around. They also frequently boast the benefit (and also curse) of having fewer people involved in the scene. When there aren't 50 bands and 500 hardcore kids in a town, you are forced to exist together, often in close proximity. In the end, I think that this can foster unique sounds and approaches to music. I always loved seeing [former Spokane band] Behold because they were very different than most other Northwest hardcore bands, and I think that's what you get when you throw together a bunch of folks with distinct differences who have learned to work together. I think that this is the reputation that is growing around Spokane.
Vanguard plays with Losing Skin and Not Sorry at the Cretin Hop on Thursday, May 6, at 5 pm. Tickets: $6. Call 327-7195.