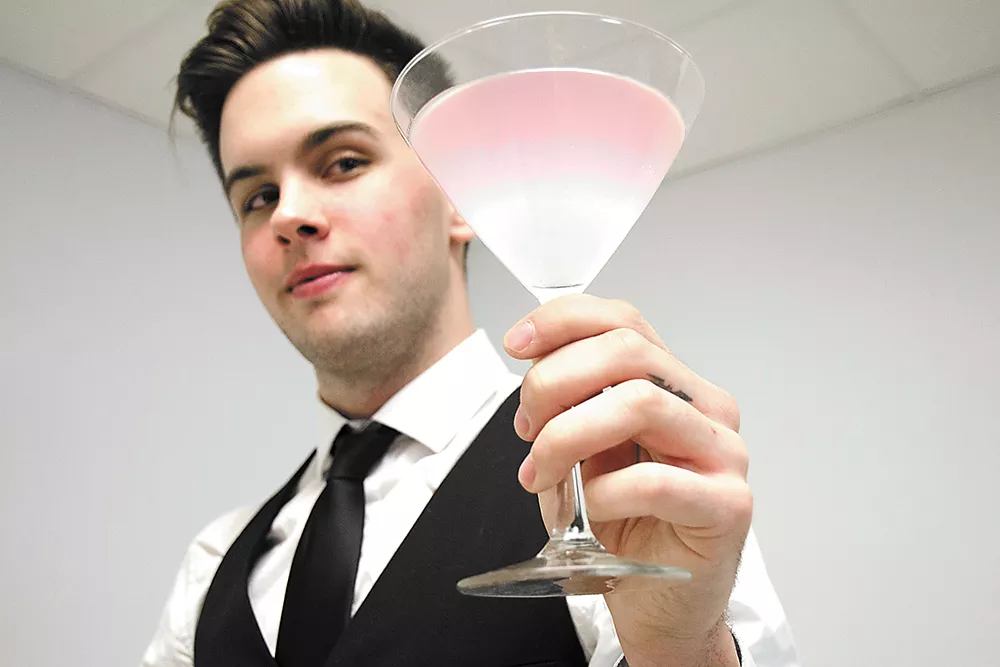 Cinderella is whipped cream vodka, blueberry vodka and cream. Maleficent is black vodka, grape schnapps and apple pucker. Tinkerbell is honey vodka, triple sec and sparkling cider, topped with a dusting of edible glitter.
"I always try to match the character to the look of the drink and the taste as much as possible," says Cody Winfrey, whose cocktails inspired by Disney movie characters have found an insatiable audience of fans online.
Winfrey, 23, grew up during the tail end of the VCR-and-tape heyday of Disney's animation revival, and he recalls spending time at his grandmother's house, where she had the whole collection. He watched The Nightmare Before Christmas every day as a kid, and now has a tattoo of Maleficent, the villain in Sleeping Beauty, on his left arm.
"The great thing about Disney is that everyone has an almost spiritual connection with some character," he says. "Everyone has a favorite movie, everyone has a favorite character, everyone has a favorite world. So I knew that it would resonate with people in some way."
The idea started earlier this year as a way to set himself apart — and have fun — since he wasn't having any luck blindly dropping off applications for bartending gigs here in Spokane.
He enlisted a friend, graphic designer Lindsey Wells, to help set up an online presence. Then at the beginning of February, his creations suddenly started getting attention around the web. The drinks were picked up by a well-read Disney-themed blog, and the popular (if not always PC) instructional web series Tipsy Bartender asked to feature several of his recipes. BuzzFeed got in touch and wrote a post headlined "29 Disney-Themed Cocktails You Need To Try ASAP."
One of Winfrey's Tumblr posts with new drinks drew more than 285,000 "notes" — the Tumblr measure for "likes" and re-blogs — and his Facebook page has more than 30,000 Likes. He's received messages from around the world with suggestions and requests.
"It was a very exhausting first few days, because you can't really prepare yourself for going viral," he says.
Realizing his drinks might also attract the attention of Disney lawyers, Winfrey gave himself a crash course on the legal aspects and makes sure to always say he owns the drink recipes, not the characters. The e-book he's finishing with Wells titles the recipes as "fairy tale" cocktails to avoid unnecessary trouble.
To date, he's done about 40 Disney-inspired drinks, requiring an increasingly crowded personal collection of liquor bottles to have just the right ingredients on hand. Some movies have proved to be more challenging — The Lion King and Pocahontas, for example — so he'll watch clips to see what he can pull from the color palette or characters' personalities.
"Alice in Wonderland was also tough, because it's such an abstract, out-there kind of movie that I wasn't sure how to do the film justice with drinks," he says.
Last week, his Mickey Mouse-inspired "Mouse Slide" — made with Oreo vodka, white chocolate liqueur, ice cream and Oreos for the ears — quickly became the most popular yet, with more than 2,000 Likes on Facebook.
Despite all the online success, Winfrey is still searching for bartending opportunities here in Spokane. In the meantime, he's planning to move on to other pop culture themes that have been requested — videogames, Game of Thrones, Harry Potter, Star Wars — even though plenty of fans would like to see him create a drink for every single obscure movie and character in the Disney canon.
"Everyone wants me to branch out into Pixar," he says. "And I can't even take that on right now." ♦
Cocktails by Cody • facebook.com/Codys.cocktails • cocktailsbycody.tumblr.com