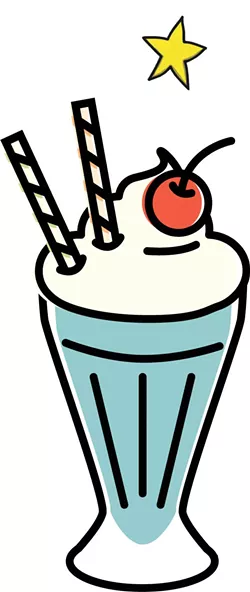 If you're looking for something tasty to eat with your significant other, but are also trying to save some dough, check out these eight suggestions for cheap date food. Many of these spots have a great atmosphere, or pair well with other fun date activities. Romance doesn't have to be spendy!
Giant Roll, $5.95
Sushi.com, 430 W. Main, 838-0630
Sushi makes for great and easily shareable date food, and Sushi.com's more affordable 5-piece sushi roll offerings are portioned so that you can share one or two with your companion without feeling like you need to be hauled out of the restaurant on a sushi boat. The creamy and savory Giant Roll is definitely one you'll want to order on date night: Salmon and yellowtail rolled with avocado and cream cheese and then coated in a rich wasabi sauce. Be sure to mix and match Sushi.com's other 5-piece rolls for a tasty, filling, and affordable date night dinner.
Buffalo Chicken Dip, $5
Bon Bon, 926 W. Garland, 327-2509
If you aren't much of a planner when it comes to date nights, Bon Bon has you covered. Nestled right next door to the Garland Theater, this craft cocktail bar also delivers tasty food and is only a few steps away from the theater where you and your partner can catch a flick. You can kick off your night with a little spice by ordering the cheesy buffalo chicken dip appetizer, which is served with chips, celery and carrots for dipping. But don't feel limited to just apps; Bon Bon also serves up some movie-inspired hot dogs and sandwiches, all for under $10. Happy hour runs Monday through Thursday from 4-7 pm, and all day Sunday, so if you and your date are looking for a drink, dinner, and a movie, Bon Bon and the Garland are the only stops you have to make.
Taco Tuesday, $5
Perry Street Brewing, 1025 S. Perry, 279-2820
Move over oysters and wine — tacos and craft beer are the new staples of a romantic meal. And when it comes to tacos, Chef Alisha Van Guilder at Perry Street Brewing spares no culinary creativity. Every Tuesday at PSB presents a new taco menu where you and your date can choose any two for just $5. Past taco creations have included teriyaki chicken, chickpea tikka masala, and pork banh mi. Pair them with a delicious PSB brew (I recommend the New England Style IPA) and you and your date will be falling in love... with the tacos.
I Love Spokane Dog, $7.50
Wild Dawgs, 102 N. Howard, 255-3688
For years Wild Dawgs has been putting a fun and delicious spin on the classic hotdog, which makes it a great place to go if you're looking to put a fun and cheap spin on your average date night. A definite stand out on their menu, the I Love Spokane Dog starts with a large gourmet hotdog in a bun. From there, the dog is smothered in cream cheese, onions, mushrooms, bacon, ketchup, pineapple sauce and mozzarella cheese. Accompany your delicious dog with a draft beer or glass of wine and you've got yourself a date night your companion and your taste buds won't forget.
Cookies 'N Cream Marshmallow Dream, $9.95
The Melting Pot, 707 W. Main, second floor, 926-8000
Sometimes it's best to just skip to dessert when it comes to date food, and the Melting Pot's chocolate fondue is an affordable choice for chocolate lovers. The Cookies 'N Cream Marshmallow Dream is heaven in a fondue pot, featuring dark chocolate melted with marshmallow crème and Oreo cookie crumbles. Assorted fruit like strawberries and bananas along with pound cake and brownie bites are all provided for dipping in this decadent chocolate treat. But before you dip, the dessert is flambéed to add a little excitement to your night out.
Whammy Burger, $2.89
Dick's Hamburgers, 10 E. Third, 747-2481
For most Spokanites, Dick's Hamburgers doesn't instantly come to mind when thinking of a date locale. But if your date nights have become routine, grabbing a bag of deliciously greasy burgers to enjoy with your partner can be a welcome change-up. Dick's has been cranking out burgers, fries, and shakes since before the Pavilion graced Spokane's skyline, so when you order a Whammy Burger (double meat patties and double cheese), you're also getting a slice of Spokane nostalgia. Pair your burgers with some fries and a malt shake and have a cheap, fast-food style dinner date.
Legit Smoothie, $8
Method Organic Juice Cafe, 7704 N.Division and 718 W. Riverside; methodjuicecafe.com
On the opposite end of the fast-food spectrum: the smoothie date. Method Organic Juice Cafe offers healthy juice, smoothies, and food all geared to make you feel great. Their Legit Smoothie, made with rice milk, cacao, peanut butter, banana, and agave is a refreshingly healthy treat that happens to taste deliciously sinful. For an additional dollar or two you can add more fruits, greens, or granola to your drink to give it your own healthy spin. Grab your date, a couple of Method smoothies, and then take a walk through beautiful Spokane for a memorable (and healthy) date.
Banana Split, $7.65
Mary Lou's Milk Bottle, 802 W. Garland, 325-1772
Want to take date night back to the era of sock hops and soda jerks? Then take your date to Mary Lou's Milk Bottle in the historic Garland District where you'll find a fun, old-timey diner atmosphere along with tasty burgers and shakes. Mary Lou's classic Banana Split is definitely worth sharing; a scoop of chocolate ice cream coated in marshmallow sauce, chocolate sauce on a scoop of vanilla, and strawberries on a scoop of strawberry ice cream all piled on top of a banana. Add two spoons and your dessert date is complete. Poodle skirts and greaser hair are optional. ♦