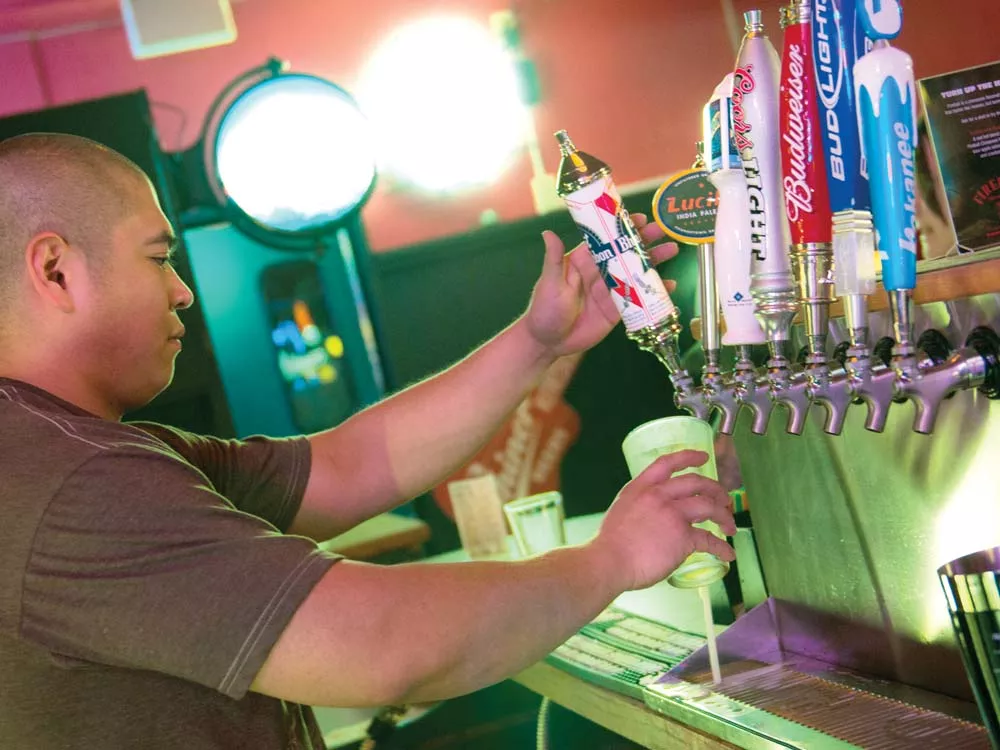 At MIZUNA on a recent Wednesday, in the shallow trough of activity that follows lunch and precedes dinner, Tony Brown pulled a tray of white cheddar gougres out of the oven.
The ball-like French pastries were to be filled with duck confit and a roasted shallot aioli, then put on a plate with a scratch-made whole-grain mustard, but the confit wasn't ready, so the gougres just sat there, giving off a warm musk of baked cheddar.
There was no rush, anyway. These were just practice pastries.
Brown, who had spent six years in Mizuna's kitchen (four as head chef), had returned on April 4 after spending nine months at Luna — first as sous chef, then as "a chef de cuisine, interim kind of thing."
Brown returns to find the kitchen much the way he left it. The equipment is getting a little long in the tooth, but it's still serviceable. The menu feels that way as well. There was a time when Mizuna's menu changed four to five times a year. Lately, Brown says, it changes maybe twice.
"Even when I was here, [the innovation] dipped," he says. In his second go-round as head chef, Brown will be stepping off the line and into a little workspace he has carved for himself, taking the time he needs to shake up a menu that contains too much familiarity and too little specificity.
"Everything needs to be more refined," Brown says. That means specific greens with specific proteins, paired together to their best purpose. He promises to strike the words "seasonal vegetables" from the menu altogether.
Brown's test kitchen will roll out each week's specials. If the specials go over, they'll graduate to the new menu he's working up.
In addition to the gougres ($10), last week's test studies were a pungent agnolotti dal plin ($18) stuffed with roasted garlic and ashed goat cheese, and halibut ($30) with a zucchini galette tart, black kale and fennel.
By Monday, Brown had decided the agnolotti will probably make the menu. Halibut would as well, though probably morphing into "a Spanish-style dish with lots of peppers, paprika, papas bravas." The gougres "didn't take off," he says, so they'll be shelved.
He's not giving up on them altogether. He's just going to let them sit there, in the back of his mind, filling it with the musk of baked cheddar, awaiting the next flash of refinement.
There's no rush, anyway. Brown says he feels freshly inspired in these familiar confines: "This is a good place to stay."
New specials begin Fridays during dinner • Mizuna • 214 N. Howard St. • mizuna.com • 747-2004
---
Cheap Drinks, Friendly Staff
Ryan Shirley and Romeo Villaro joke that their bar looks like the kind of place where dude-bro's might hang out, pound a few brewskies and make BFF bracelets together. But it's REVOLVER NORTH — an extension of the friendly downtown bar, Revolver.
The bar and eatery, which opened its doors in a Garland strip mall in mid-March, is looking to bring a specific brand of nightlife to the north side. Owners Shirley and Villaro seem to have found the perfect recipe for a successful bar: strong drinks, cheap beer, a surly but lovable waitstaff and no-frills decor.
"We've had a lot of success downtown," Shirley says. "But we've also had a lot of input from our customers saying they don't like coming downtown." Their Riverside Avenue hangout has been open for less than two years but has developed a faithful following of drinkers and those looking to escape the nightclub scene.
The young owners are hoping to replicate their success.
"You can expect about the same atmosphere," Villaro says.
"We try to appeal to the masses as much as possible. We want places where people can come, hang out, sit down and have a few drinks."
Revolver North boasts pinball machines, a jukebox and a hefty food menu of sandwiches, wraps and hot dogs. Happy hour runs six days a week from 5-8 pm and all day Sunday. Specials include dollar drafts, $2 wells and dollar domestics on Thursdays.
The duo is even thinking of building an outdoor patio and hosting live music. But for now, Shirley and Villaro are doing what they know best: slinging drinks.
"We support ourselves through bartending," Shirley says.
"But the money we make kind of filters back through the bar. Hopefully one day we will be able to pay ourselves, but it's definitely beneficial being owners and operators. That allows us to keep our prices down."
Revolver North • 633 W. Garland St. • Everyday 5 pm-2 am • 290-6816