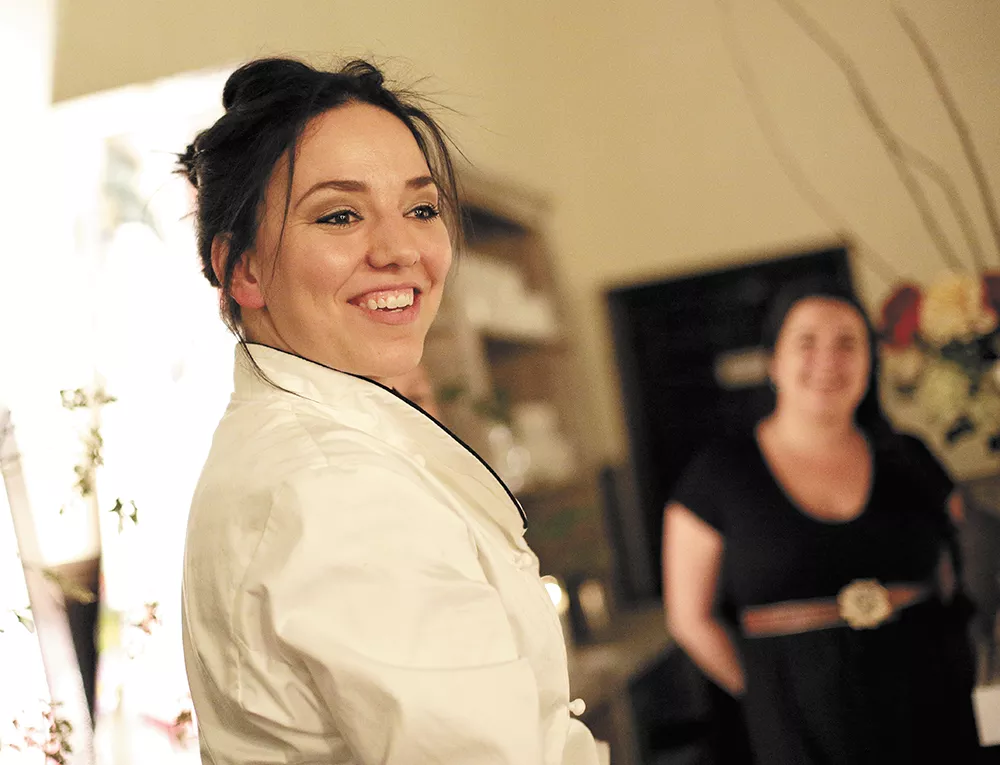 On a block of unlit storefronts along East Sprague Avenue — some dusty and vacant, others closed to business for the day — a soft yellow glow spills onto the sidewalk beneath black-and-white striped awnings.
Arriving at this beacon of warmth, guests in sets of twos and fours are greeted by an aproned hostess passing out complimentary cocktails. She checks their names off a list and leads them to one of the elegantly-set communal tables. A centerpiece of cedar boughs runs down its length; rows of wine glasses sparkle in the low light.
Before dinner service begins, Chef Kristen Ward emerges from the kitchen. Smiling broadly, she pauses as the chatter dies down before welcoming the 30 diners seated before her in the Ivory Table Cafe's quaint, French-inspired space. On this dark December evening, the sold-out event is the third in a monthly series of supper club events hosted at the catering service and cafe that opened in summer 2014.
Ward, 33, has worked in the food industry since high school. A graduate of Seattle Central Culinary Academy, her past jobs include a stint at Le Gourmand, the now-shuttered, 27-year French mainstay in Seattle's Ballard neighborhood. Later, she went to Chinon, France, to cook and teach classes at a chateau. She and her students would shop locally for the meal's ingredients, and then eat together, supper-club style.
Those experiences are partly what influenced Ward's decision to launch a supper club at her cafe, which through the mid-afternoon serves sweet and savory crepes, sandwiches, salads and soups.
"I grew up in a family that moved a lot — my parents were divorced and I would look at other people's traditions and I always yearned for traditions and to be a part of one," she explains. "I always had this idea of starting a dinner club. I always loved entertaining. With this little place, I saw immediately the opportunity, and I think people have responded so well."
Appropriately, tonight's menu is very French-focused. A main course of beef bourguignon over a bed of creamy polenta is preceded by a savory, caramelized onion tart with Chevre cheese and herbed cream.
Supper clubs are hardly a new culinary trend. The concept originally emerged in the 1930s and 1940s as a high-class dining event that would turn into an all-night affair with live entertainment and socializing. Yet in more recent years, the phrase has also been used to describe "underground" restaurants (many also unregulated by food/health safety laws) in hobby chefs' own homes, or to refer to extremely exclusive dinners at pop-up locations in major metro areas that largely cater to wealthy clientele.
The Ivory Table's monthly events are neither underground nor exclusive, though the limited seats fill up quickly. At $50 to $60 per person, with a $25 optional wine tasting paired with each course, guests who've been to a previous dinner have the first dibs to reserve a spot for the next announced event.
"What is different about this supper club is that we're trying to create a place for people to belong," Ward says. "It's personal — we spend time talking. It's not like, 'Here's your wine and your dinner.' I know [beforehand] the people coming and so it's more intimate."
The supper club format at the Ivory Table is also not unlike a one-off wine dinner event, which numerous chef-owned establishments in the region offer on a more infrequent basis.
After dessert has been served — dark chocolate pot de creme, alongside a black currant port wine — guests linger at their seats. Ward is finally able to leave the kitchen long enough to begin greeting people: friends, family, other area chefs and return customers from previous dinners.
"Any one of us can dine in any restaurant, but being a part of a community of people enjoying food and wine — you have a spot at the table. We have people making friends and who have hung out with those they've met at dinner here. It's a community, I guess, that we have created." ♦
For information on the Ivory Table's upcoming supper club events (next on Dec. 31 [sold out], Feb. 5 and 14, at 6 pm), visit ivorytable.com/events.