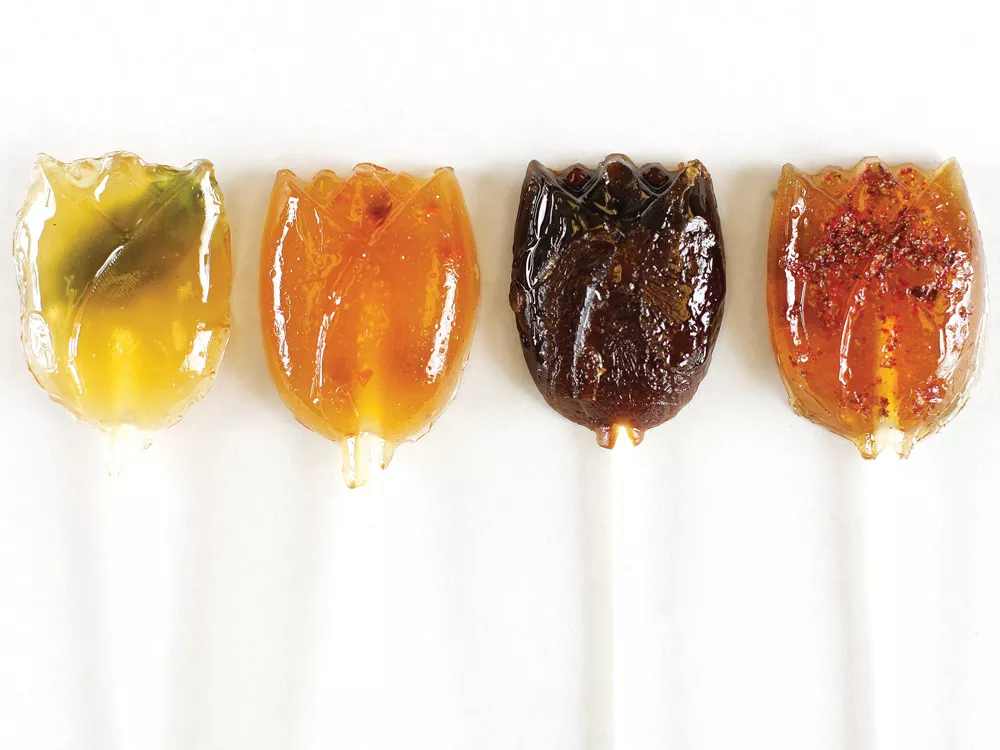 Candy is chemistry, Andrea Parrish-Geyer said the other day
, as the alarm went off on a thermometer clipped to a pot in her kitchen. For those dead-set on making a sucker, say, rather than something chewy, tracking time and heat are almost more important than the ratios of ingredients.
"The difference between a Laffy Taffy consistency and hard candy is 30 to 40 degrees [Fahrenheit]," she said, peering into the pot.
The contents — a balsamic reduction stirred into cane sugar and lemon juice, then boiled to burn off the water — were syrupy, molten, molasses-colored, and exactly 300 degrees. She quickly poured them into tulip- and barrel-shaped molds. "If it gets up to 325 [degrees], you've got caramel." Before she got to the end of the batch, the flow had slowed almost to a stop.
It can take over four hours to get a batch ready to pour, she says, at which point "I'm lucky if I have two minutes before it becomes un-pourable." Parrish-Geyer had to scrape the dregs (a tulip's worth) out with a spoon.
Marketing a project or product on Kickstarter.com — the crowd-funding site dedicated to bankrolling creative projects with micro-payments from individuals — is also largely about heat and time.
Users set an amount of money they'd like to raise for a specific project (an album or a children's book) and a period of time they want to raise it over. If they inspire enough people to chip in and raise the money in the allotted time, Kickstarter disburses the funds. If not, no one gets anything.
Kickstarter estimates that 90 percent of projects that reach 30 percent funding ultimately reach 100 percent, so generating early buzz is key.
Parrish Geyer was planning on starting her $1,500 kickstarter sucker campaign — named Savor Sweets — on Aug. 5. When KXLY News ran a segment on the project on Aug. 3, though, she decided to launch the campaign two days early.
Savor Sweets reached the 30 percent-funded threshold within 24 hours. By this Monday, the project had raised $1,815, which meant Parrish-Geyer and her husband, Peter Geyer, are on the hook for 810 suckers and counting.
She spends a minute calculating how long this will take. She estimates 16-20 hours. There are variables at play there, too, though.
"The full chemical explanation is really complicated," she says, but she expects it to get easier with each batch, until "it's mostly just boil stuff, pour." (Luke Baumgarten)

Savor Sweets • savorsweets.com
---
Coffee in Style
"I had a vision for this place as soon as I looked in the window," says Tammi Mason, who recently transformed part of the former Ella's Supper Club with business partner Mary Walmsley into the petite Luxe Coffee House, a unique, inviting space for an early morning cappuccino or an evening glass of wine. The space is adorned with vintage gold mirrors, rich fabrics, and crystal chandeliers. The walls have been sandblasted to achieve a faux-brick design and lined with statues from the old Crescent building.
Each piece of furniture is one-of-kind and carefully thought out, from a recycled church pew to the espresso bar that manager Isaiah Crandall (Mason's fiancé) fashioned from church columns to hold the sleek, silver, top-of-the line La Marzocco espresso machine. There's a curtained semi-private alcove in the back with a bench made from an antique headboard, just right for a small group or sharing an intimate cup of coffee. The overall effect is charming and welcoming, like walking into an extraordinarily well-decorated living room.
Luxe serves espresso drinks with locally roasted Anvil coffee, which Crandall calls the best in town. There's no posted coffee menu — just tell Crandall what you want and he'll make it for you. "People are pretty darn particular about their coffee," he says, preferring to custom-make each drink. He aced my order, a smooth shot of espresso served in a porcelain cup with just the right amount of milk swirled on top, halfway between a macchiato and a cappuccino. I could get used to this kind of service.
You'll also find wines by the glass and beers ranging from a can of Olympia to a Whidbey Island Pacemaker Porter. Luxe hosts live entertainment on Friday nights, and champagne mimosas (available anytime) are popular on Saturday mornings.
Luxe serves savory breakfast pastries and sweet treats from north Spokane bakery Petit Chat. Order a chocolate croissant and a double espresso and you might think you've landed in a café in Paris. (Kirsten Harrington)

Luxe Coffee House • 1707 W. First Ave. • Open Mon- Sat 6am- 10pm • 624-5514