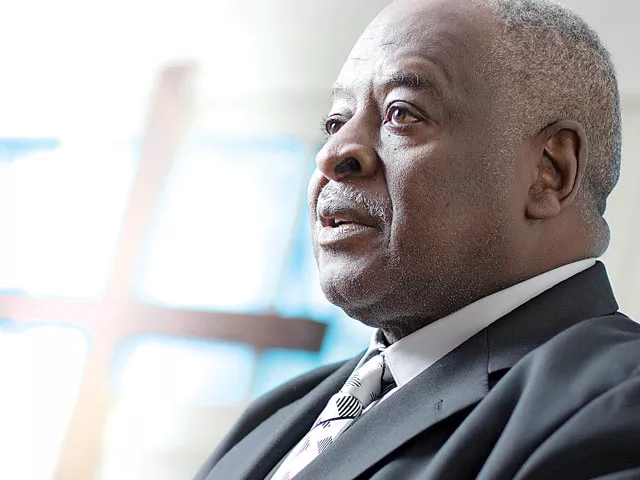 Spokane Police Chief Anne Kirkpatrick was selected last week as one of 11 finalists for Seattle's open police chief job — right after her own officers took a vote of no confidence that, she believes, was timed to hurt her chances on the other side of the state.
"There is a price to pay for transparency," Kirkpatrick says. Just weeks after she announced she would seek the Seattle job, the Spokane Police Guild in March polled its members in their level of confidence in the leadership and decision-making coming from the chief's office. The vote, which had 112 ballots of no confidence to 79 showing support, was not against Kirkpatrick personally, Guild leaders say.
It was aimed at the office of the chief, which also includes Assistant Chief Jim Nicks.
The distinction appears to have been largely lost outside the Guild, and the insistence on not revealing the actual ballot count further muddied the issue. And when the actual count was leaked to media last week, critics of the union say the vote had been misrepresented as a majority of the entire membership when it fell far short of that.
The upheaval is reaching beyond the department. The Rev. Percy "Happy" Watkins has begun a call for ministers and others to stand up for Kirkpatrick in the face of what he sees as Guild maneuvering to run her out of town.
Support is complicated by Kirkpatrick's run for the Seattle job, but she tells The Inlander that if she is not chosen, she'll focus on running the Spokane PD. "I have no Plan B," she says.
The Guild's vote tallies — leaked to the Spokesman last week — show 112 guild members voted "no confidence" in the administration, to 79 that voted "confidence." Another 80 ballots were returned blank or were silent on the confidence question.
Guild President Ernie Wuthrich, a detective, says the leaked totals are accurate.
"The headline ["Police guild distorted vote"] was a real shocker, but once you read into the narrative I don't think it was damaging," Wuthrich says. "I don't think [the story] called me a liar."
Reviewing notes of an interview with Wuthrich, The Inlander finds a passage where the detective used the phrase "a supermajority of votes …" which would be around 160 votes and is clearly not so.
"Now they claim that y'all have misquoted them," Kirkpatrick, in her native southern drawl, says of the Spokane media. "My counter to that is I have them on KXLY radio making the same assertion — Jeff Harvey [guild vice-president] saying the same thing that it's a supermajority. And that's his voice."
In the meantime, the tempest is reaching into unexpected corners of Spokane. At an esoteric gathering of religious figures and journalism educators who met last week to discuss who controls the media message in the Internet era, Rev. Watkins of New Hope Baptist Church wrestled the agenda to the right here, right now.
Minorities, especially blacks, often suffer media distortions, he tells the group. While comprising only 2 percent of the state population, blacks make nearly a quarter of Washington's prisoners, he says. Blacks in Spokane, under past police administrations, were identified as "known gang members" on sometimes dubious information, Watkins tells the group.
Kirkpatrick, he adds, is a refreshing police chief who reaches out to many segments of the city and promises to be fair and accountable. "I hear fewer complaints of racial profiling," since she became chief, Watkins says.
On his own, Watkins has begun drafting a letter of support for the chief that he plans to send to local newspapers, the mayor and Kirkpatrick.
"I will certainly stand up for her, and I will talk to the Black Pastors [Association] to see if we can have a rally," Watkins says.
He remembers being impressed with Kirkpatrick right from her early community meetings when she arrived in 2006.
"I remember she used these words: 'There will be no lying.' That is huge in our community," Watkins says. "I know she has tried very hard to hold the police feet to the fire. I am not against the Police Guild and I am not against the police department, but folks need to stand up for what is right. That's my soapbox."
One of the factors in dissatisfaction with Kirkpatrick, Wuthrich says, is that when she held introductory meetings with officers, "She told us she was only going to be here three to five years. She's never got a house here. People want to believe that you have roots here, or that you're invested."
Kirkpatrick says that from the start, she never hid the fact she was here for a finite term.
"I put my cards on the table. I said I would rather be an effective chief for five years than be here for 10," and coast through the last five years. "I was brought here as a change agent, and change agents don't last long."
Kirkpatrick, who is turning 51, says she can retire with full benefits at age 53, which would pretty much coincide with five years in Spokane.
So, what's up with the Seattle job, then?
"I don't see myself being a police chief at age 60, but I'm not done yet," Kirkpatrick says. As a person who sets challenges for herself, Kirkpatrick says, "I understand clearly what Seattle is looking for — they want to be a premier law enforcement agency. They want to be the 21st-century police department."
McGinn, the Seattle mayor, was previously director of the Seattle Great City Initiative, Kirkpatrick says, and has a vision of making Seattle one of the nation's elite cities.
"They are world-class material and they want a police department that reflects that," she says.
Seattle's 26-member search committee will spend a long day Saturday interviewing all 11 remaining candidates seeking to replace former chief Gil Kerlikowske, who was chosen by President Obama to become the nation's drug czar. The committee will select three finalists to present to Mayor Mike McGinn by May 11.
If Kirkpatrick doesn't get the job, she will focus on Spokane.
"Right now, my plan is to be here. I don't have a Plan B. I'm not looking for a Plan B," she says.