Cassano's Grocery & Mission Bistro has been in business for almost 100 years, but relocated to Chief Garry in 2009, taking the spot of another beloved Italian grocery, Piccolo's Market.
The 1940s storefront is the quintessential image that springs to mind when thinking of Chief Garry, and it's perhaps the best known business in the area. It's literally a corner store, with imported Italian groceries alongside mainstream staples. The bistro in the back serves homemade lasagna, baklava and more, while catering from the back kitchen means that all this good stuff can be served up in your own home.
"We've really gotten to know everyone quite well," says Carl Naccarato, co-owner of Cassano's with his wife, Molly Tom. "Everyone brings their kids in here and we get to really know them, being in a neighborhood. We're also right in the middle of an industrial area with companies that will come in for lunch, like clockwork, every day, and we know pretty much when someone comes in what they'll have for lunch."
Consider it the Cheers of Chief Garry.
NEIGHBOR IN CHIEF
Colleen Gardner should add "Chief Gardner" to numerous titles. Ten years ago, Gardner became the Chief Garry Park Neighborhood representative for the city of Spokane's Community Assembly, then, five years ago, its neighborhood council co-chair.
"I remember thinking, I don't want to bite off more than I can chew," she says, recalling when she first began to get involved in neighborhood advocacy. "So, how did that work for me? Not too well!"
Gardner is now well known in the neighborhood, meeting with businesses, helping organize events, keeping the lines of communication open and simply knowing what's happening. Just as a gardener tills the ground, pulls out the weeds, plants seeds and tends to them, Gardner tends to the Chief Garry Park neighborhood, excited to see the harvest that awaits.
The neighborhood is named after Chief Spokane Garry, a famed leader of the Spokane Tribe. It had its official centennial celebration in 2012, even though some of its houses have been in the vicinity much longer. One, built in 1889, is the Bayley House, recognized as a historic property by the Spokane Historic Preservation Office. "An almost textbook example of the Queen Anne style," according to their website, it's located at 3111 E. Marshall Ave., south of the Spokane River and east of Spokane Community College.
A BRIGHT FUTURE
Despite the neighborhood encompassing arterials like Mission, Trent and Greene, all prime business spots, "one of the issues we have is that very few developers will look at Chief Garry Park neighborhood, because it hasn't done a good job of selling itself," says Gardner. "We are right in the heart of the city. You can get to almost any other part of the city within 20 minutes from this neighborhood. We have transportation access, we have university access, and if the Central City Line passes, it is going to go right down Mission."
Spokane Transit Authority's proposed Central City Line would offer six miles of circular transit, traveling from Browne's Addition through downtown to the University District, past Gonzaga University and up to Mission Avenue, where it would travel into the heart of Chief Garry, ending at Spokane Community College for its turnaround.
"The big challenge is getting the word out that this could be a very viable, very thriving, very pedestrian-friendly neighborhood, if the right businesses were here," says Gardner.
GROWING NEW ROOTS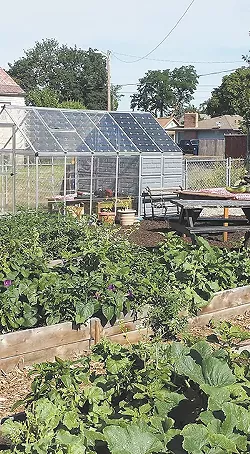 One local church has firmly planted itself in the neighborhood, intentionally living out its mission of "blooming where you're planted."
"When they moved into the neighborhood, they jumped on being a partner with us, right away," says Gardner of Christ the King Anglican Church, which moved into the old Mission Community Presbyterian Church three years ago, offering a portion of its property for a community garden.
"We wouldn't have a community garden without the church," she says. "We'd talked about a community garden for years, but we could never find a piece of property, nor could we ever raise the funds. Without the church, and the Fagans, that thing wouldn't be here."
She's talking about Spokane City Councilman Mike Fagan. He lives in the adjacent Bemiss neighborhood, which had a community garden that was relocated to Chief Garry once it was discovered that the plot was built over the region's aquifer. Fagan helped orchestrate the garden's move to its current spot. Since then, it has brought residents together, with neighborhood gardeners descending on their plots in the cool of the evening, gathering their crops and working together side by side, comparing bounties.
Officially opening on April 9 of this year, all 24 beds in the garden are currently rented. Every gardener is a local resident, with the church maintaining a couple of beds for people who aren't able to or don't want to garden, to come in and pick free vegetables.
"The garden and signage add a focal point to the neighborhood and identify that you are in the Chief Garry Park neighborhood," says Gardner. "It was just a weed patch before; now people recognize where Chief Garry Park neighborhood is."
FLY BY
How many neighborhoods come with an airport within their boundaries? Not many! Felts Field is located on the far east end of Chief Garry. Famed pilot Charles Lindbergh once landed the Spirit of St. Louis there in the 1920s when it was called Parkwater Aviation Field.
"When I look at the Perry District, or any of these neighborhoods that are walkable, it took 15 years to make it happen; it didn't happen overnight," says Gardner. "I'm 70, I may not have another 20 years, but at least I can get the ball rolling, and when I'm gone, someone else can do it."
Considering Chief Garry's past, as well as its present businesses and sense of community, Gardner envisions a bountiful harvest ahead. ♦
---
Established: The oldest home was built in 1866, making it one of Spokane's oldest neighborhoods.
Boundaries: (north) Spokane River; (south) North Trent Avenue; (east) West Fancher Street; (west) Spokane River
Population: Approximately 6,200
Landmarks: Cassano's Grocery, Chief Garry Park Community Garden, Felts Field, Spokane Community College