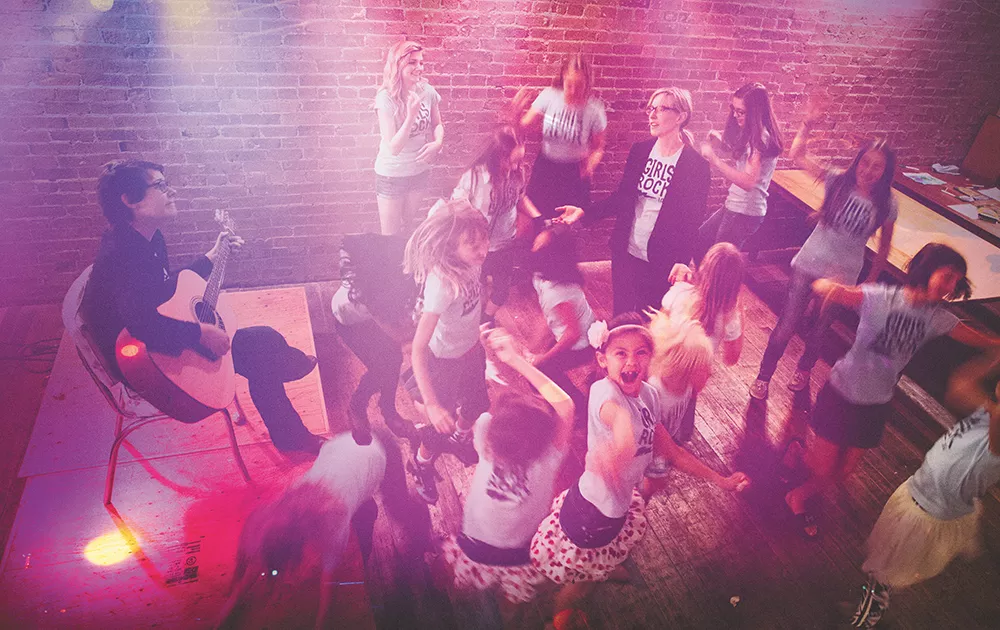 A cluster of young girls' voices sings out a determined tune, at first a cappella, and then a piano plunks along a steady melody, a hi-hat tingles and a drum joins. "Don't hold back, stay true, do what you love, love what you do / They can judge us all they choose / We have nothing left to prove."
The track is one of six on a CD recorded at the recent Girls Rock Lab organized by INK Art Space. Girls between the ages of 6 and 18 — many who had never picked up a musical instrument before — attended a workshop with local singer/songwriter Liz Rognes and over several days learned to play, formed bands, wrote a song and performed at The Bartlett.
The mission of INK Art Space is all about encouraging creativity in young people and providing workshops and events to mentor ages 6 to 18. It's not just confined to music, but all aspects of the arts.
The organization, which was started in the spring by famed author Jess Walter and artist Dan Spalding, is completely volunteer-run.
"It's been a work of love that has got us this far," says Mischa Jakupcak, a filmmaker who serves as co-director alongside Kristin Gotch and Rebecca Chadwell.
Jakupcak was inspired to join INK after she went to Terrain.
"This needs to happen every day in Spokane," she remembers thinking while at the annual mega-art show.
She craved to see more artistic talent and energy flowing through the city.
"It occurred to me that we can create the community we hunger for," Jakupcak says.
So far, INK has offered several programs, including writing workshops, street art workshops and a project called Origin Stories, in which the kids created their own origin story in the manner of comic book superheroes, where they imagined their special powers and weaknesses. In the front room of INK's space at 228 W. Sprague Ave., their drawings line the white walls: Empress Panthera, spear in hand, dons an animal print leotard enveloped in flame; The Cameraman is draped in a green cape; Mr. Invisible appears as only a cloak and hat.
Other programs planned for the future include Pixel Playground, a digital arts program for kids doing anything digitally creative from filmmaking to digital music, slated for January. Upcoming fall events — some planned for outside INK's walls — will feature artist-poet collaboration performances, live music, multi-genre exhibits and reinventions of silent films.
"I'm really into the mission of INK. Providing artistic opportunities to youth is really important," says Gotch, a poet who studied at Eastern Washington University. "This is a great program, something Spokane really needs."
Gotch got involved with INK through the Girls Rock Lab, helping the girls write lyrics. Chadwell, an audio engineer, acquainted the girls with the technology side of music.
"What we're doing is really fun, but there's definitely a philosophical motive behind it," Chadwell says.
For the Girls Rock Lab, it was about promoting women in the arts, especially in media, which has traditionally been a largely male-dominated field.
Lindsay Inge, 14, has been playing piano for four years and aspires to be a professional musician. She writes her own music, mostly about her life and what she's going through, and can churn out a song in just 5 or 10 minutes. But she's been struggling. When she joined Girls Rock Lab, she says she was dealing with social anxiety, feeling awkward and being afraid of performing.
"It was positive and challenging for me," says Inge. "I've been trying to get over stage fright for a long time."
During her band's performance, she played keyboard, sang a song called "Searching for Something" and had a moment when she looked out at the crowd and said, "Hey, I'm doing this."♦