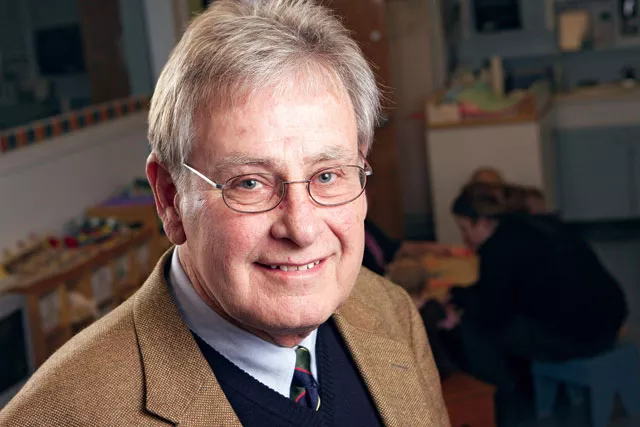 "You got a puppy?!" The boy, a little guy with blonde hair, not more than three years old, nods at Dick Boysen, who puts his hands on his knees and says, "Wow! What kind?" While he talks to the boy about his puppy, a little girl in a hula skirt and a lei shuffles by. Boysen stands up and smiles as he looks around the classroom — there's a girl making art out of glue and sand on construction paper, a teacher working with a group of youngsters on their colors. There's the little hula girl.
In his 32 years as the executive director of the Spokane Guilds' School and Neuromuscular Center, Boysen has come to think of everyone here — the kids and parents, the teachers and therapists who've been there almost as long as he has — as his family.
"I think a big part of my life is this place. Someday I ought to get a life," he says, laughing. "I think that's a common sentiment among professional people — but I'd have to say that I've met some really fabulous people in my time here … I would say some of my very best friends are people I've met here."
That lifelong devotion is hardly unique to Boysen. In fact, most of the staff at the school has been there almost as long as he has.
"God, if you told me then that I would have been here 32 years I would have thought you had rocks in your head," Boysen says. He had left a job with a Head Start Program when he heard about an opening at the Guilds' School. "In those days, I [came] from a richly funded Head Start program — where our teachers had every damn thing they needed — to a program that was pretty stark.
"There were a lot of reasons for this place not to succeed," he says.
In the 1960s, four local guilds started the school to aid, assist and educate children with mental and physical disabilities. They weren't guilds of parents wanting to solve their own kids' issues — these guilds were simply congregations of impassioned local women who not only wanted to help children, but fellow mothers.
"It was a classic example of women helping women. These women didn't know about working with kids with disabilities, but they knew their sisterhood could use a little respite," he says.
Today, Boysen walks the halls of the Garland Avenue facility — where the school has been for 28 years — peering into the classrooms. He pauses by each shaded pane to observe the day-to-day activities happening on the other side. Even today, Boysen says he's still fascinated by the work they do.
Over the years, Boysen has told the story of the Guilds' School over and over again. To donors. To parents. To grantors. To newspaper reporters. In its 50th year, Boysen says the school still has to fundraise for 30 percent of its operating budget — a feat only successful if they can clearly explain what the school does so well: that at the Guilds' School, kids get one-on-one, and sometimes two-on-one, attention. And that literally thousands of children have been successfully educated here.
Boysen says the deepest connections he's made over his years here are with the parents. The kids who come to the Guilds' School are just kids, not really aware of their disabilities — it's the parents who are fearful about how they'll cope.
"Any parent that's taken a baby home from the hospital, if they were honest, they would say, 'By god, I'm scared to death,'" he says. "I think that's an important part of what we do: helping parents understand where their kids are at.
"None of these kids know they have an issue. The number of positive remarks these children hear… is absolutely astonishing," he says, shaking his head. "My sadness is for other kids who don't get that. All of our kids should get that."