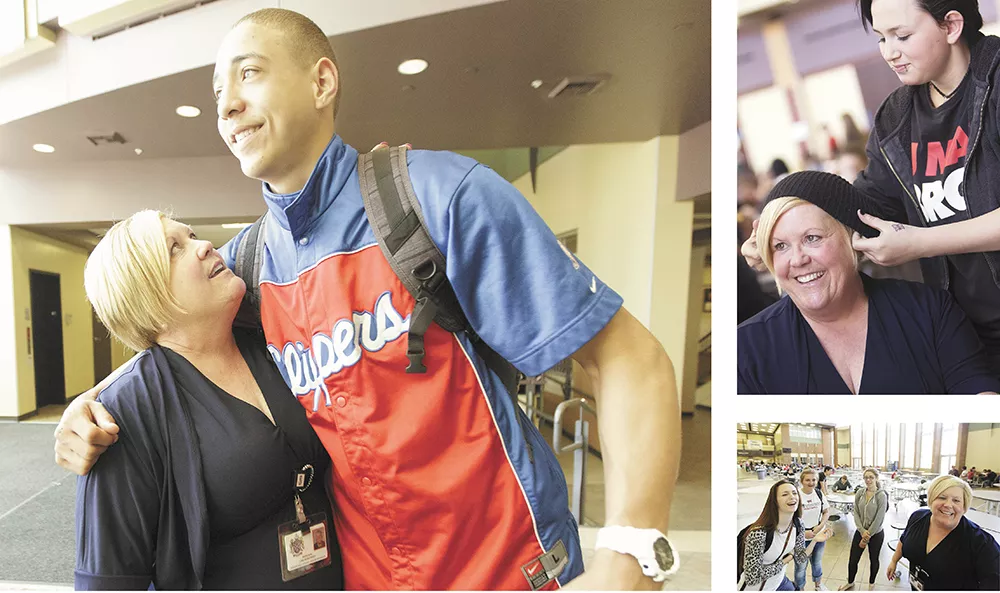 The chaotic din of hundreds of ninth and 10th graders fills the cafeteria at Rogers High School. Kids gossip back and forth, swipe through the latest social networking apps and chug cartons of chocolate milk.
Rogers Principal Lori Wyborney, fingernails polished Pirate purple, is in the middle of the chaos. Educators talk plenty in meetings about how crucial energy and passion are to the profession. Wyborney hates meetings, finds them monotonous. She gets all that energy and passion in one place.
"Right there!" she points at student after student in the cafeteria, as they eat and laugh. "Their energy just fills you up."
Wyborney slides into the lunch table beside one student, and they talk about the student's grades. The student, proudly, lets Wyborney know she has an A in Guitar Lab. "You always have an A in Guitar Lab," Wyborney says. Another walks up to her a few minutes later and complains about teen-girl drama she's having. These sorts of conversations are what Wyborney lives for.
"We work all summer, and there are no kids here. I'm not kidding you. It is boring," Wyborney says. "You're just like, oh my gaawwwwd."
Out of hundreds of schools in the state, the Association of Washington Principals picked Wyborney as 2015 High School Principal of the Year. She didn't start out thinking she wanted to be principal at all.
"I was never going to be a principal. That just sort of happened," Wyborney says. Like her father, she began as a history teacher. But after she took over as vice principal of Mattawa's Wahluke High School in 2005, she says she learned that as an administrator, she could reach more students and more teachers. The rural Washington state high school was beset by serious demographic challenges.
"That was 90 percent Latino, 90 percent poverty. And I just learned to love those kids. And love that work," Wyborney says. "And that's been able to be transferred here."
Located in the economically depressed former manufacturing center of Spokane, Rogers is the school with the highest percentage of low-income students in the district. Yet over the past five years that Wyborney has been principal, it's been transformed. The graduation rate soared from 60 percent to over 81 percent.
You could thank several years of a $3.7 million grant that allowed Rogers to extend the school day and hire more support staff. Or you could credit the multimillion-dollar renovation of the campus itself, for giving the students a sense of pride. Or you could praise the efforts of the Empire Health Foundation and other community organizations that have thrown immense resources at Rogers students and the students in their feeder schools.
But many place the credit squarely on Wyborney's shoulders.
"She's pretty magical," intervention specialist Barb Silvey said last year. "She has galvanized the staff to all get on the dang boat and go in the same direction."
Students and teachers and parents hear her giving one clear message: That she's on your side. That she has your back. And perhaps most crucially, that she really cares.
"I met her through a friend of mine," says Lenora Reeve, one of the students in the cafeteria. "We became closer, she helped me with my grades. She's just an amazing person. I love her to death."
And as for upset parents, the bane of many an administrator?
"I don't think any of us listen to parents well enough. And they know quite a bit," Wyborney says. "Even when they're mad I think they're fun, because they're almost always right."
Despite all the improvement at Rogers, Wyborney isn't satisfied. She wants the school to continue to improve its test scores. She's looking at how to fix the way teachers handle discipline. While graduation rates have risen, many students who graduate aren't going on to college. And once they get there, many of those students don't last past the first semester.
There are a lot of big changes in education, Wyborney thinks, that could yield much better results: Later start times, year-round school, rethinking the six-period day.
"We're just so stuck in a six-period day, and I don't think it works," she says. She points to two senior students remaining in the cafeteria. "They have more than enough credits than they need to graduate. They're ready for college. They should be on a half-day schedule, where we're setting up opportunities to job-shadow, do internships, spend more time in colleges — maybe even take more classes. Get that transition from college to career a little bit better."
Ultimately, of course, it's all about the students. When Wyborney gives a speech at graduation, instead of delivering reheated platitudes, she focuses on the stories of specific students. Each year, she chooses four kids who've overcome seemingly impossible obstacles — drugs, homelessness, family dysfunction — to graduate, and celebrates their accomplishments.
"This year I'm going to talk about a little girl who had a baby when she was a sophomore, and she's still taking AP classes," Wyborney says. "She's going to go to Washington State. Still pursuing her dream, even though she has this other responsibility at home. We have some amazing kids out there." ♦