Suddenly, for a moment last week, biblical interpretations became a national news story. U.S. Attorney General Jeff Sessions turned to Scripture to defend the Trump administration's policy that has separated at least 2,300 immigrant children from their parents — many of them held in cages.
"I would cite you to the Apostle Paul and his clear and wise command in Romans 13, to obey the laws of the government because God has ordained them for the purpose of order," Sessions declared last week.
The claim was inaccurate. Family separation wasn't mandated by law; it was the Trump administration's "zero tolerance" immigration policy that multiple officials said had been adopted to discourage illegal border crossings.
Others also argued that Sessions' interpretation seemed wildly contrary to the orthodox Christian reading of the Bible. After all, according to the Gospels, Jesus had explicitly condemned leaders who obsessed about the fine details of the law and neglected mercy and compassion. Critics pointed to verses commanding us to help foreigners, strangers and children.
At its heart, the issue represents another moral dilemma facing Christian Republicans. Despite — or even because of all his known vices — 81 percent of white evangelicals voted for Donald Trump, according to exit polls.
Fresh off a racial reconciliation meeting with other religious leaders last week, Walter Kendricks, the black pastor of Spokane's Morning Star Baptist Church, offered a lamentation.
"We have children in internment camps. And we have the attorney general quoting the Bible!" Kendricks says, laughing at the grim absurdity of it all. "Misquoting the Bible, I should say. Which is nothing new — George Wallace used to use the Bible to defend segregation."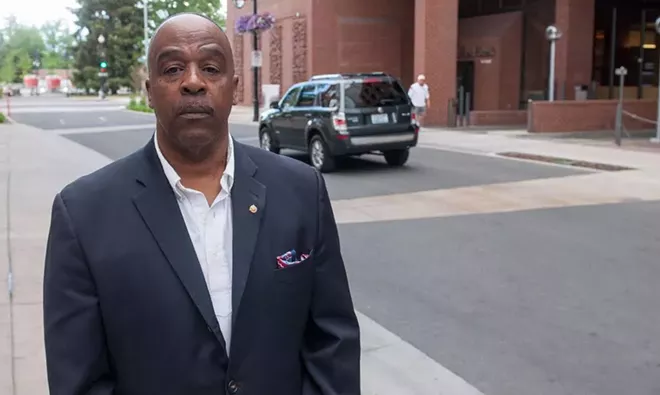 He sees a moral failure, not just with politicians, but with religious leaders.
"Why is the church so silent with all of the nonsense going on?" he asks.
Congresswoman Cathy McMorris Rodgers, representing the 5th District in Eastern Washington, was raised a Christian. She attended Pensacola Christian College, a very conservative then-unaccredited independent Baptist college.
And on Thursday, June 7, she gave a speech before the Faith and Freedom Coalition, an organization meant to bridge evangelical faith and Tea Party politics. She touted the Republican Party's accomplishments — anti-abortion legislation, prison reform, tax cuts. Look at the conservative judges Trump appointed who have protected religious liberty, she said. She finished with prayer.
"I pray that I will operate in the spirit of power and love, and a sound mind because God's spirit is within me," she said.
Family separation wasn't mentioned at all. McMorris Rodgers has stressed her position as a mother in discussing everything from marijuana to school shootings. But until Monday of this week, she had been mostly muted about children being torn from the arms of immigrant parents.
It's not that McMorris Rodgers supports the practice.
"I have said we should not be separating families," she said in a town hall in Pullman last month, according to the Washington Post.
And it's not that McMorris Rodgers doesn't care. Some of the pastors who pleaded with her to help immigrant students put in peril by Trump's decision to end the Deferred Action for Childhood Arrivals (known as DACA) believe the congresswoman genuinely wants to help DACA kids.
But her position has generally been that working behind the scenes, as opposed to taking a dramatic stand, is the most effective way to get things done in the age of Trump. From May 17 to June 17, Cathy McMorris Rodgers posted or reposted tweets praising elements of the Republican tax reform bill over 50 times, but didn't tweet about the family-separation policy on Twitter once.
She did, however, tweet a happy birthday message to President Trump.
Congresswoman Pramila Jayapal, representing a district on the western side of Washington, was raised a Hindu. While a child in India, the Seattle Times reports, she prayed five times a day to her family's goddess to be able to come to America someday.

And on Saturday, June 9, Jayapal spent three hours at a federal detention center in SeaTac, Washington, talking to the immigrant mothers who'd been imprisoned, separated from their children, and allegedly told by Border Patrol agents that their "family wouldn't exist anymore."
"Some of them heard their children screaming for them in the next room," she told the Washington Post. "Not a single one of them had been allowed to say goodbye or explain to them what was happening."

And over the next week and a half, images documenting the impact of the Trump policy began to trickle out: We saw pictures of children in cages. We listened to audio of the kids screaming out "Mami" and "Papá" repeatedly. The outrage over family separation became bipartisan.
Republican Sen. Ben Sasse of Nebraska called it "wicked" and "harmful to kids." Former First Lady Laura Bush penned a column labeling the policy "cruel" and "immoral," saying that "it breaks my heart."
And the church stopped being silent.
Franklin Graham, an evangelical leader beloved on the far right, condemned family separation: "It's disgraceful, and it's terrible to see families ripped apart and I don't support that one bit."
Over 300 Catholic bishops issued a statement calling the policy "immoral" and suggesting the government had exposed migrant children to "irreparable harm and trauma."
By late Monday, even immigration hardliner Republican Sen. Ted Cruz, of Texas, had announced a bill intended to end the practice of family separation. And McMorris Rodgers issued an unequivocal statement:
"As Americans, the land of freedom and opportunity, as a people who are warriors for human rights and human dignity, these policies are inconsistent with our nation's values and everything we stand for," her statement reads. "I believe that the administration should stop the practice of separating families on their own. However, President Trump has made it clear that Congress must make a formal policy change."
Yet she also suggested that Trump's wall would actually help prevent more family separation.
"I don't believe in tearing families apart, but I also believe that people need to be coming to America legally, which is why I support increased border security efforts so families aren't put in this situation," her statement reads.
This week, House members will vote on an immigration bill that provides a pathway to citizenship for DACA students and allocates $25 billion for the border wall Trump promised Mexico would pay for.
McMorris Rodgers claims the bill will also "fix this family separation problem." But, as Vox reports, the bill wouldn't explicitly ban the practice, instead allowing children to be held in detention facilities indefinitely with their parents.
For Jayapal, that's not a solution.
"In an affront to families everywhere, this bill increases the abuses of children and the cruelty of denying a fair process to immigrants seeking asylum," she says in a statement. On Monday, she called for a national protest on June 30 about the issue. (In Spokane, the "Families Belong Together/Familias Unidas No Divididas" rally is scheduled for 1 pm on June 30 — Hoopfest weekend — at the Gathering Place.)
Lately, Republican leaders risk being punished by Trump's loyal base if they stand up to the president.
"There might not be a political upside, but there's a moral downside to their silence," says Kendricks. He's spoken with McMorris Rodgers at community roundtable events, and says she sometimes attends his church. "We're going to meet God. We're going to meet him."
And then, McMorris Rodgers and Kendricks both say, we'll be called to account for how we lived our lives. Were we willing to help out the "least of these" — the sick, the hungry, the prisoner? When the stranger was at our door, did we take him in? Did we seek both mercy and justice?
"Is it justice to snatch children from their parents?" Kendricks asks.