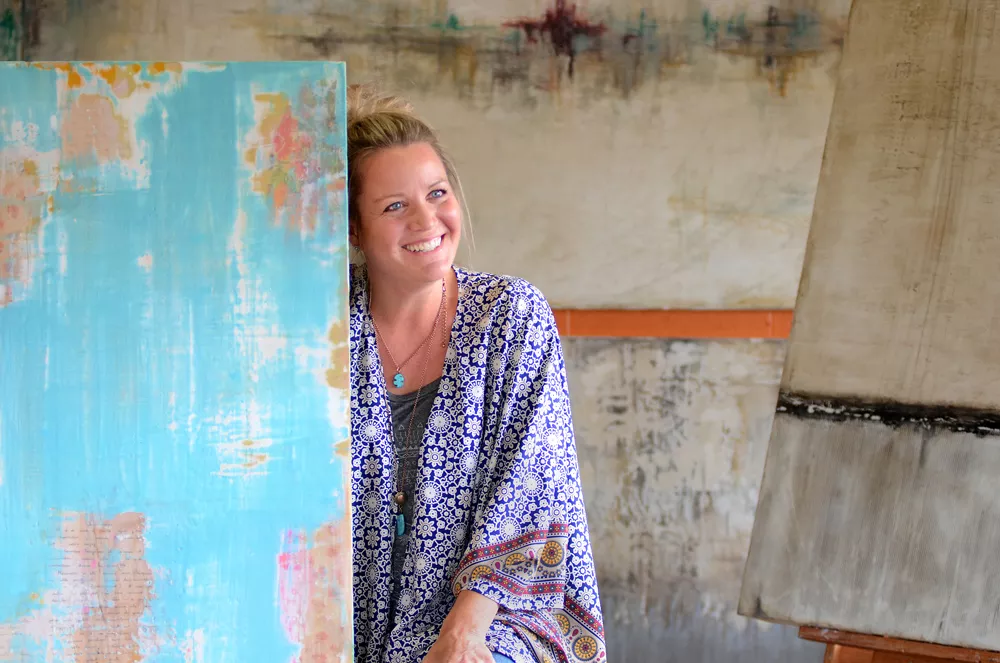 Christy Branson discovered encaustic painting entirely by accident.
Though she spent five years studying fine art at Boise State University, making her own art mostly went on hold after getting married, moving to Spokane and raising two children.
Now, she can't paint fast enough.
"I had tried every medium and I loved it all, but I hadn't honed in to what my craft was going to be," Branson, 44, recalls from her sunlit South Hill studio, in a former service station off of 29th Avenue. A west-facing wall encompassed by two windowed garage doors illuminates the space in warm, natural light. Having moved there in February, it's a huge upgrade from working on art in her dim, poorly ventilated basement.
"I was busy doing life, and it wasn't until I ran across the medium that a light bulb just went off and I was like, 'Oh my gosh, I have to get my hands on this and learn everything I can about it,'" she continues.
Encaustic painting is one of history's oldest art techniques. Translating from its Greek origins as "to burn in," encaustic involves using melted beeswax mixed with colored pigments and damar resin, the sap from a family of trees in the Eastern Hemisphere. The oldest known encaustic paintings include third-century Egyptian portraits discovered on the sarcophagi of mummies.
Still, Branson doesn't recall ever learning about encaustic while formally studying fine art. She came across the medium several years ago while searching online for how to build her own frames for some other mixed-media pieces she'd created.
"I just missed it in college, which is OK because I wasn't ready for it," she says. "I found it at this point in my life, and I had to paint. I love the properties — the luminosity of the layers and the possibilities of it."
Branson's art style hovers between abstraction and impressionism. Each piece is heavily layered by overlapping different colors of wax. Sometimes, papered ephemera — wallpaper, sheet music, old letters — is purposely revealed beneath these wax layers. Many pieces are scratched and dotted with grooves and marks that mimic aging; another has gold leaf laid atop its waxy background. Drips of white wax, like rain on a windowpane, run down the center of one piece, while rough grains of sand are embedded into the bottom of another. In a recent experiment, Branson fused pieces of corrugated cardboard beneath the wax layers.
"I wanted to see what the wax did when it filled the ridges," she says, adding, "I like people to feel my paintings. Some artists say 'Don't touch the paintings,' but I think it's crazy how finished and glossy the end result can be."
Her most-used tools to mark and dig into the sweet, vanilla-scented wax before it sets are a pizza cutter, a dental scraper and a pie crust edger. Kitchen — rather than art — supply stores are a hotbed for finding new and innovative ways to mark and scrape away wax layers.
"I'm very attracted to old buildings and crumbling paint, and I'm obsessed with old wallpaper that is peeled off," Branson explains. "I want to create that idea in my paintings that there is always a story behind everyone's life. History gives this richness, versus everything being so new. I think that's what I strive for — to reveal more depth than a glossy new surface." ♦
Christy Branson: "What Lies Beneath" • Reception on Fri, May 6, from 5-8 pm; art on display through the month • Free • Barrister Winery • 1213 W. Railroad Ave. •