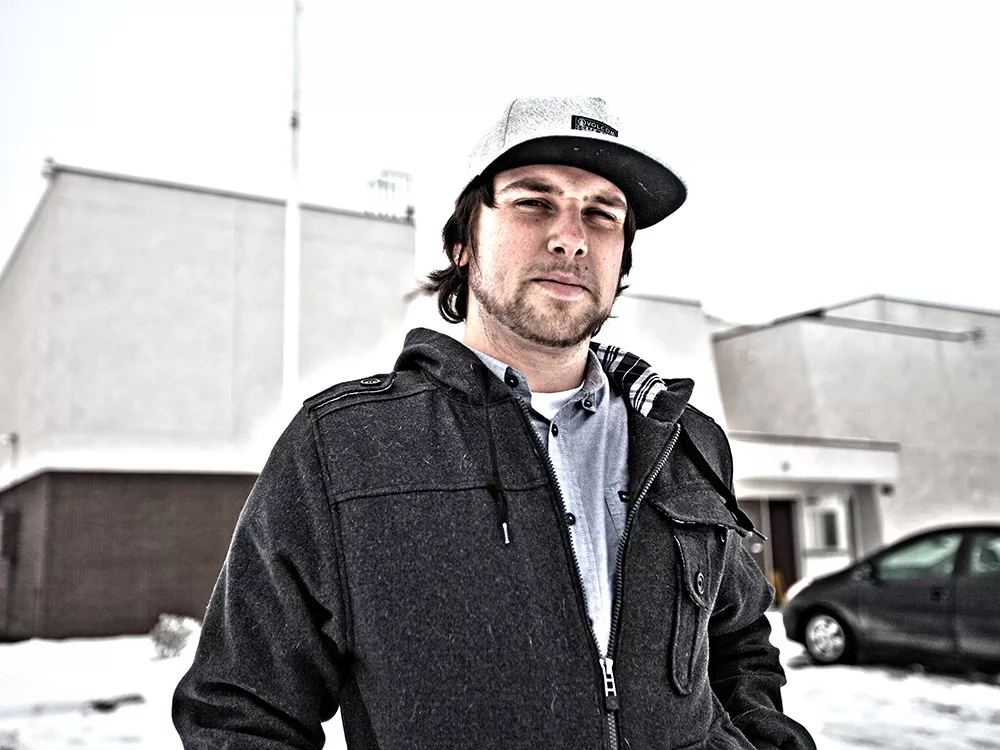 Not many were astonished by its closing. The Center, the North Side all-ages music venue, seemed almost doomed from the beginning. Even the Center's talent promoter, Quinn Tanzer, told the Inlander he had concerns about it being so far away from downtown shortly before its opening.
"People don't want to drive up north ... because it's up north," he said. "... But I give it six months and this place will be awesome."
Opening in January, the Center would not make it a full year.
Tanzer is upset with how things turned out. But he's moving on, as most Spokane promoters must learn to do; he says he will continue to book shows in the area, just not at one particular venue.
"This is a very hard market to have a mid-level concert venue survive," Tanzer says. "The best thing we can do is bring the types of acts the customers want to see."
The final decision to pull the plug on The Center came down to owner KC Crawford.
"I wasn't able to make enough money to make it worth my while," he says.
Crawford wasn't the first club owner to experience financial woes this year. The A Club went away in January (becoming Club 412 shortly thereafter). In July, the Blue Spark shuttered its space after 12 years downtown.
The remaining shows booked by Tanzer have either been canceled or moved. The Hop!, an all-ages venue that packs out at 200, has generously taken on a few of those (Red Fang, Black Dahlia Murder).
Tom "TC" Chavez, owner of the Hop!, says he's not surprised the Center went under, and that in general it's hard to do anything in the music business these days.
"We're a small market," he says. "The place that falls in between the underground scene and Knitting Factory, the medium-sized event center, it's hard to consistently bring enough people to fill it."
Even though the Hop! has found its niche as a smaller music venue, it (along with the Knitting Factory) has seen problems of a different kind. Two months ago, a man was shot and killed outside the Hop!'s doors.
"I never thought that would ever happen," Chavez admits.
Although it was an isolated incident, Chavez has cut back on hip-hop shows to let the dust settle. He says that since then his business has continued to be successful and that except for the media, people don't talk about it anymore.
Downtown's 1,500-person Knitting Factory had its own set of worries in February when shootings caused the Spokane Police Department to temporarily shut down the venue.
"We were completely exonerated of all misdoings and we had no drop-off in business," says Mark Dinerstein, the Knitting Factory's senior talent buyer, of the incident. "We've never had a violence issue before or since."
Still, with all of this tumult in the past year involving all-ages venues,the Bartlett is forging ahead.
Last week, on an unusually warm autumn day, Karli Ingersoll is at her soon-to-open downtown business, the Bartlett, overseeing the ongoing project. Today, it's about getting as much paint on the renovated building's walls as possible. She and her husband Caleb hope that by paying attention to the details, their venue can persevere where others have not. The focus is to make everything — the stage, aesthetics, sound system — the best they can afford, Karli explains.
"I think there's not as much quality when it comes to local venues, so the bar is low," she says. "It seems some places just open to open."
While she didn't see the Center as direct competition because of its location, Karli sees its closure as a loss, as the venue was booking genres that the Bartlett isn't necessarily going to cater to.
"Our philosophy is there has to be several places working hard for the scene to be strong," she says.
As Spokane is a smaller city with fewer bands and people paying attention to the music, all venues have to work that much harder to get their piece of the pie. This is an issue local music promoter Patrick Kendrick, who helps book the Inlander's Volume music festival, has been dealing with for nearly a decade.
"I've learned over the years you have to adapt to your environment, try and have your finger on the pulse," says Kendrick. "It's a constant battle, but you can't dwell on it if it doesn't turn out well, you have to keep going."
Kendrick says he's hopeful about how the Bartlett is going to be managed.
"the truth is, venues just don't last forever," Kendrick says. "But that doesn't mean we can't have venues that have a good multiyear run."
Currently, the Knitting Factory is the big man on campus, hosting in a few all-ages show a week. But as Dinerstein says, he still needs the other venues to bring in the acts not large enough to fill his venue in order to develop momentum for the scene.
"Small clubs come in and out all over the country," he says. "It's a little bit of luck and a lot of hard work." ♦