Spokane City Council meetings can be filled with conflict and tension, especially when the lives of homeless people are on the line. That was evident in September when Councilwoman Kate Burke rattled off concerns about the city's strategy for operating a new shelter.
"Those would have been great questions for six months ago," an exasperated Council President Ben Stuckart responded.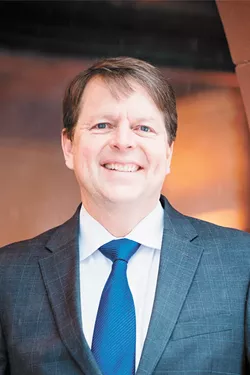 "Council president, please stop being inappropriately rude on the dais!" Burke snapped back, prompting applause from the audience.
Cindy Wendle, who's running for Stuckart's job, condemned the spectacle the next morning on Twitter.
"The council president sets the tone, and the current tone is unacceptable. We've seen this council degenerate into the lowest tier of political theater," she wrote. "It's embarrassing to watch."
And yet, Wendle isn't running against Burke or Stuckart. She's running against Councilman Breean Beggs, and his tone during that council meeting was far softer and more conciliatory, underscoring his reputation for seeking compromise.
"I know how much you care about the people that you love, who you have lost and who you've served," Beggs said to the homelessness activists who showed up. He's critical of the mayor, but defends city staffers "as big of advocates with as big of a heart for this population as anyone."
As the two compete to lead the City Council, Wendle argues that Beggs is too ideological to be effective, while Beggs argues that Wendle is too vague and inexperienced.
But the big fight isn't over who can deliver the most fiery speeches or champion the most dramatic policies. It's over who can bring everyone together.
WHO'S THE UNITY CANDIDATE?
When Beggs was appointed to the council in 2015, he entered amid the council's bruising fight with Mayor David Condon over a scandal involving sexual harassment allegations against the prior police chief.
But even during that turmoil, Beggs says, he was able to forge a process with city staff to develop a joint strategic plan to unify the city's direction going forward.
"For the three months that we came together and came up with that, communication improved," Beggs says. "We don't have to agree on everything. But we have to agree on something. Focus on that something."
Even those on the opposite end of his political spectrum, like Councilman Mike Fagan, praise Beggs' ability to listen.
"We have our obvious ideological differences," Fagan told the Inlander last year, "but Councilmember Beggs is one of several council members who will take the time to listen to you intensely and then ask you follow-up questions to make sure they heard you right and understand your thought process."
Beggs, an attorney who often serves as a mediator, frequently credits his evangelical mother and his hippie father for his ability to speak the languages of both the left and the right.
So when Beggs helped craft a climate change ordinance, setting the city on an aspirational path to convert to 100 percent clean energy by 2030, he notes that he managed to win the support of Avista Utilities. The key, Beggs says, was bringing them to the table and promising them the transition would be a gradual one.
But when Wendle looks at the council, she sees turmoil and a failure to get things done.
"If [Beggs] was truly someone who wanted to work with people, then solutions would have happened by now," Wendle says.
Instead of "sitting back and waiting for things to fall on your desk," she says, the City Council needs to show leadership.
A real estate asset manager for Northtown Square and a former manager at Washington Trust Bank, Wendle cites her experience launching three new branches at Washington Trust in three years.
"I have a strong background in building relationships and having a common goal, getting people to rally about that common goal," Wendle says.
She points to things like the police contract — stalled for three years — as evidence of Beggs' failure to effectively compromise.
And yes, while Beggs argues that Wendle "does not seem to understand how city government works," Wendle says she knows that it's the mayor, not the City Council, who negotiates the police union contract.
"I get what the council can and can't do," Wendle says.
Instead, she suggests that some of Beggs' efforts, like his desire to give the police ombudsman additional authority, could be hampering the city's relationships with the Police Guild.
"I want to sit down and listen and bring everybody to the table," Wendle says.
But Beggs argues he was able to make change, even when he wasn't on the council. Before he was appointed, he led the charge to create a police ombudsman, laid the groundwork for the city's community court and convinced the city to stop impounding poor people's cars. Imagine, he says, what he could do in the role of council president.
"The big difference between Cindy and me is I was working on city issues and getting stuff done long before it was even my job to do it."

tweet this
"The big difference between Cindy and me is I was working on city issues and getting stuff done long before it was even my job to do it," Beggs says.
THIS THEY BELIEVE
But Wendle argues that Beggs' activist background is a weakness and that she offers a more moderate perspective.
"He comes at it from a political side, a very ideological side," she says.
In 2009, Beggs had been a fervent advocate for Envision Spokane, a sweeping left-wing citizens initiative intended to guarantee, among other things, affordable health care, union rights, prevailing wages for construction workers and handing neighborhoods more power to stop developments they opposed. Nearly 80 percent of voters rejected the initiative.
But in his interview with the Inlander, Beggs downplayed his left-wing political history, arguing that his views are more nuanced. Behind the scenes, he says, he encouraged Envision Spokane to take a different approach he believed to be more effective.
"I might get to that policy position that's considered 'left,' but I get there for different reasons," Beggs says. He cites criminal justice reform as an example. He's not just worried about over-incarceration as a human rights issue — he's worried about how much it costs the taxpayer. On the council, he says he wants at least 60 percent of the voting public to agree with any policies.
He's met repeatedly with the landlord association and the tenant association, he notes, but he hasn't yet reached that "sweet spot" of compromise. And so instead of shoving a liberal policy through, he's focused on low-hanging fruit like rental relocation funds for displaced tenants.
"I am not trying to take my policy perspective and impose it on the city," Beggs says.
Wendle also downplays her own ideological underpinnings. She's married to a former district director for Republican Congresswoman Cathy McMorris Rodgers, but stresses her own moderation. She won't say who she voted for U.S. president in 2016. (Beggs voted for Hillary Clinton.) She acknowledges she voted in favor of the recent library bond, but won't say whether she voted for the recent school bond.
When asked by the Inlander in August to name any council decision about development or density that she disagreed with, Wendle doesn't give any examples.
"There's a lot of things that I think the current council and I agree on, probably more so than people think," Wendle says
Still, on nearly every area where the mayor and council disagreed in recent years, Wendle would have stood with the more right-leaning mayor.
She supports integrating the city and county dispatch systems. She says she wouldn't have voted for the ordinances requiring businesses to offer sick leave to their workers, or voted to ban Border Patrol from conducting raids without warrants inside the city-owned Intermodal Center, or voted to suspend the sit-lie ordinance. She wouldn't have voted for the renewable energy ordinance either.
"Things that they're talking about — climate change, coal trains coming through town — these are not the top issues that people are talking about," she says. "They want their downtown safe."
In fact, Beggs and other council members put a measure on the ballot to do exactly that — raising property taxes to pay for 30 firefighters and 20 new police officers, including five for downtown.
But Wendle voted against it. She argues simultaneously that it wasn't enough money to be sustainable and that the city could have easily found the funding without raising taxes. Yet she declines to name anything she would have cut instead. Without being part of labor negotiations, she says, she can't speak to the details.
"Until you're in that room negotiating how that's set up, I can't tell you how you move money around for that," Wendle says.
The City Council president fight mirrors the mayoral fight. Mayoral candidate Nadine Woodward and Wendle point to problems downtown and propose arresting addicts who refuse to get help, while Stuckart and Beggs stress the legal and ethical necessity of providing new shelter space — with storage and showers — before cracking down on vulnerable people.
Wendle argues the current council has done little but blame the mayor, while Beggs points to Wendle's lack of detail as evidence she's unprepared.
"Maybe you pried the specifics out of her," Beggs says. "But I've gone to about 10 forums with her, and I've never heard her make a specific proposal."
In her interview with the Inlander, Wendle did raise one new possibility. Like Woodward, Wendle has raised concerns about whether people feel safe in the downtown library, which has battled drug use in its bathrooms. But with the library under construction, she worries about where the homeless people who seek refuge there will go and floats a possible solution: A new daytime shelter on the western side of downtown, featuring both a relocated community court facility and another one-stop shop to help homeless people navigate the complicated social service system.
The city, Wendle says, could own the property, but would not be the primary funder. But it would lead the charge with a network of partners.
When told about Wendle's proposal, Beggs says it's a fantastic one.
"I think it's great!" Beggs says. "I've been proposing that for over a year." ♦