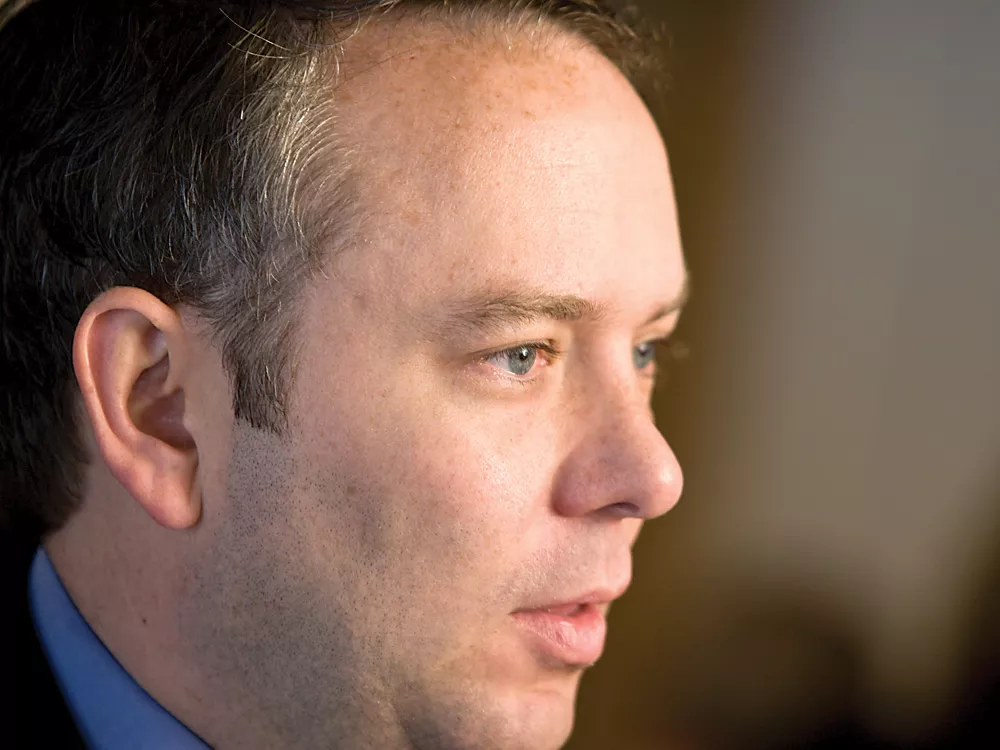 When David Condon held his first press conference since being elected Spokane's next mayor, he did something notable: He took questions.
On issues from his commitment to transparency at City Hall to the possibility of the U.S. Department of Justice investigating the entire police department, Condon fielded questions from a handful of reporters.
"Voters clearly want a City Hall that's open, accountable and responsive," Condon said Tuesday. It's something many city leaders have said in the past, including the woman he's replacing. But it was the fact that Condon fielded questions that set him apart from Mary Verner — who, on several questions, has refused any questions.
It's a new age in Spokane city politics. Again.
When Condon moves into his new office on the first of the year, he'll come with a mandate to reform the police department and increase the "business-friendliness" of the city. The City Council he'll work with will be run by someone as new to city politics as he is, and the votes he'll seek on the council will be dominated by the fiscally minded conservatives who swept this election.
But if "Otto Zehm" and "jobs" were the key words this election cycle, then two years ago they were "sustainability" and "complete streets." And, like this year, the election of 2009 swept in a bloc of votes. That year, they were progressive. This year, not so much.
Those looking for a grand narrative for this year's election likely won't find one, says Councilman Jon Snyder, who was elected in 2009.
"That's the limitation of interpreting races through the liberal-conservative lens," he says. "Steve Salvatori and Mike Fagan are two very different brands of conservatives [who both won council seats]. The issues on a local level don't break down that way. I'm not sure it represents such a sea change. … We had three progressive votes before the election. We'll have three progressive votes after the election."
One difference, as Snyder acknowledges, is the mayor.
"The big change is the mayor's race," he says, expressing his disappointment. He says part of reason Verner lost to Condon is voters' discontent with how the city handled the Otto Zehm case. Zehm, a 36-year-old mentally ill janitor, died in 2006 after being beaten and hog-tied by police, including Officer Karl Thompson, who was convicted of excessive force earlier this month.
"When something goes wrong, and something very obviously went wrong," Snyder says, "we want to just affix some blame. But not every recipient of the blame deserves it."


In an art gallery filled with the morning's sunshine, surrounded by family, supporters and friends, Condon articulated his priorities going into City Hall.
"Number one, we need to get our economy back," he says. "We need to end the structural deficit in our budget."
But what about reforming the police department?
Condon says he'll "absolutely" continue with Verner's plan for an independent review of the city's handling of the Zehm case. He supports the Justice Department reviewing the "policies and practices" of the SPD.
But he was less forthcoming when it came to the employment of Assistant City Attorney Rocky Treppiedi, even though, on the campaign trail, he had said multiple times that he would "immediately" fire him, due to Treppiedi's involvement in the Zehm case.
"The key is to review all at-will employees," he said. Pressed further, he added that he had "a lack of confidence in the legal opinions of Rocky. ... It would be very difficult for me to maintain his employment at City Hall knowing what has been made available to me."


So it was Otto Zehm's election. But that's not the only interpretation.
"If Prop. 1 had gone down flaming, I would have said there was a big lurch toward conservatism," says Salvatori, who is replacing Councilman Steve Corker in District 3. Salvatori unsuccessfully ran to become a county commissioner as a Republican last year. "I know there's always different ways to look at things … but no candidate, no elected official, endorsed it."
Two years ago, the Community Bill of Rights was walloped at the ballot box, losing by more than 50 percentage points. This time, the measure — stripped down but still very progressive — barely lost, 51 to 49 percent.
When Verner conceded the race on Tuesday — once it had become virtually certain that she couldn't catch Condon's vote count — she wrote on her Facebook page that it had been "a turning point for the way campaigns are conducted in Spokane."
"David Condon's race for a nonpartisan local office was woven into a larger partisan domination strategy with out-of-town consultants, push polls, and shrewd positioning of issues in collaboration with media mouthpieces," she wrote. "I believe this direction is undesirable for Spokane. The roles of money and media in local election politics must be addressed."
Snyder agrees, saying that, beyond the Zehm matter, the reason the race went the way it did was because of the last-minute, $68,000 donation to Condon's campaign from the state Republican Party.
"We saw one of the biggest donations in the history of any city campaign," Snyder says. "I was under no illusions about Mr. Condon's partisanship. He's been on the governmental payroll for five, six years with [U.S. Rep.] Cathy McMorris Rodgers. … He promised to run a cash-filled race and he did. I guess I was surprised how it ended up."
Condon sees it differently.
"A lot of people voted for the person" and not the issue, says Condon, rejecting any larger theme. He added that he realized almost half of the voters picked his opponent, but that he would still interpret his win as rejection of the "put the policies out and communicate later" mentality that he ascribes to Verner.
Ben Stuckart, the council's incoming president, has a similar interpretation: Whoever worked the hardest won the race.
"Some of the incumbents thought they didn't have to doorbell because of their name recognition," he says. "We would have seen a different result if people had worked harder."
Stuckart says he personally knocked on more than 14,000 doors. He waved countless signs and raised more than $110,000. "And I lost 27 pounds since the beginning of the campaign," he says.
"This election is a lesson that retail politics works," he adds. "Where I won big margins is where I doorbelled. Where I personally doorbelled, I did better than where my volunteers doorbelled."
Come January, when he takes over as head of the council, he'll likely need to keep up the effort. As a progressive, he'll be working with a conservative mayor and a council that could be predominantly conservative. (The race between Councilman Richard Rush and Mike Allen is still too close to call and will likely determine the majority bloc.)
Stuckart has already started to lay the groundwork for his relationships on the council.
"I had a long conversation with Steve Salvatori today. I've talked with Jon [Snyder]," he says, adding that he spoke briefly with Condon when the vote first came in. He and Mike Fagan had breakfast on Monday. "Nancy [McLaughlin] sent me a nice text on election night [and] I had two hour-long conversations with Nancy during the campaign. ... I'm a pragmatic person. I'm not about drawing a line in the sand. If you work hard, you can really get a lot done. You can bring people together."
But what about the press, which hasn't had the closest relationship with the man Stuckart is replacing, Joe Shogan?
"In February, we're going to start monthly forums, Q-and-A with the press and the public," Stuckart says. "If anybody wants to join me, they can. Otherwise it'll be Ben by himself."
At Condon's press conference, with Stuckart standing in the back, the new mayor was asked what he thought of Stuckart's monthly forums.
"Sounds great," Condon said, adding he was prepared for such things. "I'm the youngest of nine kids. It's takes a lot of talk to get myself heard." (Nicholas Deshais)
The Valley's Status Quo
Unlike Spokane, Spokane Valley almost universally preserved the status quo in this election. Before the election, the Positive Change bloc controlled the City Council by a margin of 6 to 1. After the election, they control the council 6 to 1.
When the conservative Positive Change group seized control of the council in 2009, they eliminated the sprawling multi-million dollar Sprague-Appleway Revitalization Plan, or SARP. And whenever the council had an opening, the bloc appointed like-minded council members. When frustrated Councilwoman Rose Dempsey resigned, they replaced her with Arne Woodard, one of only two planning commissioners at the city who supported eliminating SARP. And they replaced departed-councilman Bob McCaslin with Chuck Hafner, the man behind the scenes of the 2009 Positive Change campaign.
Valley voters could have given the Positive Change group unanimous control, or booted three of them from office. Instead, they did neither. Chuck Hafner, unopposed but for a write-in candidate, easily won his race.
Former Spokane Valley Planning Commissioner John Carroll ran against incumbent Dean Grafos, lambasting him for destroying plans for a city center in his enthusiasm to remove SARP. But Grafos, with triple the financial backing of Carroll, easily triumphed — 56 to 43 percent.
"I think it's an affirmation we're moving in the right direction," Grafos says.
Woodard beat Dee Dee Loberg by 5 percentage points.
But Marilyn Cline, who campaigned with the other Positive Change candidates, was narrowly beaten by Ben Wick, who was endorsed by outgoing Councilman Bill Gothmann, the sole defender of SARP on the council.
Meanwhile, over 80 percent of Spokane Valley voters rejected a proposition that would have raised property taxes to reverted Sprague and Appleway to two-way streets.
"People want it left alone," Woodard says. "And they don't want us to spend the money."
Carroll believes the vote was more about an opposition to property taxes than Sprague's direction. He voted against the measure but supports Sprague being changed.
"That area down there is a blighted area," Carroll says. (Daniel Walters)
Free Booze
Whether for it or against it, bartenders in Washington aren't sure what it means now that the sale of liquor has been privatized in the state.
"I'm probably going to have to shop around because not everyone's going to have the same prices" or selection, says Ron Wieber, owner of the Park Inn, a South Hill bar.
He voted for Initiative 1183, which closes state-run liquor stores starting June 1, and allows only large grocery stores like Costco and Safeway to sell booze. The state's Office of Financial Management says the initiative will generate about $80 million in revenue and allow 1,100 new liquor stores to open.
"I think, in the long run, everybody in the state is going to get a better deal," says Wieber.
But across town at the northside cocktail bar Bon Bon, in the Garland Theater, bartender Sean Heale worries that the big retail stores won't stock the bitters and other rarefied liquors the bar relies on for its concoctions.
"Craft and classic cocktail bars don't really use flavored vodka, and we have a feeling that's going to be a majority of what you find at big retailers," Heale says.
The solution? Order online, Heale says. But that will come at a cost.
"We don't want our liquor costs to go up and have to charge people more money for the cocktails," he says. (Chris Stein)
Reagan's Idaho
The Kootenai County Reagan Republicans' website may be crude, but the group has undeniable impact.
There it is, in large red Verdana font: "THANK YOU KOOTENAI COUNTY! Seven out of Seven."
Two years ago, the Reagan Republicans came into existence. This year, all seven of the candidates they endorsed won.
In Coeur d'Alene, two members of the group's board, Dan Gookin and Steve Adams, are heading to the Coeur d'Alene City Council. The official Kootenai County Republican Party doesn't get involved in nonpartisan races. But the Reagan Republicans have helped Gookin and Adams raise funds, knock on doors, and call voters.
"They're doing a lot of things, and we're getting a black eye for it," says Tina Jacobson, chair of the Kootenai County Republicans, about the Reagans. "I'm getting bills made out to the Republican Party for things they've done."
If billing confusion weren't enough, the Reagan Republicans have come under fire for injecting party politics into nonpartisan races.
"You can't take the politics out of politics," Gookin says, defending his group. "If you want to do anything in politics, even local politics, you have to be affiliated with the party."
Their impact extended through the rest of the county: For Hayden City Council, the group endorsed Tim Timmons, a real-estate agent who advocated against impact fees restricting development. He won. One of their endorsements for the Post Falls City Council was Joe Malloy, who faced five-term incumbent Scott Grant. Grant had supported a 2-percent tax increase. Malloy won by 70 percent.
In Coeur d'Alene, of course, Gookin and Adams had another advantage: McEuen Field. A plan to remove the boat launch and ball field from the pricey McEuen overhaul drew outrage from a variety of citizens. Gookin and Adams called for a public vote.
"In this town, historically, people will change out the City Council when issues involve something near the lake," Gookin says.
McEuen may have helped Ron Edinger, a 40-year-veteran on the council. The Reagan Republicans didn't endorse him, and he had to deal with a minor scandal after the city fired his grandkids because of Idaho's nepotism laws. But he was the sole councilman to call for a public vote on the McEuen plan and, ultimately, he won over 70 percent of the vote. (In 2007, running against Gookin, he only got 53 percent.)
"I would hope the rest of the council and the mayor would look at how the election was last Tuesday," Edinger says.
In Sandpoint, Councilwoman Marsha Ogilvie, running on her business acumen and her council experience, won the mayor's seat with 583 votes. Which — only in Sandpoint — translated to 65 percent. (DW)
Regionalization, Strike One
Contrary to what Spokane County Commissioner Todd Mielke has been saying for the past few months, animals do know boundaries. Or at least their masters — the voters — want them to.
"I think what the voters told us is that this is a tough economy and that we aren't convinced that now's the right time," Mielke says of the county's Proposition 1, which would have raised a property-tax levy to create a regional animal shelter.
"This was a government-sponsored ballot item," he says. "That typically means there isn't a whole lot of money to put on a campaign. There's only some rudimentary elements of a campaign."
Mielke still asserts that regionalizing these services would save taxpayers money in the long run. So now Mielke and the other commissioners are trying to figure out if it's possible to do it without a levy. (CS)

Mr. Padden Goes Back to Olympia
With Jeff Baxter unseated from his appointed state Senate seat, Mike Padden will now head to Olympia for the grim duty of trimming the state budget.
But the projected $1.4 billion budget shortfall is not all bad, says Padden, who served in the Legislature in the 1980s.
"The amount of money coming in this biennium is still 6 or 7 percent" more than the previous biennium, Padden says. "You think of all the business and families that have had to make adjustments. They'd love to have a 6- or 7-percent increase."
But cuts must be made, and Padden says he'll cast a skeptical gaze towards programs like the state Department of Printing. He also plans to listen to recommendations from think tanks like the conservative Washington Policy Center for recommendations on where else to cut.
But there is one unsurprising thing Padden, who played up his conservative bona fides during the campaign, says he won't do: raise taxes. (CS)
Schooled
Election 2011 offered a stark contrast between Spokane Public Schools board candidate Sally Fullmer, who was frustrated with the district's performance, and Deana Brower, who was pleased with the district's effort.
Ultimately, the voters picked Brower over Fullmer, 51 to 47 percent. Fullmer had support from the anti-establishment. She had voted against Spokane school bonds in the past. She was heavily supported by Duane Alton, who regularly ran campaigns against school bonds. Brower had the support of teachers unions.
"You know, it was a close race," Brower says. "We have to definitely listen to all the voices heard during the campaign." (DW)