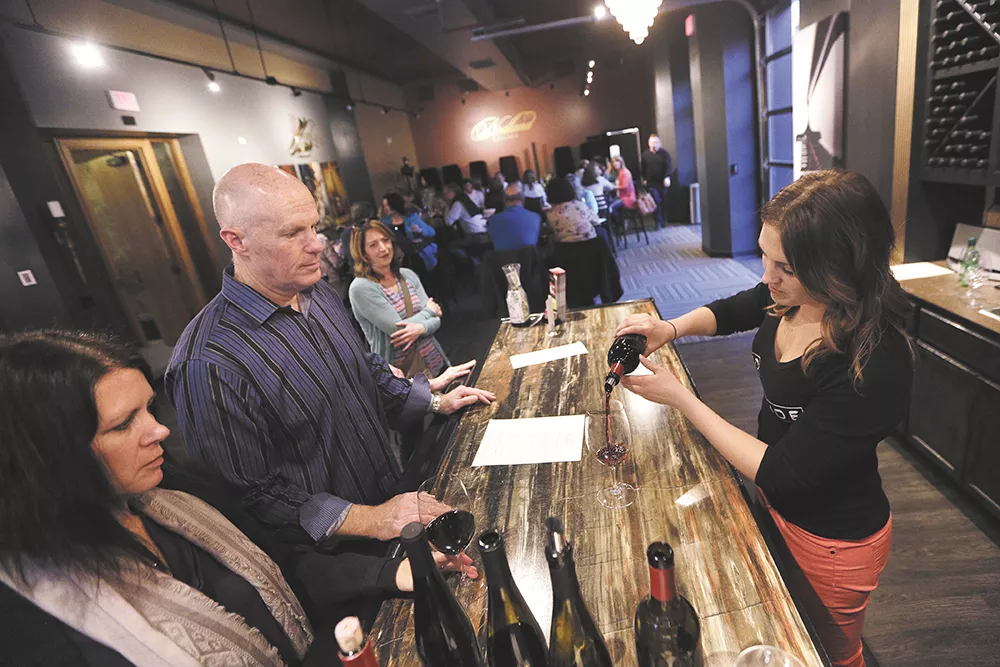 As the Inland Northwest continues to see explosive growth in locally made spirits and beers, it can seem like the region's original craft-alcohol creators — the wineries — are losing a little of the limelight.
Quietly, though, more and more tasting rooms dedicated to local wines have opened in Spokane, the city's so-called "Cork District" growing right alongside the new distilleries and tap rooms.
Greg Shelman's CRAFTSMAN CELLARS (1194 W. Summit Pkwy.) is one of the newest, opening over the winter in Kendall Yards. For him, opening a tasting room in Spokane was a no-brainer; not only is there a large population of wine fans, but "it's really hard to even give people directions to our winery. Kendall Yards is such a vibrant place right now, and we have to put our wine in front of people."
Being right across the Spokane River from downtown means it's an easy jaunt for wine tourists to stop by as they visit a variety of tasting rooms. Shelman does a lot of things to help the casual sipper who might be intimidated by a wine tasting room feel comfortable, including regular live music and participation in the city's First Friday festivities each month.
Kendall Leclaire, who moved to Spokane from upstate New York's wine country eight years ago, made a point of trying every regional Cabernet Sauvignon she could find at the grocery stores as a way of educating herself in what local winemakers had to offer. She's watched the number of tasting rooms multiply dramatically in the plast few years.
"The whole downtown area has grown so much," says Leclaire, a wine steward and the event and catering director for NECTAR TASTING ROOM (1331 W. Summit Pkwy.), which features wines from five Washington wineries. "It's so great to see a community of wineries create that Cork District. It really gives us more attention on the global map."
The growth of tasting rooms has been met by a new, younger clientele who want to learn about wines and sample the region's offerings, she says. That's a big part of the appeal of her job — meeting new potential wine lovers.
"I believe in the idea of teaching and educating the public about wine," Leclaire says. "Can I help expand your palate without pushing you too far and making you not enjoy wine anymore?"
BARRISTER WINERY (1213 W. Railroad Ave.) has one of the area's oldest tasting rooms in its spacious Railroad Alley location that opened 15 years ago. But even Barrister is in on the new tasting-room boom, with owners and winemakers Michael White, Greg Lipsker and Tyler Walters opening a downtown storefront version this winter in the historic Liberty Building (203 N. Washington St.). The new space gives Barrister a high-profile spot adjacent to Auntie's Bookstore and across the street from the Davenport Grand, where foot traffic is far more likely to bring in curious sippers than at the original location.
"Our building has been hidden for years and it's been word of mouth, but now we're out in the open," Walters said when the new spot launched.
On an early summer afternoon, Beth Duke is serving tastes to a couple of wine connoisseurs in town from Walla Walla to sample Spokane's wares. While it's not unusual for savvy wine drinkers to stop by, she says, the new location gets a lot of conventioneers and weekend strollers just curious to try a glass.
"The whole wine market is blowing up," she says.
TASTING TIPS
Don't be intimidated: You might not feel like you're qualified to go on a tasting, but the wine stewards are there to guide you through the process and educate you along the way.
Ask questions: If you're lucky, the actual winemakers will be on hand to tell you about their wine. Even if they aren't in house, the wine stewards can tell you all about the different varietals.
Find a favorite and go with it: If you find that you love Cabernet Sauvignon, for example, visit different tasting rooms and try that same wine at all of them. You'll find a favorite in no time.
Find the deals: Some tasting rooms have happy hours, some offer great deals like five tastes for five bucks, and some don't charge for a tasting at all if you buy a bottle.