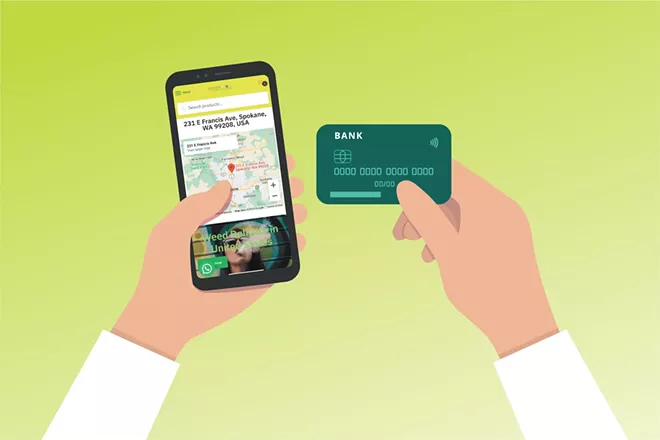 Cannabis delivery scams have been popping up around the country in recent months, including right here in Spokane.
According to the Better Business Bureau, these web-based scams offering home delivery first appeared earlier this year in New England. They advertise a simple purchase process in which an order is placed online or via text and payment is made through a digital wallet like CashApp or Zelle. No product is ever delivered, and because the transaction is made through a digital wallet, it's almost impossible to get any money back.
Like others around the country, the scam here in Spokane is web-based.
Google "Cannabis delivery Spokane" and a website called Gocannabis Kush comes up. The website looks like any other cannabis retailer's, with a full menu complete with product photos. Look a bit closer, however, and you might notice some red flags.
The products available? They're all Californian brands. The phone number? An Illinois area code.
Call it and you're taken to a Google Voice mailbox. You won't get an answer, but you'll get a text back right away. The scam artist will inquire about what you'd like to order. Ask them about the process, and they'll make it sound as simple as can be. Push them on the legitimacy or legality, though, and the conversation comes to an abrupt end.
That's because in some states cannabis delivery is legal, but not here in Washington.
"It's not legal in any way to deliver cannabis for commercial purposes," says Brian Smith, spokesperson with the Washington State Liquor and Cannabis Board.
Unfortunately, based upon Google reviews, people have already fallen victim to this scam, which has only been online since Jan. 8.
With everything from food and groceries to regulated products like alcohol available for delivery, it would be understandable to think the same is true for cannabis. Confusion around these rules has even led to legitimate dispensaries running afoul of regulations in the past.
In 2020, an UberEats-style service called Pelican Delivers tried to exploit a loophole in the law, but was shut down by the state after a few months.
Now, illegitimate actors are looking not to find loopholes in the law, but instead cash in by exploiting consumer confusion around these regulations. You don't need to be a legal scholar to avoid falling victim to these scams, though. You just need to know one thing.
"Don't spend any of your money on cannabis delivery," says Smith. "It's illegal." ♦