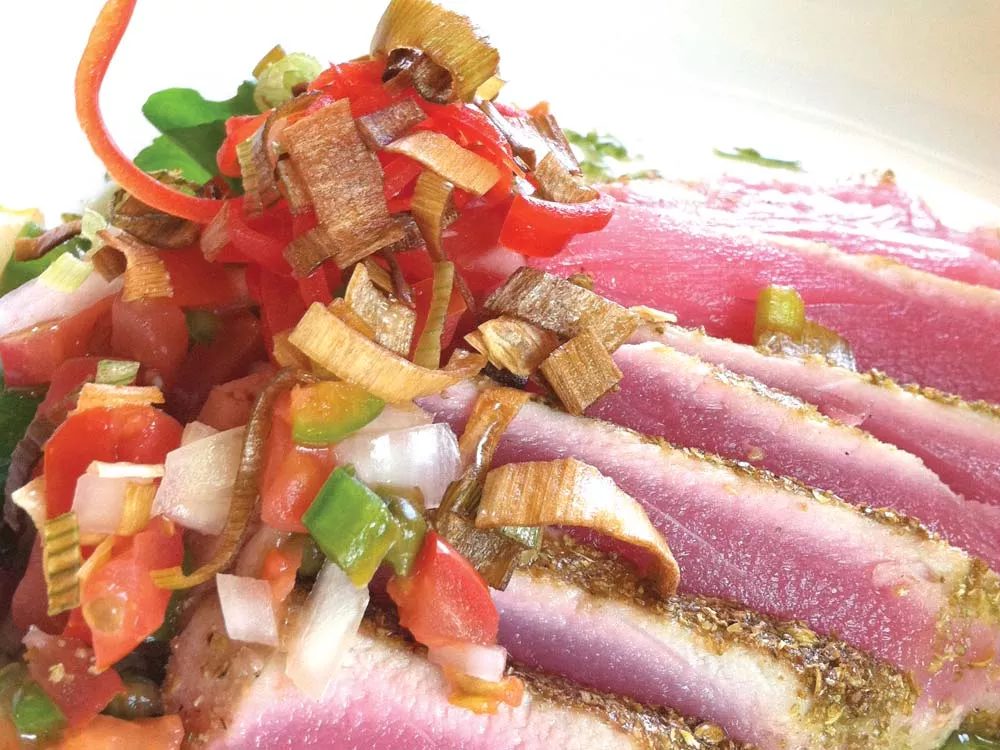 agrees.
Lady Gaga kicked my butt last week. But it wasn't the queen of quirk who did the actual spanking herself.
It was a scrumptious cocktail made of Maker's Mark bourbon and Chambord in a martini glass rimmed with minted sugar and named in her honor.
Gaga was one of several cheeky drinks on the menu at newly opened Seasons of Coeur d'Alene, whose martinis ($8-10) include the James Bond (Belvedere vodka, Bombay Sapphire gin), the Clumsy Ninja (Grey Goose vodka, dry vermouth) and the G-spot (Absolut Raspberri vodka, triple sec).
Unimpressed, my visiting westside friend lamented the lack of rye whiskeys and ordered a Manhattan. "This isn't Seattle," he snarked.
No, no it's not. What it is, though, is warm-weather dining on the outdoor patio, abundant street parking, and prices even a teacher can afford. Once the snowbirds fly, it's combating cabin fever with a shared plate of crispy falafel snacks ($7) in front of Seasons' fireplace.
It's comfort foods like grilled cheese on artisan bread with tomato-basil dip ($8) and buttermilk chicken with green chili pan gravy, mashed potatoes and roasted Anaheim pepper salad ($16) — with nothing over $20 on the standard menu. Seasonal specials include ceviche salad ($8) and asparagus mushroom risotto ($14).
The vibe is casual-yet-sleek dining.
Snappy service, black linen and furnishings, and sexy blown-glass fixtures transformed this former home of T.W. Fisher's Brew Pub.
Seasons is also family-friendly. On another visit accompanied by a 2-year-old fresh from playing at the lake, the little darling put her arms out to be picked up as I fussed with the highchair. Not missing a beat, our hostess scooped her right up as Mr. Meat-and-Potatoes, the toddler's grandpa and my steady dining partner, looked on impressed. As we munched flatbread with smoked salmon spread ($8), enjoying a sunny Sunday afternoon a block from the lake, Seattle was never mentioned. (Carrie Scozzaro)

Seasons of Coeur d'Alene • 209 Lakeside Ave., Coeur d'Alene • Open Mon-Sun 11 am-11 pm • www.seasonsofcda.com • (208) 664-8008.
---
Growing Operation
Jeremy Heidel isn't exactly a farmer. He's the executive chef and co-owner of Forty-One South, a restaurant located on the south side of Sandpoint's Long Bridge. unfortunately for Heidel, North Idaho weather has been uncooperative. An unseasonably cool and wet early spring and low summer temperatures has slowed the growth of Heidel's latest project: a restaurant garden.
"This year I think will be more like a 'set-up' for the garden," says Heidel, who uses local ingredients like raw honeycomb on their salmon ($24), buffalo and elk for entrees on Saturday's "wild game" nights.
Heidel, an American Culinary Federation-certified chef de cuisine, wanted to source more ingredients locally and liked the idea of composting kitchen refuse. He consulted Doug Schabell, who owned Windrush Farms and served on the Board of the Six Rivers Market Co-op, to help build a series of terraced beds, which are visible from the parking lot and kitchen entrance. There are tomatoes, peppers, herbs, celeriac, radishes and some edible flowers. "I've been itching to pick something out of there and eat it," Heidel says.
Not to mention to cook with it. His chicken Caprese sandwich ($8) includes homegrown basil, while fennel is key to the vinaigrette on Heidel's unusual roasted beet salad with spiced carrots and pickled red onions ($7).
The beet salad also includes microgreens — fast-growing, indoor crops of sprouted mustard or broccoli, for example. It's one way many chefs ensure a continuous supply of small but vital ingredients, yet growing greens on the windowsill pales in comparison to growing enough food for 500 plates, which is Heidel's estimate of what Forty-One South typically does.
Of course not everything on the expansive, all-day menu — lemon ricotta pancakes ($7), Dungeness crab with roasted boursin cheese ($11), lamb shish kebab ($25) — includes local ingredients. Still, it's a start, says Heidel, who is keeping his fingers crossed for sunshine. So are we. (Carrie Scozzaro)

Forty-One South • 41 Lakeshore Drive, Sagle, Idaho • Open Mon-Wed 11 am–9 pm, Thu-Sat 11 am-10 pm, Sun 10 am-9 pm. • www.41southsandpoint.com • (208) 265.2000.