At this point in his career, Kyle "KG" Gass is used to fans rushing past him at airports to take selfies with Jack Black, his Tenacious D musical partner in crime. But at 56, Gass is content.
The comedy rock duo has made three studio albums, a movie (which has gained a cult following since initially bombing at the box office) and recently even hosted their own Festival Supreme in Los Angeles, and there's still time — thanks to Black's often busier schedule — for Gass to do his own thing, too.
Today, the self-described morning person is having new shutters installed on his North Hollywood home before Thanksgiving arrives and his group, the Kyle Gass Band, goes on the road for two weeks — including a stop at the Big Dipper next Monday. He says that touring is what keeps him grounded.
"It's almost like we're cheating," Gass says. "Really, it's so fun cruising around with your homeslices, and it would have to be, because I'm fortunate enough that I don't have to, and it's a choice."
He says he sometimes feels bad that he named this band after himself. But after his former side project Trainwreck went off the rails in 2011, he needed to find a way to bring fans in the door for his new act. With Black not in the picture, Gass is the most recognizable member of the band, which includes longtime Tenacious D touring guitarist John Konesky, as well as bassist Jason Keene, drummer Tim Spier and lead singer/guitarist Mike Bray. The crew has all worked with Gass prior to KGB (that the band shares the same initials with the former Soviet Union's security agency isn't lost on them).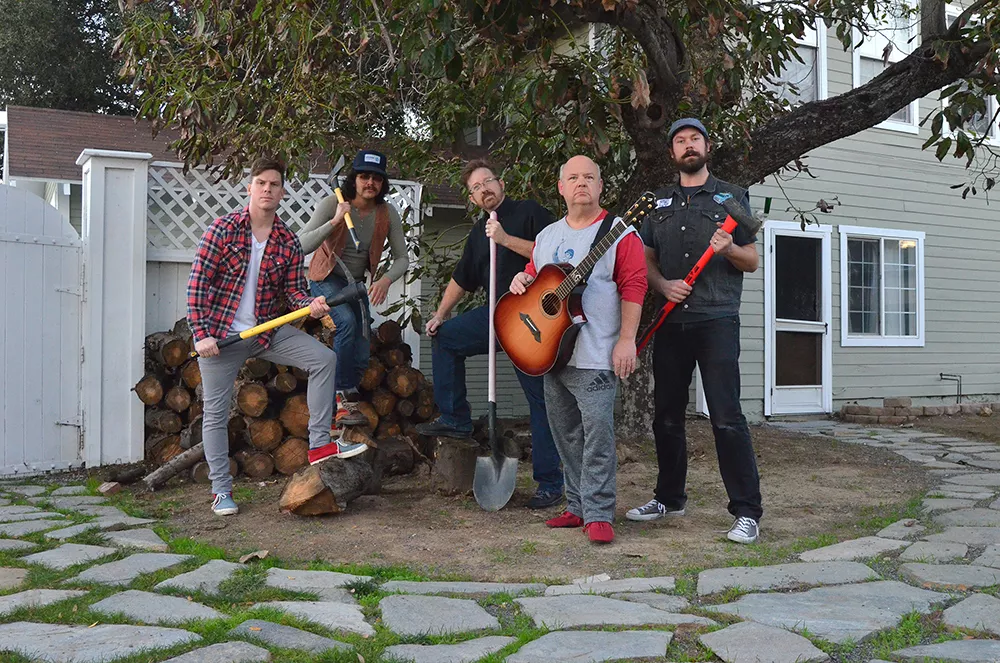 "With the last side project, because of my international fame, it was like David Bowie in Tin Machine — I'm not David Bowie, I'm like Kmart — but needless to say, with Trainwreck, it was me who people recognized. So with the next incarnation, it made sense to call it that. I'm kind of the lightning rod of the band, but it's still very much a band."
Besides, as Gass points out, someone has to play the recorder parts; he's taken to playing soprano and alto recorders at the same time while on stage. It's just one of the things in his musical bag of tricks, he says. Originally an actor, the California native came to the guitar in his 20s, something you wouldn't guess listening to his surefire fingerings and instrumentation.
As the legend goes, he and Black hated one another when they first met in an acting troupe. But soon, they realized their talents were better together (this is all documented in the Tenacious D song "Wonderboy"). In the late '90s, they blew up as Tenacious D, so quickly that they didn't have time to kick their stage fright.
"Jack and I are nervous Nellies; the confident shtick is a pretty big tip-off," Gass admits. "You get more free and comfortable the more you do it. And I'll remind myself I do feel confident about what we're doing; I've been in that situation before."
Gass brings that confidence to KGB. He says that every night on tour is like a greatest hits special, as they only have two albums. His crew will drink on stage, he says, but not too much. "Sometimes I tip over on stage, but that's just from being old. The band knows what we're doing," he says.
When it comes to writing with KGB, Gass says the guitar players come up with the tunes for the group, and that the whole point is to make one another laugh. Often they'll write the song titles first, just to get the concepts. On the band's new sophomore album Thundering Herd, they take on bro culture, lost loves, overstimulated sex lives and uncool uncles, all with a straight-up rock vibe. It's ridiculous absurdist comedy, but still played with instrumental mastery.
"The funny is baked in the cake, it's so natural," Gass says. "It would be more of an effort to bring a dramatic feeling, although I like those songs too. You have to go with what's happening in the writing, otherwise people recognize it's not authentic. And for us, we enjoy humor."
The last song on the album, "The Best We Could Do (In The Time Allotted)," pays homage to not getting their album done in time.
"We hoped you liked our new album / We had fun making it for you / And hey, maybe it could have been better / And that may or not be true... " they croon over acoustic guitar, only to blast into electric sounds. The lyrics express how Gass feels about all of his work.
"Ultimately it's about performance and entertaining, it's about getting together," he says. "Being on the stage is one of the few transcendent experiences left in this world." ♦
The Kyle Gass Band with Hey! is For Horses and Supervillain • Mon, Dec. 5, at 7:30 pm • $12/$15 day of • All-ages • The Big Dipper • 171 S. Washington • bigdipperevents.com • 863-8098