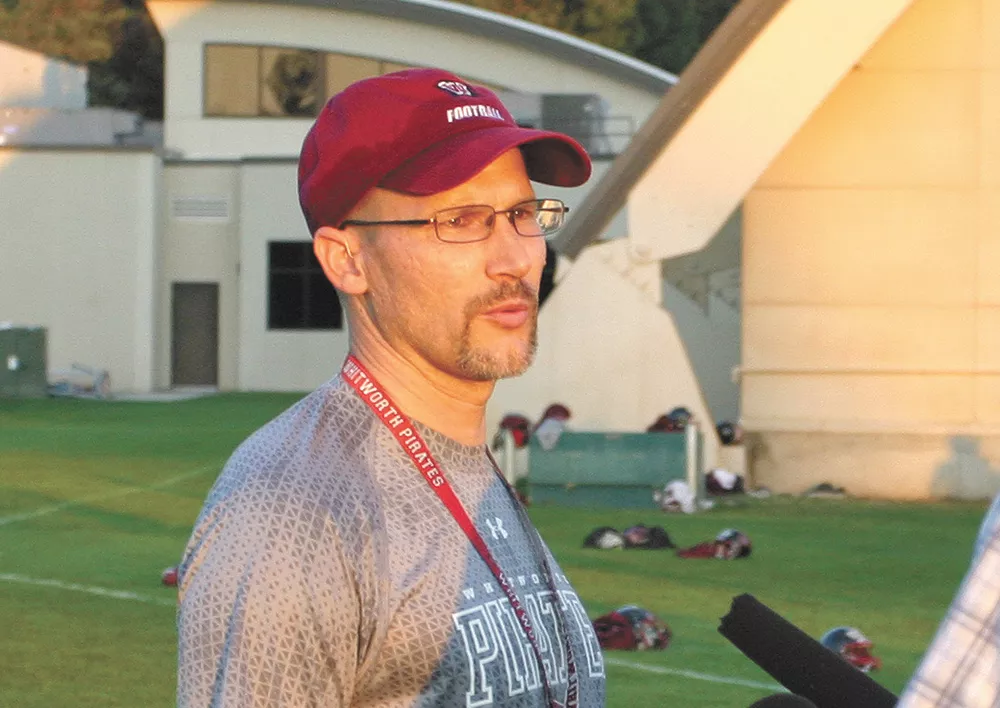 For the first time since the fall of 1994, there will be a different Pirates head coach pacing the sidelines of the Pine Bowl. After John Tully's resignation last November, the university was quick to announce its new hire in Rod Sandberg, the former defensive coordinator for Division III Wheaton University in Illinois. He takes over a Whitworth team that saw 50 new players show up to camp, along with a new offensive approach. We talked to Sandberg about his new gig.
INLANDER: How are you liking Spokane?
Sandberg: My family and I left the concrete congestion of Chicago to come to the beautiful Northwest, and we're loving it and taking advantage of the lakes and mountains. I'd never actually been out here until I interviewed here.
You're coming to a school that had the same coach for 19 years and now has a roster made up of about half new players. Is this a clean slate for you?
I think it is a clean slate. We want to reflect and talk about the success of the past and not ignore that. But we're going to do things differently — not better, not worse — but differently. We have a lot of new coaches... but 12 of the 14 of the coaches are Whitworth grads. It's new, but it's not new, in some ways.
You hired former Shadle Park High School coach Alan Stanfield to run your offense. What was behind that choice?
I'm a defensive coach. That's the way I'm wired, so I needed to have the best offensive coach I could find. Coach Stanfield is going to take advantage of the skills of our offense, and right now we do have a lot of skill at quarterback.
You've been either playing or coaching at the Division III level for more than two decades. What do you like about this level?
Division III is awesome and I have no desire to coach at other levels. These schools have an inherent chance to keep perspective that the student-athlete is really the student. These athletes come because they want to come to the institution first off, and then they want to play the game. ♦
---
WHITWORTH PIRATES
2013 record: 4-6 (2-4 Northwest Conference)
Sat, Sept. 6 vs. Lewis and Clark, 1 pm
Sat, Sept. 13 at Whittier, 1 pm
Sat, Sept. 20 at La Verne, 12:30 pm
Sat, Sept. 27 vs. Chapman, 1 pm
Sat, Oct. 4 at Pacific (Ore.), 1 pm
Sat, Oct. 11 vs. Willamette, 1 pm
Sat, Oct. 18 at Linfield, 1:30 pm
Sat, Oct. 25 vs. Puget Sound, 1 pm
Sat, Nov. 1 vs. George Fox, 12:30 pm
Sat, Nov. 8 at Pacific Lutheran, 1 pm