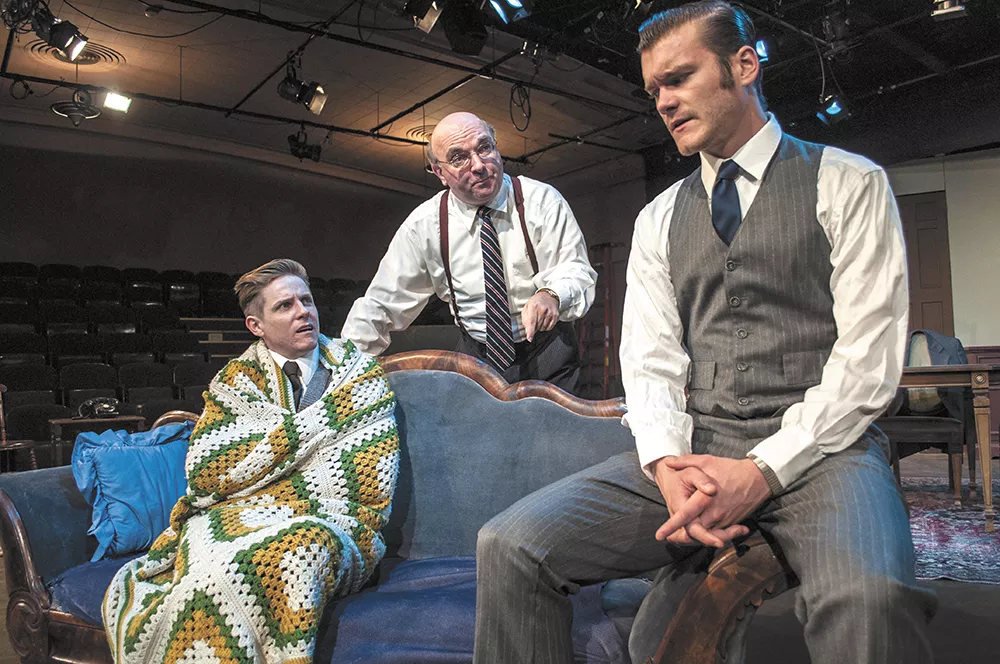 By kicking off its current season with Broadway Bound from Neil Simon's semi-autobiographical "Eugene" cycle, Interplayers is drawing overt parallels to the way the theater opened its previous season.
Broadway Bound is the third and final play of Simon's dramatic trilogy, and will revisit the exact same apartment set — albeit more than a decade on — that audiences saw last year in Brighton Beach Memoirs. Nich Witham, who played Eugene in Brighton Beach, will reprise his more mature character in Broadway Bound. So will Samantha Camp, who plays his long-suffering mother Kate.
Director Michael Weaver says it's "not unusual" for theaters to skip Biloxi Blues, the second play in the series, as Interplayers has.
"Biloxi Blues is about Eugene in the army and his run-ins with bigotry, and it really is parenthetical to the story of the family," says Weaver. "In a sense, Broadway Bound is the reverse of Brighton Beach. Brighton Beach is about opportunity and the bright future, and things that are out there that you can embrace and grab hold of and ride to a conclusion. Broadway Bound is about opportunities not grabbed, and it's about regret."
Although Broadway Bound's missed opportunities and "unraveling" of the Jerome family might not sound like the stuff of comedy, Weaver emphasizes that it's "hilariously funny" in a way that seems to elude more contemporary plays.
"The best comedies are always about something important and something serious," he says. "No, this isn't a door-slamming farce where people drop their pants and fall down, although doors get slammed and people do fall down. But if you look at the comedies of Alan Ayckbourn or Noël Coward and certainly Neil Simon, they're always about really serious, important issues, and their humor comes out of people either masking that pain or delving into it."
For Weaver, this play has special significance. Having worked at Interplayers in ever-expanding capacities from 1986 until 2003, he's recently resigned from the full-time position as associate artistic director that he took up in 2013. This makes Broadway Bound the last work he'll direct before leaving.
"Eugene has a line at the end of the show," says Weaver. "He and Stanley finally move out at the end of the play — that's not giving anything away — [and] Eugene walks around the house in silence as he's leaving. He looks around and he says, 'I knew this would never be my home again.' That has a lot of resonance for me." ♦
— Broadway Bound • Through Sept. 20: Wed-Sat, 7:30 pm; Sat-Sun, 2 pm • $28-$30 ($22 senior/military, $12 student) • Interplayers • 174 S. Howard • 455-7529 • interplayerstheatre.org