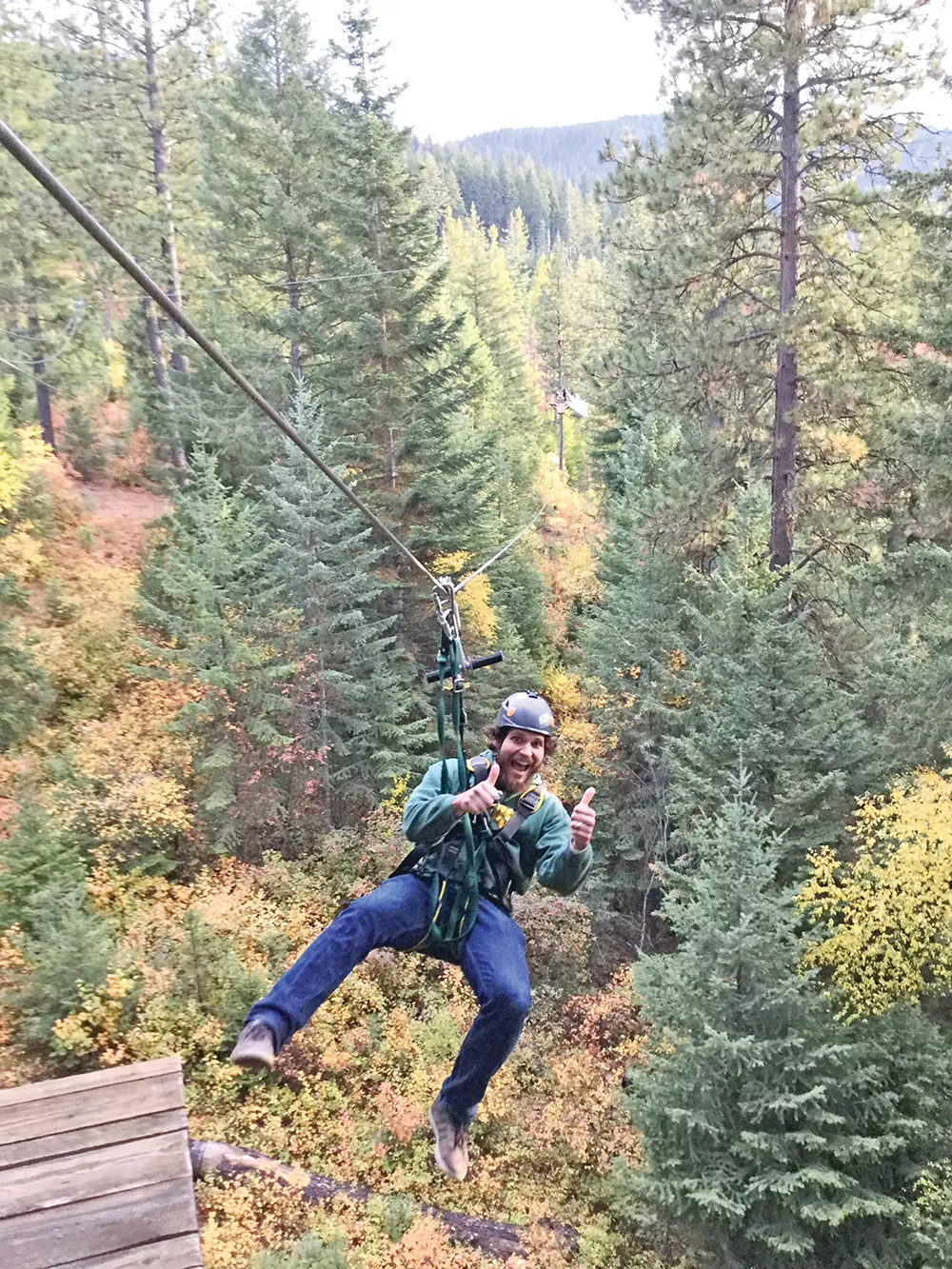 The blues and greens of summer have given way to autumn's pockets of golden orange amongst evergreens and deep-gray green across the lake as fall ushers in new colors and sights. Now is the perfect time to get out amongst the splendor that surrounds Coeur d'Alene.
Pack a light lunch, grab your walking stick and go for a walk along the NORTH IDAHO CENTENNIAL TRAIL paralleling Coeur d'Alene Lake Drive. This paved path hugs the lake from Silver Beach Marina to Higgens Point, rewarding those willing to make the slight ascent with breathtaking views.
Wouldn't it be amazing to fly like a bird above the land? You can with TIMBERLINE ADVENTURES ziplining, which offers nearly 150 acres of terrain for more than two hours of ziplining on a course that's been checked and double checked for safety. They even have some special spooky tours available… just in time for Halloween, with prices starting at $49. Rather leave the flying to someone else? Book a tour with BROOKS SEAPLANE, open through October and beyond, weather permitting.
If you're looking for something a little more relaxing, map out a meandering road trip for fall sightseeing and look for deer amongst the hills, goose along the bays and the occasional bird of prey high in the trees. Just off Interstate 90, there are two scenic byways, both of which get you to St. Maries. Highway 97 hugs the contours of the lake and takes you through Harrison — have a bite to eat or visit the winery there — and check your schedule, while Highway 3 takes you through some of most understated and beautiful scenery amongst the panhandle's chain lakes. Take a different route home, such as the one that brings you by the COEUR D'ALENE CASINO — speaking of beautiful terrain along their tribal lands — where you'll find a welcoming greeting for dinner or an overnight stay.
---
Upcoming Events
Triple Play Halloween Party
OCTOBER 20
Start your Halloween celebration early at Triple Play. Admission is only $18, and grants you access to all the indoor fun Triple Play has to offer, including Raptor Reef Indoor Water Park. Plan your costume carefully — first prize per age group wins $150! Tickets $18; 6-10 pm; visit3play.com/specials.
Oktoberfest Beer Cruise
OCTOBER 20
There's no better way to celebrate Oktoberfest than an evening on the lake. This two-hour cruise includes a complimentary flight of five seasonal beer samples, delicious bratwurst and music. Tickets $20 (21+ age); 7:30-9 pm; Boards at Independence Point. Go to visitcda.org for more details.
Masquerade Charity Ball
OCTOBER 20
North Idaho Life is promising an "epic, opulent, old school-style Hollywood costume party and masquerade ball" this year, complete with special effects and surprises. We're talking fire dancers, aerial artists suspended from the ceiling, live music and much more. Tickets $132; 6-11:30 pm; Coeur d'Alene Resort. Go to visitcda.org for tickets.