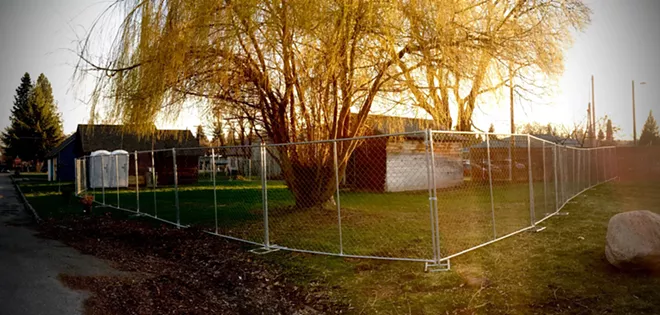 T
he coronavirus has presented
a dilemma to cities and homeless shelters everywhere: How do you keep people who are homeless safe without crowding them too close in a shelter?
Some places have closed shelters. Others, like Spokane,
have expanded indoor shelter space to allow for social distancing
while keeping people connected to services.
And in Coeur d'Alene, St. Vincent de Paul — the city's major homeless service provider — is opening an outdoor space for people experiencing homelessness to set up tents, at least while Idaho is under a stay-at-home order.
Starting today, people experiencing homelessness are welcome to stay at the space, located in a cul-de-sac at 1416 N. First St. near St. Vincent de Paul.
"While the governor's orders are in place, this is our solution," says Larry Riley, executive director of St. Vincent de Paul North Idaho.
Riley says they're also working with a couple of nearby motels who appear to be receptive to isolate people who are homeless, if needed.
St. Vincent de Paul runs two shelters with capacity for a dozen men and a dozen women in each. But they're full, and it's not enough for all the people experiencing homeless in Coeur d'Alene, he says. St. Vincent de Paul was looking at building spaces to serve as an emergency shelter, but Riley says they "intentionally put a stop to that plan" due to fears that an indoor space may spread coronavirus more easily.
"Even if we found a warehouse, all you need to do is have one person sick, and all of a sudden you have to quarantine the whole shelter," Riley says.
The outdoor space will be overseen by St. Vincent de Paul day and night. It has space for roughly 30 one-person tents, with 6-foot distancing between each one. There will be portable toilets and a hygiene station there, and it will be surrounded by a chain-link fence. Heritage Health will have a mobile clinic stationed on the curb for certain medical services.
Riley says a $25,000 grant from the Innovia Foundation, plus $10,000 from the Idaho Community Foundation allowed for the extra space.
So far, Riley says nobody has tested positive among Coeur d'Alene's homeless population. But now, he says, they have a place where they can stay connected to services, and there's a plan to isolate them if needed.
"It's a safe place to stay," Riley says.