ON INLANDER.COM
NATION:
Baltimore won't be
prosecuting marijuana possession charges
anymore.
NEWS:
New legislation in Olympia
could help
recycling
efforts. The goal is to attract more businesses to recycle, use materials in the state and offer state help at the county and city levels.
SPORTS:
Anyone else bored by the
Zags relentless blowouts
?
NEWS:
Most Washington voters seem to agree that we should do something about the environment,
especially women and people of color
.
IN OTHER NEWS...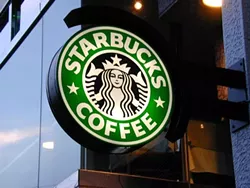 "Out of his depth"
You may have heard, Starbucks CEO and known traitor to Seattle Howard Schultz is considering a run for president. One of his fellow coffee moguls,
Todd Carmichael, CEO of La Combe Coffee Roasters, says he's "out of his depth."
Carmichael is also apparently an Elizabeth Warren supporter, Politico reports.


Polar vortex of DOOM

Just what
is
a polar vortex you ask? It's basically like that scene from
The Day After Tomorrow
where New York is destroyed by the weather.
But seriously, it'll be colder in parts of the Midwest than it will be in Antartica
. (
New York Times
)
In the beautiful Midwest, windchill temperatures are reaching minus 60 degrees, the coldest ever recorded. In coming days, expected to get even colder. People can't last outside even for minutes. What the hell is going on with Global Waming? Please come back fast, we need you!

— Donald J. Trump (@realDonaldTrump) January 29, 2019
Brown noser
Gov. Jay Inslee picked former state senator and U.S. House candidate Lisa Brown to
head the state's Department of Commerce
. (
Spokesman-Review
)
Songer sings
Add the Klickitat County Sheriff Bob Songer to the LEOs
who won't enforce the newly passed Initiative 1639
, which raises the age limit to buy semi-auto rifles to 21, among other gun control measures. Also, without using Google, does anyone know where Klickitat County is?