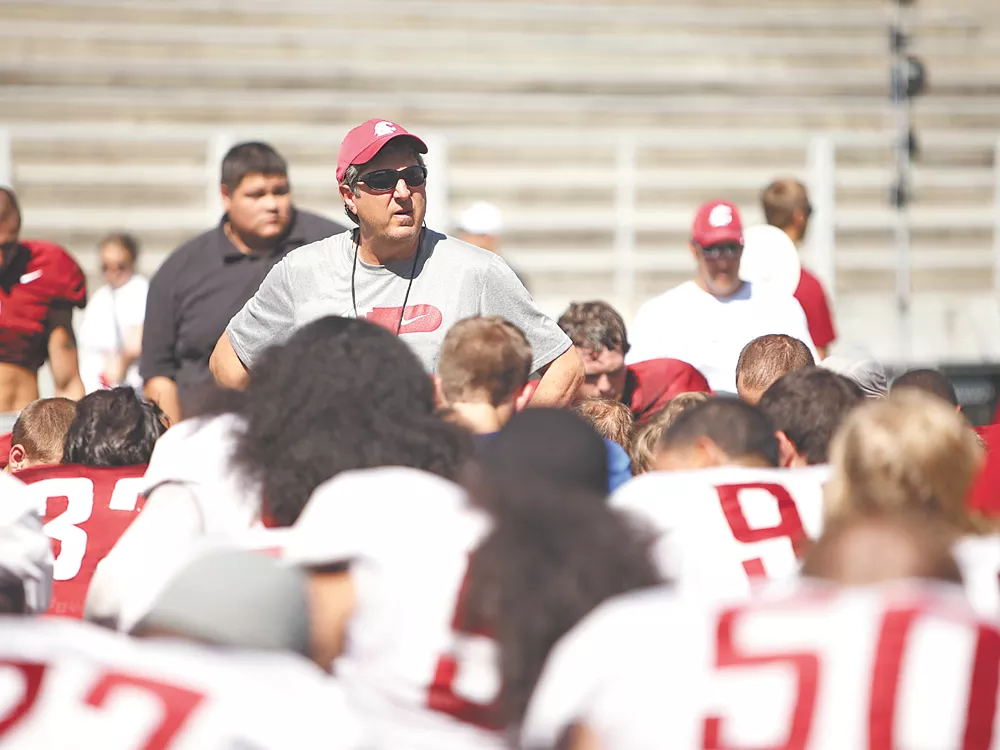 WASHINGTON STATE COUGARS
The Washington State Cougars have new coaches. New players. A new offense. A new defense. Perhaps most importantly, the Cougars have a new attitude.
"We like these coaches; we love 'em," says WSU junior cornerback Nolan Washington. "They're just like us. They're very confident. They bring a new swagger to Cougar football."
Cougar Nation hasn't had much to swagger about during recent football seasons. The Cougars haven't gone to a bowl game or posted a winning record since 2003.
2011 Record: 4-8 overall, 2-7 Pacific-12 Conference; Sixth, Pac-12 North Division
First Game: Thursday, Aug. 30 at Brigham Young (7:15 pm, ESPN)
Key Returning Players: QB Jeff Tuel; WR Marquess Wilson; LB Travis Long; SS Deone Bucannon
Newcomers to Watch: WR Gabe Marks; NT Ioane Gauta; LB Justin Sagote; FS Taylor Taliulu
Ticket Info: (800) GO-COUGS
Senior offensive guard Wade Jacobson says "the confidence in everyone has changed." Of course, WSU fans have heard this type of talk before.
"Last year, we said the same thing," he admits. "'We're going to be good.' I think last year we just said it to change people's minds. But right now, we actually feel the team and individuals have changed," says Jacobson.
Most observers seem to agree the Cougars have plenty of reason to be confident on offense; plenty of reason to be concerned on defense; and plenty of reason to wait a few weeks before determining if last year's dreadful special teams have improved.
Senior quarterback Jeff Tuel, an honorable mention pick in the Pacific-10 Conference in 2010, has looked sharp after seeing little action last year due to injuries. Tuel passed for 2,780 yards and 18 touchdowns two years ago. Ryan Leaf's school records of 3,968 passing yards and 34 touchdown passes may be in jeopardy, because new coach Mike Leach's pass-happy offense led the nation in passing six of the last eight years he coached Texas Tech.
Leach floods the field with receivers. WSU's long list of talented pass catchers includes preseason All-American Marquess Wilson, former tight end Andrei Lintz and flashy, trash-talking freshman Gabe Marks.
Junior left tackle John Fullington, who started at left guard last year, is one of at least four 300-pounders who figure to see plenty of action on the offensive line. Jacobson and Spokane's Dan Spitz (Mead High School) and Aaron Rodgers (Shadle Park) also weigh in at 300 pounds.
WSU is switching from a 4-3 base defense (four down linemen and three linebackers) to a 3-4 look that features frequent blitzing. Spokane's Travis Long (Gonzaga Prep), who has earned all-conference honors three straight years at defensive end, is now a buck linebacker — a hybrid outside linebacker-defensive end.
Overall, WSU's linebackers are young, inexperienced, but athletic. There's experience in a secondary led by hard-hitting junior safety Deone Bucannon, but the lack of a shutdown cornerback may prove dicey.
The Cougars will be underdogs in their season opener at Brigham Young, but they likely will be favored in the next three games before taking on fifth-ranked Oregon in WSU's annual "home" game in Seattle on Sept. 29.
— Howie Stalwick
UNIVERSITY OF IDAHO VANDALS
Robb Akey's football team, which has gone 19-43 during his five years at the helm, faces an uncertain future. That said, the ever-positive, ever-energized Akey might be the one man capable of steering the University of Idaho Vandals through the fiery demise of Western Athletic Conference football — and, quite possibly, all sports — after the current school year.
The Vandals already appear set to return to the Big Sky Conference in 2013-14 in all Big Sky-sponsored sports except football, and they haven't ruled out a future return in that sport. For now, Idaho is prepared to try its luck as a Football Bowl Subdivision (FBS) independent while desperately searching for: a) a future conference affiliation; and b) any and every team willing to come to Moscow for the relatively low paycheck the Vandals can afford in the undersized Kibbie Dome.
2011 Record: 2-11 overall, 1-6 Western Athletic Conference; 8th place
First Game: Thursday, Aug. 30 vs. Eastern Washington (6 pm, ESPN3.com)
Key Returning Players: WR Mike Scott, WR-PR-KOR Justin Veltung, S Gary Walker, LB Robert Siavii
Newcomers to Watch: QB Dominique Blackman, WR Najee Lovett

Ticket Info: (208) 885-6466
"We've grown a lot during camp," Akey says. "There's a lot of positive, but we have a lot of ground to cover."
Key seniors include wide receiver Mike Scott (team highs of 55 catches and 691 receiving yards last year), safety Gary Walker (fifth in the WAC with 109 tackles) and linebackers Conrad Scheidt (93 tackles) and Robert Siavii (91 tackles in 2010 before missing last season due to a knee injury).
Another senior, running back Ryan Bass, was a Parade All-American high school player before fizzling in college at Arizona State and Idaho, partly due to injuries. If Bass and/or shifty redshirt freshman Todd Hundley can move the ball on the ground behind a rebuilt offensive line, it would ease pressure on the new quarterback, Old Dominion transfer Dominique Blackman.
The 6-foot-5-inch, 255-pound Blackman is a left-hander who passed for 3,711 yards and 35 touchdowns in one season of junior college ball after originally signing a letter of intent with Washington.
The Vandals should benefit from the addition of four longtime FBS assistant coaches. Also, former WSU standout quarterback Jason Gesser has worked his way up to offensive coordinator, hoping to spark the Vandals' scoring output.
Of course, no coaching staff could be expected to guide Idaho past a national powerhouse like Louisiana State, and the cash-strapped Vandals will accept a virtually certain defeat by traveling to Baton Rouge on Sept. 15 for $925,000 in return.
Big-bucks road games against superior opponents are a way of life for the Vandals, who need the money to support the entire athletic department. However, many Idaho fans long for a return to the days when the Vandals were a perennial NCAA Division I-AA power, and "guaranteed" road losses to the LSU's of the world were not deemed mandatory.
— Howie Stalwick
---
EASTERN WASHINGTON UNIVERSITY EAGLES
Eastern Washington University's football team again enters a football season with a transfer quarterback from Southern Methodist University.
Big Sky Conference coaches voted the Eagles the second best team in the conference, which has swelled to 13 teams this year with the addition of Cal Poly, North Dakota, Southern Utah and UC Davis.
2011 Record: 6-5 Overall, 5-3 Big Sky Conference; Tied for 3rd.
First Game: Aug. 30 at Idaho
Key Retuning Players: Brandon Kaufman, WR; Evan Cook, defensive line; Nicholas Edwards, WR
Newcomers to Watch: Kyle Padron, quarterback; Demitrius Bronson, running back
Ticket info: goeags.com
The team enters the season ranked 12th in the nation among the country's Football Championship Subdivision squads, and the smell of their 2010 National Championship is still strong. But outside expectations don't mean that the rest of the league is going to capitulate. EWU head coach Beau Baldwin knows better than that.
" We've mentally and physically retained from spring practice," Baldwin told The Inlander. "We're not starting over; what that means is strong leadership occurred through the months of June, July and August. I've never had a team be this ready to start the season before — even the national championship team."
They're going to have to be, as the Eagles start the season against a pair of familiar BCS subdivision teams, with an Aug. 30 date against the University of Idaho before heading to Pullman on Sept. 8 to square off with the new-look Washington State.
Any attempts at duplicating the Eagles' 2010 effort are more than likely going to rest on the quarterback play of Kyle Padron — who, like his predecessor Bo Levi Mitchell, comes to EWU via SMU through perhaps one of the more unlikely pipelines in all of football.
Ironically, it was Padron who replaced Mitchell as SMU's quarterback in 2009 when he went down due to injuries. Padron never surrendered the job and Mitchell transferred to Eastern. Then, in 2011, Padron sustained ankle and back injuries and eventually lost the starting job, prompting Padron to look at Eastern. Padron threw for a gaudy 5,902 yards and 41 touchdowns and helped SMU win 12 of 21 games during his time as a starter.
"It feels nice; it's good to be here," Padron said of both the EWU football program and the Inland Northwest's low humidity compared to Dallas. "We're going out and competing every single day."
On the ground, Demitrius Bronson — a University of Washington transfer who has apparently healed from a hamstring injury last year — at 5-foot-10-inches, 225 pounds, looks to be the most formidable running back since Taiwan Jones left Eastern for the NFL after the 2010 National Championship season. He broke a 28-yard run to score in their Aug. 18 scrimmage.
Despite the offensive weapons, right now, EWU's strength is clearly in it defense. This unit returns experience and talent, and defensive lineman Evan Cook reminded fans to keep a watch on the other side of the ball.
"We call ourselves sharks for a reason," Cook says.
— Kevin Blocker
---
WHITWORTH UNIVERSITY PIRATES
Football coaches are not the most light-hearted individuals you'd encounter in the middle of a practice session. But entering his 18th season as head coach of the Whitworth Pirates, John Tully recently offered a non-conventional F-bomb — as in, "fun" — in the midst of a practice session when asked his thoughts about the approaching season.
"We got a good group; it'll be fun," Tully said.
After a review of the Pirates' roster and a sneak peek at a practice, it becomes immediately apparent that this Whitworth team could be in a position to have a big year.
2011 Record: 4-6 Overall, 3-3 Northwest Conference; Tied for 4th
First Game: Sept. 1 at St. Scholastica
Key Retuning Players: Bryan Peterson, quarterback; Ronnie Thomas, running back; Ryan Loutsis, linebacker; Austin Ehlo, wide receiver.
Newcomers to Watch: Dominic Aliano, kicker
Ticket info: whitworthpirates.com
On offense, the Pirates are led by 22-year-old sophomore quarterback Bryan Peterson and senior running back Ronnie Thomas, also 22. Peterson, a West Valley graduate, spent three years in the Boston Red Sox minor league organization, making it as high as the AA ball club in Portland, Maine, before deciding to give up baseball and return to Spokane.
In his first season with Whitworth last year, Peterson threw for 1,420 yards and had 14 touchdowns against six interceptions. He said he feels much more comfortable this year than last.
"I feel like I have a better understanding of the offense and I know what I'm looking for from the defense," says the 6-foot-3-inch, 209-pound Peterson, who routinely gets razed by his teammates because of his advanced age and underclassman status. "I get kinks here and there and will have to go to the trainers and that's when they love to remind me of my age," he says.
Thomas, a first team, All Northwest Conference pick last year, ran for 1,044 yards and sported a hefty six yards per carry after transferring to Whitworth last season.
Whitworth had a 4-6 record last season, but the team did win three of its last four games and almost upended conference champ Linfield, which was ranked No. 4 in all of NCAA Division III. Eight starters return on offense and seven on defense, so a run for the NWC championship is not out of the question.
Defensively, the Pirates have six of seven starters from last year's linebacking and defensive secondary core returning for 2012. Outside linebacker Ryan Loutsis, who spent most of last year injured and only played six games, is an impact player who makes life difficult for opponents. Despite injuries last year, he was a second-team, all-conference selection.
If the revamped offensive and defensive lines can mesh, it's not out of the question for Pirates fans to entertain thoughts of a playoff berth — something the school hasn't experienced since 2006.
This year's unbalanced schedule won't be working in Whitworth's favor, though. The Pirates' first three games are away from the comforts of the Pine Bowl: Sept. 1 at St. Scholastica (a playoff team last year) in Duluth, Minn.; Sept. 8 at Whittier; and Sept. 15 at LaVerne, both California schools.
The home opener is Sept. 22 at 1 pm against Chapman.
— Kevin Blocker