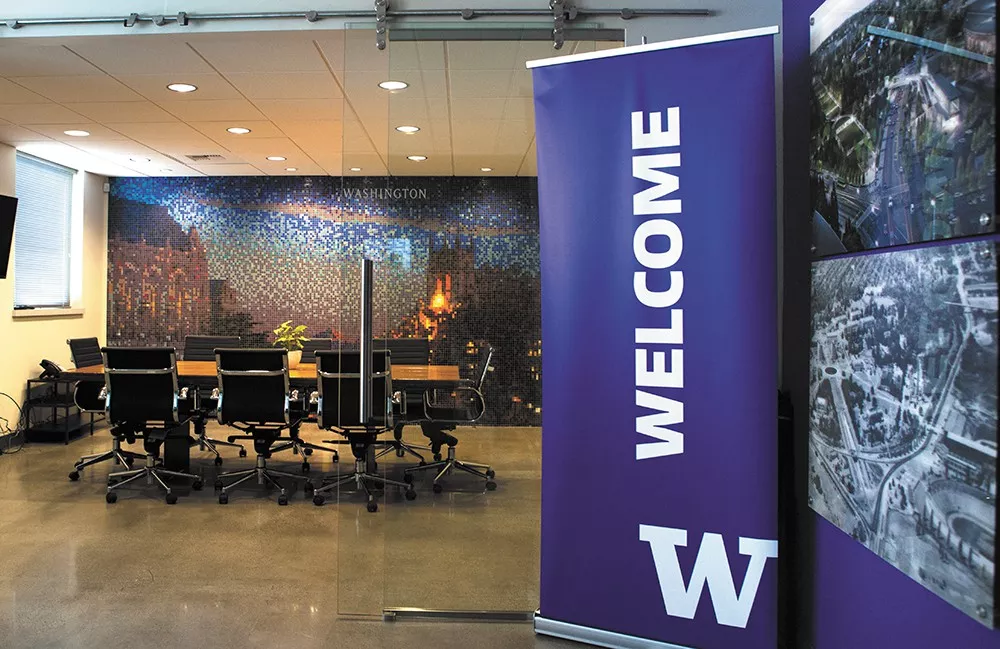 UW GOES GONZAGA
After Washington State University announced last year that it would start its own MEDICAL SCHOOL, the University of Washington School of Medicine decided to look for a new Eastern Washington partner for its five-state medical education program.
Last week, the UW announced they'd found that partner.
Gonzaga University will welcome 60 first-year and 40 second-year UW medical students starting this fall. Per the agreement, Gonzaga will provide space for the UW School of Medicine program, and courses will be jointly taught by Gonzaga and UW faculty. The universities will also collaborate to share facilities and research.
"Uniting Gonzaga University's commitment to educational excellence, leadership and service with the UW's nationally recognized medical school and research engine will continue the long tradition of educating doctors in Eastern Washington, and represents a phenomenal opportunity not only for our faculty and students, but the entire Inland Northwest," Gonzaga President Thayne McCulloh said in a statement following the announcement.
This agreement officially replaces the medical partnership UW had with WSU, which expects to open its four-year Spokane medical school in 2017. The UW-Gonzaga agreement, by contrast, will provide medical school courses for the first 18 months of the UW program.
The UW will reimburse Gonzaga for services and space provided as part of the partnership. Students will use the anatomy lab on WSU's Riverpoint campus until additional facilities can be secured.
Meanwhile, Idaho Gov. Butch Otter announced plans last week for Idaho's first for-profit medical school in Meridian, a city just west of Boise. (WILSON CRISCIONE)
UNTESTED
For the first time, Idaho could enact laws that address the testing, storage and tracking of SEXUAL ASSAULT evidence kits.
The proposed legislation requires law enforcement agencies to send rape kits to the state forensics lab for testing in all but a few circumstances, establishes a system to track neglected kits and reasons why the kits weren't tested, and establishes a timeline for when submission and testing must be completed.
Law enforcement agencies would have 30 days to send rape kits to the Idaho State Police Forensic Services lab, and the lab would have 90 days to complete the testing. Additionally, all rape kits would be tested unless the victim says not to, or if police believe that no crime was committed. The county prosecutor would be required to sign off on a police decision not to send the evidence to the lab for testing.
"The biggest thing this bill does is create minimum standards for processing kits," says Rep. Melissa Wintrow (D-Boise), the bill's sponsor. "It sends a message that if you have evidence collected off your body, we're going to take that evidence, and the processing of that evidence, seriously."
Last year, an Idaho Press-Tribune investigation found great disparities in how Idaho law enforcement submits kits for testing when decisions are left up to individual agencies. Since January 2010, the Nampa Police Department sent 10 percent of its kits for testing, compared to 54 percent from the Caldwell PD over the same period. Additionally, the Coeur d'Alene Press reported that the Post Falls Police Department has sent 38 percent of its kits since January 2010, while the Coeur d'Alene PD submitted 60 percent of its kits over the same span.
The issue of untested rape evidence is not unique to Idaho. The backlog of kits in Washington state is estimated at about 6,000. Last year, Gov. Jay Inslee signed a bill that required agencies to submit evidence to the Washington State Patrol crime lab within 30 days, and created a task force dedicated to the issue. This year, three more bills in Washington have addressed rape and sexual assault evidence.
Wintrow's bill passed out of the Idaho House Judiciary, Rules & Administration Committee and was up for a third reading when this paper went to press. (MITCH RYALS)