For author Colson Whitehead, the release of a new book typically meets with little in the way of fanfare, and he figured that would probably remain the case when his eighth book came out in the summer of 2016.
Sure, he'd been a MacArthur fellow and a finalist for an array of literature awards before the release of The Underground Railroad. Whitehead thought he knew what to expect.
"Usually, it comes out and you do like a month or a couple of weeks [of interviews and appearances], and nobody cares and you're back in your cruddy office again," Whitehead says in a recent call from his New York City home.
His office is probably a lot less cruddy after the 18 months that have passed since The Underground Railroad's story of a young slave woman named Cora's dramatic escape and race across the pre-Civil War American South became a literary phenomenon. A Pulitzer Prize for Fiction. A National Book Award for Fiction. A choice for Oprah's book club. A place on the highly publicized summer reading list for the most recent U.S. president you can imagine actually having a summer reading list.
"It's surreal. A year and a half later, I'm still like, 'Did that really happen?'" Whitehead says of the accolades and international attention the book has brought his way. "This is the first time I've had a book that's been this widely accepted and embraced. It's gone on a long time, promotion and talking about it, but I figure it's a once-in-a-lifetime experience to kind of hit the road and enjoy it while I can."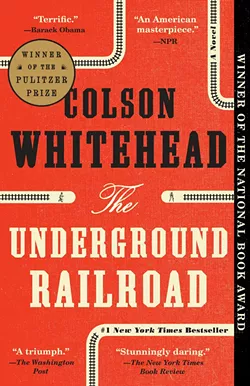 That road leads him to the University of Idaho next week for a Feb. 12 talk about his book, one of a lengthy series of live appearances this winter and spring that would do a touring rock band proud. Whitehead says a trusty 2,000-song playlist and ever-changing collection of short stories and novellas helps make the travel sustainable — as well as hitting the hay by 10 pm most nights.
It's hard to imagine audiences let him get away very easily or early from his conversations about The Underground Railroad.
Whitehead's skills as a writer were apparent well before this book, whether penning sports nonfiction (The Noble Hustle: Poker, Beef Jerky & Death, 2014), zombie stories (Zone One, 2011), surreal mysteries (The Intuitionist, 1999) or essays for The New Yorker.
But The Underground Railroad is a tour de force blending real history, rich character development and winning fantastical devices. (Not a spoiler: the underground railroad of the title is literally a slave-saving railroad running under America.) My experience in reading it was awe at the author's abilities, and shocked horror at what I was learning about America's greatest shame through Cora's life on a Georgia plantation and the brutal experiences of those she encounters during her flee for freedom.
Whitehead says audiences both in the states and overseas seem struck most by what he discovered through his research before he started writing.
"History in general, and the history of slavery, is not taught very well," Whitehead says. "The book does lay out the brutality of the system in sort of a very matter-of-fact way, so if you haven't read about slavery in a while or aren't acquainted with how it actually worked, then the book is quite eye-opening and startling."
Whitehead first had the idea for The Underground Railroad 18 years ago, but he didn't feel he had the writing skill or emotional ability to deal with slavery in a way that would do the book justice. The fact that it stuck with him through the years made him feel it was meaningful enough to work on once he reached a place in his life when he believed he could pull it off.
"The older you get, the more you understand the way things work," Whitehead says. "I was in my mid-40s [when he started researching for The Underground Railroad] and it's one thing to read about a child being sold and never seen again, reading that in your 20s versus when you're a parent and can sort of understand how devastating that is.
"The older we get the more we understand how terrible things are, and also the capacity for hope and heroism."
All those things come through in the book, a testament to both Whitehead's deep dive into the history and his facility at taking some horrific facts and spinning them into a thrilling read that illuminates as much about America today as is does about America in Cora's day.
And while Whitehead's work has clearly struck a chord with readers, the work the author put into The Underground Railroad — years' worth of making himself a writer worthy of Cora's story — inspired self-reflection most of its readers can't comprehend.
"Realizing that in many ways I shouldn't be here," Whitehead says of emotional aspect of creating this book. "It's just luck that this or that ancestor wasn't killed in the Middle Passage or on the plantation. In many ways, it's sort of a miracle that my family made it through.
"The book is brutal, and it's brutal because it's realistic, and it's brutal because I want to testify for the people who went through it in any small way I can." ♦
Colson Whitehead: Revisiting The Underground Railroad • Mon, Feb. 12, at 7 pm • free • Bruce M. Pitman Center, University of Idaho, 709 Deakin Ave., Moscow, ID • uidaho.com