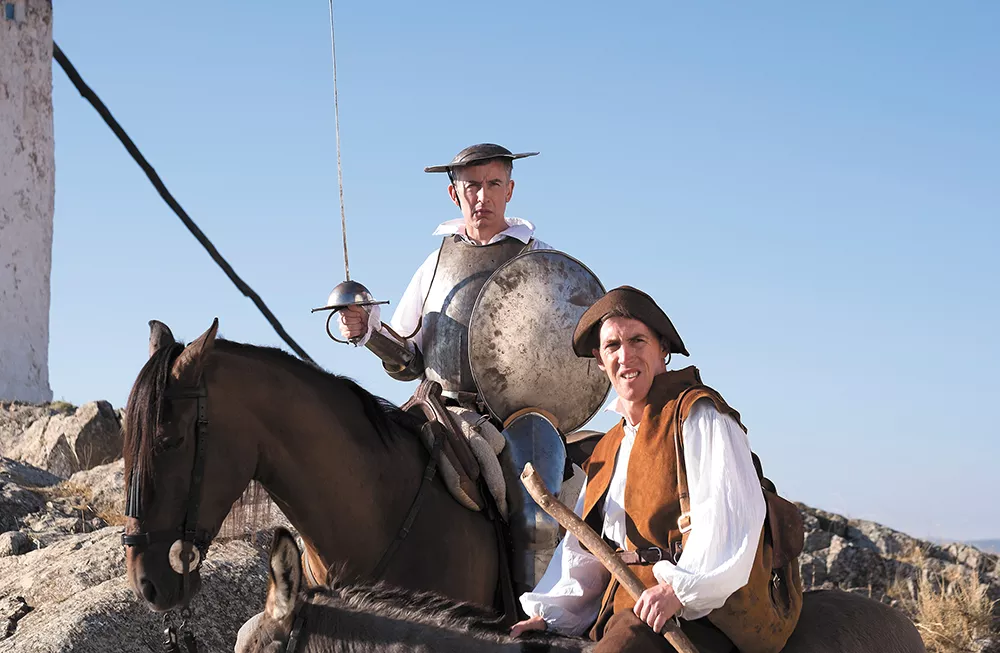 The Trip to Spain is an esteemed member of the "If it ain't broke, don't fix it" school of cinema. It's the third entry in a series that started in 2010, and it follows the exact same premise of its previous two installments: British comedians Steve Coogan and Rob Brydon, playing slightly fictionalized versions of themselves, travel through a country reviewing a number of high-end restaurants.
If you loved this routine the first time, you'll probably still enjoy it. I found the original Trip to be an amusing diversion, but I wasn't exactly clamoring for seconds. I certainly enjoy spending a little time with Coogan and Brydon, and I generally laughed at their spirited back-and-forth here, but it's hard not to notice that the luster has worn off since the first movie. Any comic bit, no matter how brilliant, is inevitably going to become less amusing each time you see it.
These are films of mostly simple pleasures, even as they're luxuriating in architectural and culinary opulence. The loose structure of this series is fairly straightforward: In scene after scene, the two stars improvise against one another, drive through sun-dappled countrysides, sing along to '70s pop tunes on the radio, visit historical sites and eat some of the finest cuisine in the world.
They also bust out celebrity impressions, often schooling each other on the specific intonations and inflections of various screen icons. This time they riff on Al Pacino, Anthony Hopkins, John Hurt, David Bowie, Rex Harrison, two different James Bonds and, of course, Michael Caine. Perhaps the best running bit in The Trip to Spain involves their dueling impersonations of Mick Jagger, who Brydon claims exchanged Caine impressions with him at a party. (It's a lot funnier than it sounds on paper.)
The laid-back, off-the-cuff feel of the series is typical of director Michael Winterbottom, whose best comedies — the fourth-wall-demolishing 24 Hour Party People and Tristram Shandy: A Cock and Bull Story — have (perhaps not coincidentally) also featured Coogan and Brydon. There has, however, been an overarching plot running through the series, as each man's individual professional fortunes shift and occasionally eclipse the other's. That Coogan is following the same route through southwestern Europe that he references having made 30 years prior, when he was in his twenties, should tell you everything you need to know about what stage of midlife crisis he's in.
Those themes of insecurity have haunted this fictionalized version of Coogan throughout the series. Since 2014's The Trip to Italy, the real-life version of Coogan has received a couple of Oscar nominations for co-writing and producing the drama Philomena (a fact he drops regularly into conversation, regardless of its relevance). Brydon, meanwhile, has recently become a father in real life and has settled into suburban domesticity, a fact that clearly distresses Coogan, who finds that his teenage son is drifting away from him.
Each of the Trip films originally aired as three-hour, six-episode TV series in Europe, and they've all been pared down to feature length for American release. The irony there is that they still feel too long: At 108 minutes, Coogan and Brydon's shtick runs itself a bit ragged before the movie's over. It's not that I mind meeting up with Rob and Steve every few years, though perhaps this format, if it is to continue, would work much better as it's seen in the UK — in weekly half-hour installments on the small screen. ♦