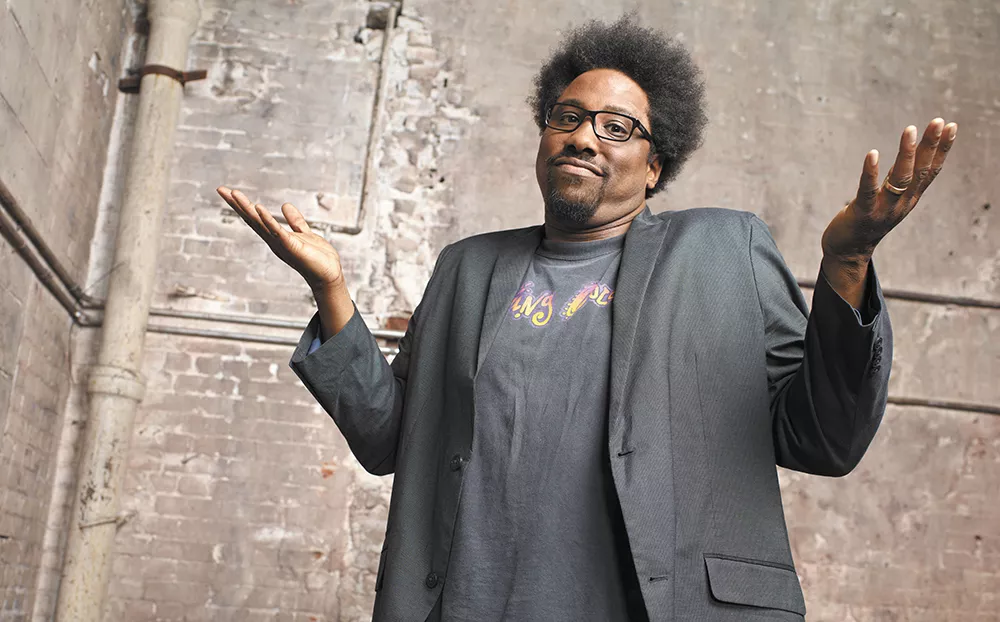 W. Kamau Bell's comedy is meant to make us uncomfortable, but also force us to use our brains. Over the course of a decade, the San Francisco-based comedian has built a career hilariously discussing topics that other comedians (and polite dinner parties) tend to pass on, such as racism, politics and religion.
Friday night, Bell brings his "Oh, Everything!" stand-up tour to Spokane, and given current events over the past year, he'll certainly have much to skewer.
Championed by Chris Rock back in 2010, Bell had a Daily Show-esque comedy called Totally Biased with W. Kamau Bell that ran for two seasons on FX and FXX. It featured segments on all sorts of crazy subjects like why we celebrate Columbus Day, a debate on the existence of God and an all-important piece on how to tell the difference between "Sikh, sheik and geek."
Expect Bell's stand-up act to get a bit more personal than his TV show, but all of that biting sociopolitical commentary on the human experience will still be there.
Here's a quick glance at some of Bell's best comedy bits.
One reason Denzel Washington is the best:
"It's like he's carved out of chocolate."
— From Bell's podcast Denzel Washington is the Greatest Actor of All Time Period
The short list of things Bell is upset about:
"Tyler Perry, skinny jeans, racism, born-again Christians, any TV show that starts with "The Real Housewives of... ", vampires, skateboards, Mad Men and that is it."
— From the 2010 stand-up album Face Full of Flour
On what his 75-year-old grandma's racist stories feel like:
"Like action movies, with guns and explosions. My stories about racism end with, 'And then I felt sad.'"
— From The W. Kamau Bell Curve: Solving Racism in About an Hour
Things to put in your pockets if you're likely to be frisked by the police:
"Sushi and wasabi, pubes, hot fudge and sprinkles and also magic (such as a long scarf)."
— From Totally Biased with W. Kamau Bell
Comedy Night feat. W. Kamau Bell • Fri, Jan. 23, at 8 pm • $15 • All-ages • The Bartlett • 228 W. Sprague • thebartlettspokane.com • 747-2174