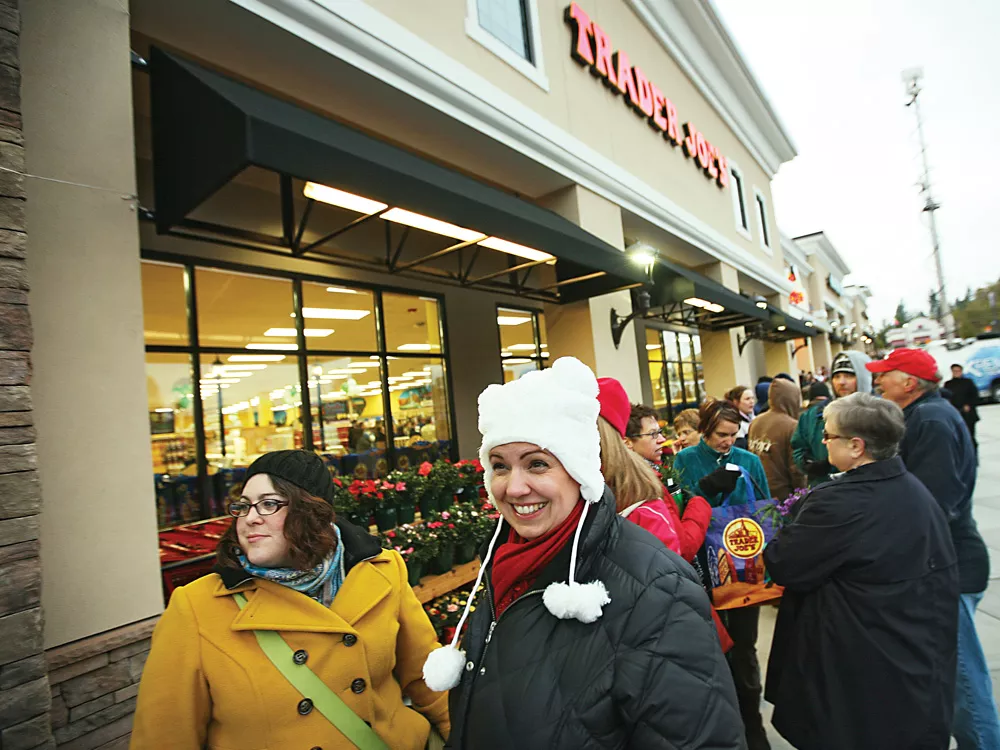 Bill Sharon was the first shopper at Trader Joe's in Spokane. To achieve this distinction, he arrived at 10 pm last Thursday, the night before opening. Camping out for 10 hours isn't excessive, he says. His love for Trader Joe's doesn't define him. "I watched the World Series before coming down," he says.
In that game, the St. Louis Cardinals edged the Texas Rangers in an 11-inning barnburner that ESPN's Buster Olney called, "without a doubt the greatest game in the history of baseball." Sharon, though, had been waiting 12 years for a Trader Joe's, and history was getting in the way of groceries. "I kept saying, 'Come on, just end,'" he says.
There are hundreds of people behind him when the doors open, a line that stretches the length of the parking lot, where the last few people hold up traffic turning into the Lincoln Heights shopping complex from 29th Avenue. Every television station in Spokane has a crew covering the event.
Sharon has survived without Trader Joe's by stockpiling goods on trips to watch his son play club soccer in Seattle.
His story is not unique. Everyone I talk to has been waiting to get a Trader Joe's here for eight, 10, 15 years. Everyone has people who ship them T.J.'s products from Eugene, San Diego, New York.
They love the variety of items: T.J.'s-branded pad thai, mandarin chicken, the ubiquitous Charles Shaw wine everyone seems to know as "Two-Buck Chuck."
People say they love the array of organics. They love the prices. Tim Morse, who has waited nine years, says, "There's only one place in town that's comparable, but [Trader Joe's] is half the price."
I ask if he means half the price of Huckleberry's, Spokane's flagship natural market. He nods. "I didn't want to say anything, but..."


Christian Jimenez loves the prices, too, and is astonished by the price of organic strawberries. "Ninety-nine cents a pound," he says, "That's amazing."
Jimenez isn't at Trader Joe's, though. He's one of about 20 shoppers who brave the wet, cold Saturday morning for the grand opening of the new Grocery Outlet at Third Avenue and Maple Street. (Another 15 or so had lined up Thursday morning for the store's soft opening.)
Grocery Outlet doesn't have the name recognition of Trader Joe's, or the cult-like following, but it has the same island-casual-meets-baby-boomer aesthetic and a similar veneer of sustainability. On opening day, owner Bill Smith and his employees wore tie-dye shirts and handed out free re-usable shopping bags.
As at T.J.'s, the prices here are cheap, and the stock is eclectic bordering on the exotic. Jimenez notes that the Ritter Sport chocolates are going for a buck here, where they sell for $2.50 elsewhere. The flavor — the Italian favorite stracciatella — can't generally be found in Spokane. Seitan, a tofu substitute, is selling for $1.79. A curl of linguica, the hip Portuguese sausage, is $3.59.
Both chains have fewer items in stock than a traditional grocer, which cuts down on logistical costs. Where a supermarket might have 20 different kinds of oil, Trader Joe's has six. Smith says his Grocery Outlet has less than 6,000 items. A Safeway (he worked for that chain for 22 years) might have 30,000.
There also seems to be an overlap in the customer base between the stores. One well-dressed woman showed up at both openings. She politely declined comment at each.
The difference is the business model. Trader Joe's operates under a strict code of silence with its suppliers, buying goods in massive quantities, rebranding them with the Trader Joe's logo, then shaving dollars off the price. A 2010 Fortune Magazine article detailed a corporate structure of extreme secrecy underlying the Margaritaville atmosphere. Last Friday, none of the employees would speak to me on the record. "Only managers are allowed to talk to reporters," one of them says.
If Trader Joe's is "the Freemasons of Food," as the Atlantic Monthly dubbed them, Grocery Outlet is more like the T.J.Maxx, an opportunistic buyer of anything other retailers have too much of.
"We might have six different kinds of beans and no peanut butter," Bill Smith says. It's a potential drawback that the owner says has become a positive to people like Jimenez, who says he goes to Grocery Outlet before doing his other shopping, looking for unique deals, much the way people shop at Trader Joe's.
I ask Jimenez about it. He's heard of Trader Joe's prices, he says, but he hasn't been to one. "I might go up there," he says. He and his family, "we go out of our way to get a deal."