A
s one of Bob Seger's biggest
hits points out, rock and roll never forgets. But people do.
The Detroit native's musical legacy
seemed in danger of being lost
a couple years ago because of business disagreements that kept his massive cache of hits off of streaming services where a new generation might find them. If his diehard fans were the only ones who remembered his rich array of ramblin' gamblin' men and the women who inspired them, his role as one of the biggest rock hitmakers of the last half century would be lost as those fans died off.
The streaming headache got sorted out a few years back, and Seger's ongoing "Travelin' Man" retirement tour has spent the past two years reminding everyone of his deep catalog of American classics.
The tour landed in Spokane Thursday night at a nearly full Spokane Arena, and Seger and his long-standing Silver Bullet Band delivered everything a fan could want. The two hours-plus on stage was filled with massive hits and old favorites, there were two encores, and the 74-year-old's voice was still in fine form.
Seger came out blazing with "Simplicity," "Still The Same" and "The Fire Down Below" before slowing things down a little for "Mainstreet." There were few instances on stage that reminded the crowd of Seger's age — most prominently the white hair and beard that's replaced his luxurious brown mane of his '70s album covers. He sat on a stool to play guitar, or sat at his piano occasionally for ballads like "We've Got Tonight" or a cover of Bob Dylan's "Forever Young" accompanied by video projections of rock peers who've died in the last few years.
For the most part, Seger was on his feet and rocking through songs like "Her Strut," "Beautiful Loser" and an ace version of "Sunspot Baby." Just like the old days, he delivered his lyrics with dramatic fist pumps, and he loved pointing to his band members like longtime sax man Alto Reed or lead guitarist Rob McNelley whenever they took a solo in the spotlight. Seger's dance moves? Um, sort of like your dad dancing while he flips burgers on a grill.
Thankfully, his voice was in fine form, especially given the length of the show. He introduced nearly every song with the year it was released, and gave each band member a glowing introduction that included their individual accolades outside the Silver Bullet orbit. At some points during the show, there were no less than 15 musicians and singers on stage backing up the man, thanks to three female backup singers, a four-piece horn section and guitars aplenty.
All told, it was exactly what you'd want from a classic-rock concert by a classic artist — all killer, no filler, and good vibes throughout. If this is really a retirement tour, let's hope some younger artists are catching the shows to see how a winning arena tour is done.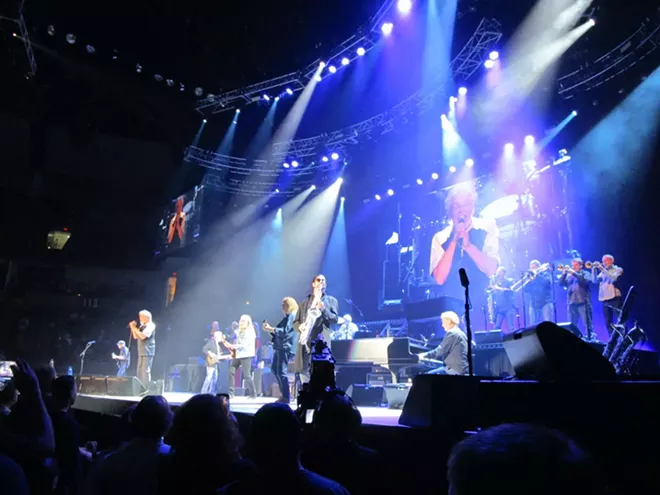 Bob Seger and the Silver Bullet Band setlist:
1. Simplicity
2. Still The Same
3. The Fire Down Below
4. Mainstreet
5. Old Time Rock & Roll
6. The Fire Inside
7. Shame On The Moon
8. Roll Me Away
9. Come To Poppa
10. Her Strut
11. Like A Rock
12. You'll Accomp'ny Me
13. We've Got Tonight
14. Travelin' Man
15. Beautiful Loser
16. Sunspot Baby
17. Turn The Page
18. Forever Young
19. Ramblin' Gamblin' Man
Encore
20. Against The Wind
21. Hollywood Nights
Encore 2
22. Night Moves
23. Rock and Roll Never Forgets