I
f the deluge of rain that arrived just as heavy metal legends
Judas Priest
took the stage Wednesday was holy water ... well, let's just say there would have been a few thousand burning headbangers blissfully earning their comeuppance for a lifetime of hard-rocking sins.
In their first appearance in the area since 1990, this time at Northern Quest Resort & Casino, the British metal crew delivered 18 songs over the course of 90+ minutes that hit on several eras of their 50-year career. In total, the setlist touched on 12 different albums, and included some unexpected deep cuts along with several of their classic-rock radio staples and four songs from the band's winning 2018 release,
Firepower
.
They started the set with one of those new songs, "Neuromancer," with lead singer Rob Halford appearing first in a shadow backstage before joining longtime rhythm section Ian Hill and Scott Travis along with guitarists Richie Faulkner (who replaced K.K. Downing in 2011) and Andy Sneap (subbing in for Glenn Tipton due to his Parkinson's disease). A deluge arrived along with that first song, and while the precipitation eventually slowed, the band rumbled right through it with nary a pause.
Halford isn't much for between-song chit-chat, saving his voice for those impossible high screams and shrieks that make him a distinct voice in metal. He was gracious when he did speak, though, thanking the audience toward show's end for allowing the band to keep doing what they love.
"What we have is a heavy metal community right here!" Halford proclaimed while surveying the soaked audience — one that gladly stuck it out through the showers to hear old favorites like "Heading Out To The Highway," "Victim of Changes" and "The Sentinel" along with less-expected tunes like "Out In The Cold" from the band's synth-y 1986
Turbo
album and "Halls of Valhalla" from 2014's
Redeemer of Souls
.
Halford changed coats regularly during the show, displaying an impressive array of leather as he is wont to do. He was also in fine voice; even if he's not quite as powerful as his younger days, the 67-year-old still hit notes few could match. Guitarists Faulkner and Sneap delivered ample riffage on songs old and new — I doubt you'd hear any complaints about their chops from any old school fans pining for the days of Downing and Tipton's twin-guitar attack.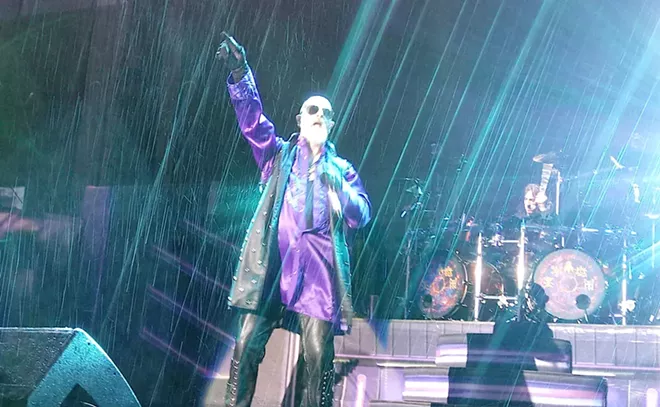 Here's the complete setlist, followed by more photos below:
Necromancer
Heading Out to the Highway
The Sentinel
Spectre
(Take These) Chains
Judas Rising
Out in the Cold
Traitors Gate
Starbreaker
Steeler
Halls of Valhalla
Tyrant
No Surrender
Victim of Changes
All Guns Blazing
Hell Bent for Leather
Breaking The Law
Living After Midnight