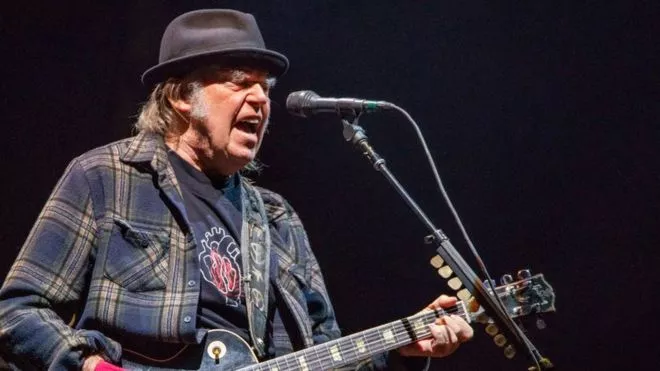 In case there was any question of Neil Young's work ethic, he hit the Martin Woldson Theater stage at the Fox Saturday night complete with a working stiff's lunch pail, setting it aside before entering the ring of guitars and banjos clustered at center stage.
Young's solo show featured all manner of instruments, a countless array of harmonicas as well as four different pianos scattered around the periphery of the stage. And the legendary singer/songwriter made use of nearly all of them. Between nearly every song he would stand up, wander around the stage a bit looking at different tools of his trade and eventually pick one to deliver his next stunner of a tune.
He's got plenty of those, obviously, and Saturday's show didn't want for anything even without his longtime band Crazy Horse or more recent collaborators Promise of the Real in tow. He seemed in a pretty good mood, too, at one point commenting that the chatty/shout-y Spokane crowd didn't seem shy ("I like that") and incorporating a running joke about the show's sponsorship as he paused for a drink.
"I'd like to present our sponsor for the night," Young said, taking a long draw on a glass of water before launching into "Cinnamon Girl" early on. "I'm brought to you by water."
Occasionally he told stories behind some of the instruments on stage, talking about buying one piano in 1968 in Hollywood, and revealing his grand piano still had damage from a fire underneath, going so far as to lean down and try to get some dark ash on his hands to show the audience.
Early on, it didn't seem like Young would be talking much at all, letting the songs do all the communicating. He opened with a new song that Neil Young fan websites are calling "Think of Me" and immediately followed with the classic "Everybody Knows This Is Nowhere."
The roughly 100-minute show touched on Young's entire career, from solo tunes to songs with Crazy Horse to old Crosby, Stills, Nash & Young nuggets ("Ohio" featured Young picking up an electric guitar for the first time in the show).
He sounded great, the voice beloved by several generations of fans ringing through the Fox crisp and clear. It's hard to imagine anyone walked away unsatisfied considering missing out on some favorites is inevitable. I was happy to hear "Are You Ready For the Country?" "After The Gold Rush," "Harvest Moon" and "Heart of Gold." It was my first time seeing Young, so getting some of his standards in the set was a treat. And I got a newfound respect for songs I was less familiar with, including "War Of Man" and "Old King."
Here's a complete setlist, according to Young fansite
Sugar Mountain
:
1. Think of Me
2. Everybody Knows This Is Nowhere
3. The Losing End
4. Right By Her Side
5. Cinnamon Girl
6. War of Man
7. Green Is Blue
8. I Believe In You
9. Eternity
10. Old King
11. After The Gold Rush
12. Are You Ready for the Country?
13. Mother Earth (Natural Anthem)
14. Flying on the Ground is Wrong
15. Ohio
16. Why Do I Believe In You?
17. Out on the Weekend
18. Rainbow of Colors
19. Harvest Moon
20. She Showed Me Love
21. Heart of Gold
Encore
22. Tumbleweed