A
s someone who's seen more
than my fair share of alleged "farewell" tours, it was nice to see Slayer deliver their show with all the power and fury one would expect, rather than see the thrash-metal pioneers wheeze and stumble to the retirement finish line.
Sunday night at Spokane Arena, Slayer brought psych-rock weirdos Primus, industrial gods Ministry and former Pantera frontman Phil Anselmo along for their "Final Campaign," and about 7,500 fans got a satisfying and remarkably diverse set of appetizers before Slayer's headlining set.
I skipped Anselmo's set because life is too short to listen to assholes
capable of throwing up "white power" salutes
at concerts. But I was damn sure getting there on time for Ministry, a remarkably powerful band when they're on point. I've seen leader Al Jourgensen and his crew play clubs and massive amphitheaters alongside Red Hot Chili Peppers and Soundgarden, and they more than held their own.
Sunday night, Ministry was good, but an eight-song set just isn't much time to build up a lot of momentum. The buzzing electronic flourishes mixed with traditional rock instruments certainly sounded good on songs ranging from "Stigmata" and "Thieves" to their cover of Black Sabbath's "Supernaut." With a band that now includes former TOOL bassist Paul d'Amour, Jourgensen really leaned into his early '90s hits like "Just One Fix," "Jesus Built My Hot Rod" and "N.W.O." — this time served up with video clips of Donald Trump and police brutality instead of George H.W. Bush and older police brutality.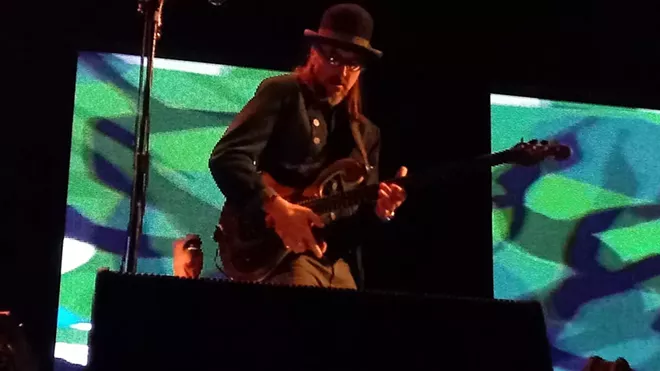 Primus certainly struck me as the oddest band of the bunch, given that their sound veers from hard-rock to psychedelic jams to bastardized country. That makes them an easy band to mix and match with on a bill, but I'd never consider them a natural fit for the scary (optically at least) thrash of Slayer.
Even so, the band's classic lineup did not disappoint, with lead singer/bassist Les Claypool leading Larry "Ler" LaLonde (guitar) and drummer Tim "Herb" Alexander through about a dozen songs spanning their career. They opened with "Those Damned Blue-Collar Tweekers" and closed it down with "Jerry Is a Race Car Driver," and along they way they delved into some alt-radio hits ("My Name Is Mud"), covered some Rush ("Cygnus X-1," which they had to restart after Claypool blew the intro) and hit on some worthy deep cuts ("Sgt. Baker").
When Slayer hit the stage nearly three and a half hours after Anselmo had gotten the evening started, they got right to business with "Repentless" from their most recent (and we can assume for now, final) album of the same name from 2015. "Mandatory Suicide" and "World Painted Blood" soon followed — the songs' subject matters fitting considering the scary-ass backdrop of day-glo skulls and near-constant fire bombs blowing up on stage while the band performed.
I'm old enough to remember how
extreme
Slayer sounded when they first came to mainstream attention with albums like
Reign in Blood
(1986),
South of Heaven
(1988) and
Seasons in the Abyss
(1990). Part of it was the lyrics dabbling in ultraviolent and "satanic" imagery, sure, but mostly it was the relentless, hyper-speed riffs. Music has evolved dramatically since Slayer's early days — and they no doubt influenced much of the stuff that's far more extreme-sounding than they are.
As I watched them rattle through songs drawn from 10 different albums, I was struck by how hook-filled those riffs sparking off the strings of guitarists Kerry King and Gary Holt really are. They're not scary so much as inviting for metal fans who love a solid hook to bang a head to. Leader Tom Araya's vocals, too, don't seem nearly as "scary" as I once thought they were, and he's a rock-solid frontman, holding down both the vocals and bass with ease.
You can see Slayer's full setlist from the Spokane show Sunday
right here
.