I
'm not sure exactly what made Thursday night's
Snoop Dogg show different than the previous times I've seen the SoCal rapper. But if I had to put my finger on it — and please don't make me do that — it would be the guy in a human-sized dog costume swinging a roughly 4-foot phallus around the stage.
That would be "Nasty Dogg," a foul furry who Thursday acted as Snoop's id through a too-brief hour-long set that was great fun while it lasted. While the cool, lanky Snoop roamed the stage rhyming and singing through both solo hits and other artists' songs that he guested on (Katy Perry's "California Gurls" was an unexpected inclusion), Nasty Dogg delivered pelvic thrusts and panted at the sight of the four pole dancers who occasionally appeared on a stage sparsely decorated with a DJ stand and two picnic tables. I shudder to think how much of the special effects' budget went into Nasty Dogg's dong.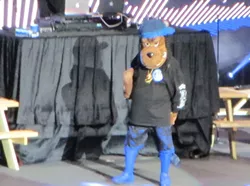 For the audience that nearly filled Northern Quest Resort & Casino, the first of two nights for Snoop in Airway Heights (tonight's show is sold out), he delivered exactly what you want out of a Snoop Dogg show.
Hits stretching back to his early teenage appearances on Dr. Dre's
The Chronic
? Check. "The Next Episode" and "Nuthin' But a G Thang" were welcomed with massive singalongs and massive clouds of marijuana smoke.
Solo hits from his massive breakthrough 1993 debut
Doggystyle
? Check. "Who Am I (What's My Name)?" and "Gin and Juice" were clear crowd favorites, too.
Jams by younger artists that Snoop contributed to? Check. In addition to the Perry song, Snoop took on "You and Your Friends," a Wiz Khalifa tune featuring Snoop and Ty Dolla $ign, while also hitting on "Smile Bitch" (L'il Duval cover), "I Wanna F—- You" (Akon cover) and show closer "Young, Wild and Free," a tune Snoop shares with Khalifa and Bruno Mars.
Elsewhere, Snoop paid tribute to some of his fallen peers with a medley that included Eazy-E's "Boyz-n-the-Hood," Notorious B.I.G.'s "Hypnotize" and Tupac's "2 of Amerikaz Most Wanted," and spent ample time appearing to take deep drags on various smokeables on stage.
When it ended just an hour after it began, it was hard to be disappointed because Snoop had packed
so
much into his time on stage. That said, a few more full songs instead of medleys, and a lot less of Nasty Dogg's distracting dance moves, would have been cool. Maybe next time.
Fellow gangsta-rap old-schooler Warren G opened the show, and the crowd was definitely into his short set of g-funk, culminating with his biggest hit, "Regulate."