I
t was billed as a night
where classic rocks meets classic country, headlined by two masters of their respective genres. And surely fans of both the Steve Miller Band and Marty Stuart went home happy from Northern Quest Resort & Casino on Wednesday night, having heard an hour-plus of music spanning decades and generations.
Stuart and his aptly named band the Fabulous Superlatives
got things started after a perfunctory opening set by Spokane musician Rick Lillemon, and Stuart and Co. did their damnedest to light a fire under the crowd's collective ass. For the most part they succeeded. Given that most on hand were likely there to see
Steve Miller Band
, Stuart's winning blend of old-timey country and electrified twang-rock got much of the audience engaged over the course of his hour on stage.
That hour was impressively stuffed with 16 songs, including a spotlight turn on vocals for each of Stuart's band — drummer "Handsome" Harry Stinson did a stellar take on Woody Guthrie's "Ballad of Pretty Boy Floyd," bassist Chris Scruggs did Bob Wills' "The Brain-Cloudy Blues," and ace guitarist Kenny Vaughan's "Hot Like That" somehow managed to sound like scorching old-school rockabilly while name-checking Kim Kardashian.
Stuart, though, was the star of the night; I'd argue that was true even after Steve Miller had performed. The country historian who got his start playing in Lester Flatts' and Johnny Cash's bands killed a solo mandolin version of "Orange Blossom Special," led a stellar version of Travis Tritt's "The Whiskey Ain't Workin'" and closed it down with the epic rocker "Time Don't Wait" from his excellent 2017 album
Way Out West
.
Stuart and His Fabulous Superlatives weren't done when their set was over; they returned to the stage to join the Steve Miller Band for a mini suite in the middle of Miller's set that included "Lovin' Cup," "Going to the Country" and "Dance Dance Dance."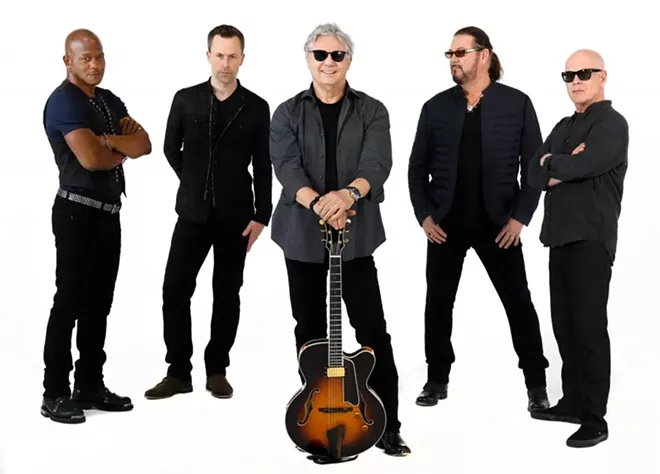 That brief interlude when the stage was filled with nine musicians was one of the few surprises from a Miller set that's basically been filled with the same songs since the '70s. Miller's no dummy, he knows what the people want and he delivers that; namely, the songs filling his monster-selling
Greatest Hits 1974-78
set (14 million copies sold in the U.S. to date).
At 75, Miller's voice isn't quite the same, but he showed off some serious guitar chops throughout his time on stage on old faves like show-opener "The Stake," "Living in the U.S.A." (which also had a nice Miller turn on harmonica) and "Space Cowboy." Even '80s hit "Abracadabara" featured more fiery guitar work live than I remembered from the recorded version.
Miller turned "Fly Like An Eagle" into a spacey jam that lasted a good 10 minutes or so, giving each member of his band some solo time, but thankfully they reeled it back in for the concise ear candy of "Rock 'N Me" before cruising through more classic-rock staples to close his set.