T
ool's music is not only not for everyone
, it's such a challenging polyglot of oft-derided musical styles that it risks not being for anyone.
And yet, the quartet's blend of prog-rock, art-rock, metal and performance art has become a genre unto itself over the course of 30 years, and it's a genre that has proved remarkably commercial. The band's (rare) album releases regularly go to No. 1, and their concerts pack tens of thousands of people into close quarters to experience a combination of music and visuals unlike any other band out there.
Monday at Spokane Arena, singer Maynard James Keenan, guitarist Adam Jones, bassist Justin Chancellor and drummer Danny Carey (wearing a Gonzaga jersey) leaned heavily into their 2019 album
Fear Inoculum
. Their first new release in 13 years made up well more than half of their set that stretched its dozen songs across two hours, save for a 12-minute "intermission" they helpfully signaled with a countdown clock before their closing encore set. If songs that regularly stretch past 10 minutes aren't your thing, Tool probably isn't, either.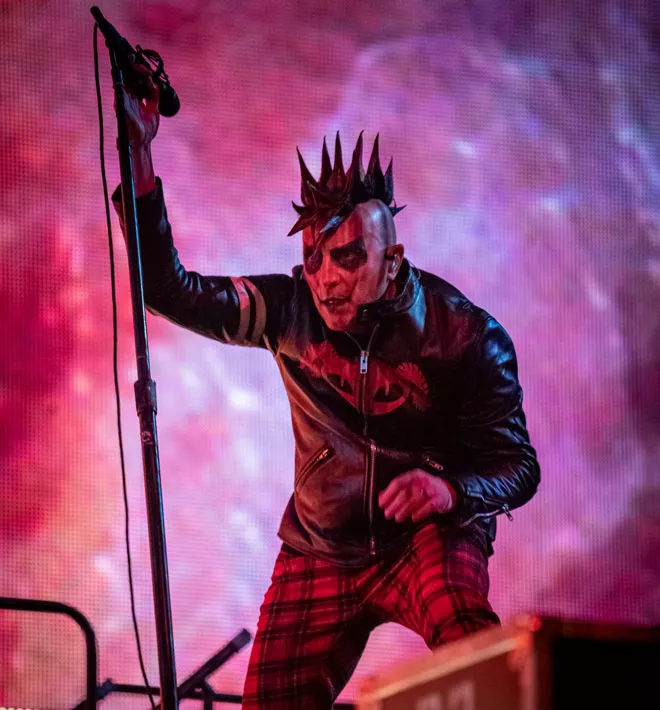 Tool
opened with the sprawling title track from
Fear Inoculum
, playing behind a gauzy "curtain" the band used to reflect and refract lasers and lights early in the show. The mohawked Keenan prowled between two risers in the back of the stage, while drummer Carey had the center spot — and with good reason; watching that guy play drums is a clinic. If there's a natural heir to Rush's Neil Peart, it's Carey.
Jones and Chancellor mostly stuck to the front of either side of the stage, and once the curtain was retracted, the visual aspect of the show really took flight. The band puts such care into their combination of video, lights and smoke that every epic-length song takes on a life of its own, whether it's an older track like "Ænema" or the set-closing "Forty Six & 2," or something newer like the monster performance of "7empest" that came early on. That song just won the Grammy for "Best Metal Performance," and after seeing Tool play it live, that was well-deserved.
Tool used every corner of Spokane Arena to support its lighting and effects, and while it was easy to get lost staring at screens and lasers, the music never took a backseat thanks to Jones' and Chancellor's riffs, Carey's incredible work behind his kit and Keenan's lurking presence and eerie vocals. He rarely chatted with the crowd beyond a brief mocking early that the cheers he got from mentioning Spokane "sounds like Wenatchee."
It was a show that might not make new converts of people who didn't already love Tool. But for fans who've waited several years between chances to see them live, it paid off.
Here's the complete setlist, according to setlist.fm:
Fear Inoculum
Aenema
7empest
Pneuma
Schism
Jambi
Descending
Forty Six & 2
Chocolate Chip Trip
Invincible
(-)Ions
Stinkfist