"W
eird Al" Yankovic clearly loves the Inland Northwest
, and we obviously love him back. The musical spoofer has brought all of his recent tours to our neck of the woods, and Spokane audiences have, in turn, showed up in droves. And yet I've somehow never managed to see Al in concert, despite having numerous opportunities to do so.
It has never been by choice: I've been an Al fan since I was a kid.
Running with Scissors
is one of the first albums I remember owning. It was always a special occasion whenever his '80s music videos showed up late at night on some VH1 retro block. All my middle school mixtapes had at least one "Weird Al" song on them, and my Napster library was filled with both legit "Weird Al" tracks and those horrible parodies that were
deliberately mislabeled
as his. (Sorry, Al!) I even
interviewed him
last year, when he brought his Ridiculously Self-Indulgent, Ill-Advised Vanity Tour to the Fox.
Last night, I was finally able to scratch Al off my concert bucket list, having caught his Strings Attached tour as it stopped at Northern Quest. And no surprise — he lived up to all the hype.
For this particular tour, Yankovic and his four-piece band are backed by a 41-member orchestra, which brings extra dimension and weight to the songs: "Jurassic Park," Al's 1993 parody of the sappy ballad "MacArthur Park," gets a sheen of symphonic grandeur, and "Amish Paradise" really hums along with an honest-to-god strings section. Before Yankovic even took the stage, he gave conductor Arnie Roth and his orchestra the spotlight, giving them an opener's slot to warm up with a trio of John Williams' instrumental selections (the themes for
Raiders of the Lost Ark
and
Superman: The Movie
, and the music from the Throne Room scene in
Star Wars
).
When Yankovic finally appeared, he jumped right in to a jazzy medley of his classic parodies — "I Lost on
Jeopardy!
" (complete with video cameo by the late TV announcer Don Pardo), "I Love Rocky Road" and "Like a Surgeon." The bulk of the set was dominated by some of his best newer material ("Word Crimes," "White & Nerdy"), and a handful of his epic originals ("The Biggest Ball of Twine in Minnesota," about the Midwest's roundest tourist trap, and "Jackson Park Express," the imagined romantic entanglements of two bus passengers).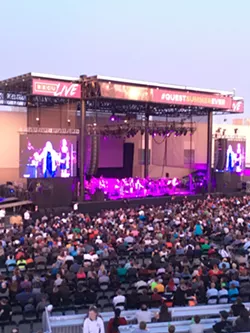 The stage couldn't contain Al, who danced out into the crowd on numerous occasions — into the front row for his doo-wop breakup tune "One More Minute," and around the perimeter of the crowd for "Tacky," a handheld camera operator following him all the way. How he managed to make it back to the stage both right as "Tacky" ended
and
not be completely out of breath for the following song is a mystery we may never solve.
The casino's video screens did a lot of heavy lifting, particularly during the costume changes in the latter, hits-filled half of the set. We were treated to vintage music videos, montages of Yankovic's cameos from
The Simpsons
,
30 Rock
and
The Naked Gun
, and even that Funny or Die faux-biopic trailer starring Aaron Paul as Al. ("We're
totally
gonna see this when it comes out!" exclaimed a drunk bro down the way, without a hint of irony.) Considering Yankovic made his name in the early days of MTV, it was terrific to see his classic videos used as visual accompaniment.
In between those clips, Al and his band would emerge donning some of his most famous music video duds: A Kurt Cobain getup for "Smells Like Nirvana," yellow jumpsuits and Devo hats during "Dare to Be Stupid," a long beard and black suit for "Amish Paradise." And the encore returned Al to
Star Wars
territory: He and his band donned stormtrooper and Jedi costumes to perform "The Saga Begins" and "Yoda," the latter of which found Al finally busting out his fabled accordion.
So how was my first foray into "Weird" territory? I don't know why I should be surprised, but Yankovic is a brilliant live performer. After all these years, his vocal chops are still impressive and his sheer athleticism gives you the sense that he really, truly wants to put on the best possible show he can.
I won't miss another one of his shows.