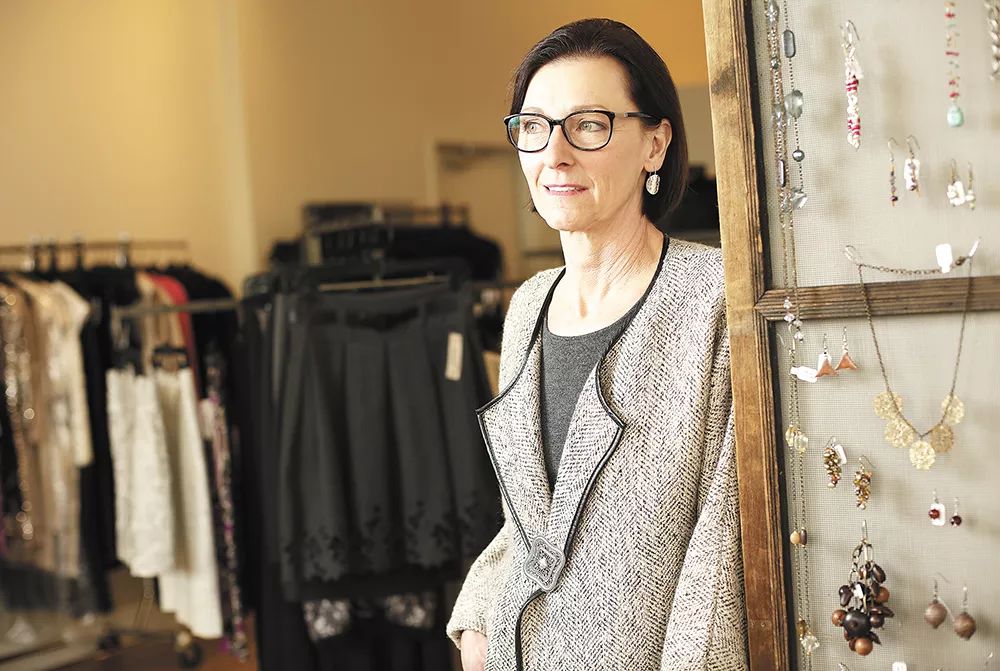 Spokane likes to wear casual clothes, even to work and the symphony and high school graduations. Neither men nor women like getting too dressed up, say local boutique owners, wholesalers and buyers. The problem, then, for local shop owners is deciding what to sell. Collectively, they agree that interest in new styles seem to hit the Inland Northwest at least a year or two after they originate from Los Angeles or New York.
Finding the balance between classic and trendy is challenging in any market, but especially for women's clothing here. There are no clear answers, says Trish Thoen, owner of Cues Boutique in downtown Spokane.
"Spokane has somewhat of a West Coast style, just like in L.A., where people are more casual than in New York. People like jeans and a top that they can wear to anything throughout the day," says Thoen, who worked retail in Spokane for 20 years before opening her high-end shop a decade ago. "I have to remember that when I select clothes for my shop."
Attending Los Angeles trade shows about five times a year to keep up with trends, she says she tries to bring in some fashion-forward items each season — clothes that wouldn't be out of place in Paris or Milan. But pushing people who may not be ready for a new dress style can be tricky.
"I don't know how you elevate Spokane style to a different level," she says. "People want items that fit their lifestyle, and in Spokane that's not fancy. Other than a handful of annual fundraiser events, we don't have the places that require that."
Nordstrom, the area's most high-end department store, does not have a specific Spokane or even Pacific Northwest buyer. Instead, the same clothes are shipped out nationally to all stores, though some smaller locations, like Spokane, don't receive as much high-end merchandise such as Manolo Blahniks and Christian Louboutins in the shoe department.
That's because that's not what sells here, says Eco Chic Designs owner Alyssah Perez, who plans to open up a salon/boutique within the next couple of weeks. Perez, 28, says that people in the Inland Northwest want simple, and her clothing, which she showed at multiple New York Fashion Weeks and includes a lot of sleek-looking gowns, wasn't realistic in this market.
While going back to school the last of couple years, she's adjusted her business to focus mostly on handcrafted fashion jewelry, which is sold wholesale in more than a dozen local boutiques and will be included in her new shop (along with other local jewelry makers). Perez says she makes more money on 25 necklaces priced at $20 than she does making more elaborate pieces that sell for $100.
"I don't count on my customer getting that," she says. "To be honest, I don't care what other people are wearing. Those more fancy items weren't working here."
Echo Boutique owner Suzy Gage can afford to take some of those more expensive labels in her shop, as she sells them used and on consignment.
"There are a lot of compulsive shoppers here," Gage says. "Women come in and say they have four closets full of clothing, so through our store we can give clothing another life. It's sometimes sad to see what people throw away in this town."
Many of these women have shopped all over the country and bring in purchases that Spokane may never have seen brand-new. When selecting items from a customer, Gage looks at quality of fabric and craftsmanship, not size or profitability. Brands do play a factor in decisions (she doesn't accept mall brands), but again, quality trumps all, and items need to appear barely worn.
Gage started her shop in 2011 when the recession was hitting and everyone at the furniture store she worked at was let go. As she'd always liked clothes and had a background in interior design, a boutique was a logical step. After reopening last weekend at her shop's more roomy new location on the corner of First and Madison, Gage is looking forward to being a part of a burgeoning downtown revival, despite all of the current road construction.
"Right on this block, there's a new coffee shop opening up and art and music space, and Orlison Brewing and Brooklyn Deli recently reopened here," she points out. "Fashion, of course, can be a part of this revitalization."
Perez, who grew up here, agrees, saying she's done trying to look outside of the region for recognition. Instead, she wants to focus on keeping commerce in the community. She says she plans to continue her annual benefit Strut fashion show, and wants to inspire people to have fun with style.
"It starts with the artists and the fashion-forward people," Perez says. "It's people dressing the way they feel. The more outlets, the more fashion will flourish here." ♦