In this unprecedented age of connectivity, we've gained virtually limitless access to people, ideas and information regardless of geography. Humans have never been more interconnected than now. Ironically, we've also never been more socially isolated.
Today, fewer and fewer of us are members of social clubs and organizations. A dismal number of us vote. Less of the population is religiously active today than ever in the history of tracking such numbers. These observations follow a downward trend that began about five and a half decades ago, as rates of community engagement in all facets began to plummet sharply.
Yet even considering these bleak trends, the human urge to connect and belong — to find our place — in modern society is still largely intact. In the face of these far-reaching consequences, many people are starting their own local groups to create an outlet they couldn't otherwise find. Others, meanwhile, are bringing new life to some of these older, more traditional organizations. Online communications also have played a clearly positive role in many of these social settings.
According to the latest data gathered in July 2015 by the Pew Research Center, 76 percent of us are using some form of social media. Even more of us — 90 percent of the U.S. population — own a mobile phone. Of those phone users, 64 percent have Internet-capable devices.
As connected as we are, these relationships maintained largely over a data connection, whether on Facebook or via texting, can't replace face-to-face human interaction.
"People think that the electronic and the physically removed interaction is a viable substitute for in person experiences, but from a psychological perspective, it's just not," says Craig Parks, a professor of psychology at Washington State University's Pullman campus who primarily researches social psychology and group dynamics.
Psychologically and evolutionarily, the need to be around other humans has not faded away even as we've entered into modern societies incomparable to humanity's earliest hunter-gatherer populations, when these group instincts likely developed, Parks explains.
"Our social structure still demands that we rely on others and others rely on us, it's just the needs that have changed," Parks says. "One of the huge functions of social groups is they provide us with psychological rewards, and help us answer the question of if we are good people."
But the advent of the Internet and mobile connectivity isn't what broke down our communal connections. It was happening long before that.
After examining participation in politics, religion, philanthropy and other forms of civic engagement throughout the 20th century — including social and fraternal organizations (Masons, Elks, Eagles, etc.) and informal gatherings (book clubs, dinner parties, card-playing groups) — Robert Putnam, a Harvard professor and the author of the book Bowling Alone, found that the U.S. reached its peak of participation during the post-World War II boom. Around 1969, on the precipice of marked change in the American cultural landscape, motivation to be involved in the communities around us began rapidly disintegrating.
Putnam concludes that our collective interest in civics bottomed out due to a snowballing combination of influences: pressures of time and money in two-career families, urban sprawl, the rise of electronic technology and entertainment's privatization of leisure time. Most impactful, however, were generational changes. The Baby Boomers ushered in the first major attitude change toward civic duty, he argues. They were less active in politics and civics than their parents, and more focused on individualism and material pursuits. Each subsequent generation after this carried us further away from that golden age of civics.
In the past decade of rapid Internet adoption, experts have argued for both its positive and negative impact on social interaction and community building. Some camps say the Internet fosters face-to-face interaction because it introduced new communication modes that allowed us to connect in more ways, while others insist that this constant flow of information has simply made us feel connected, when we're really not.
New research suggests that online social networks can do more harm than good, depending on how we use them. To the extreme, constant digital connections in lieu of real-world interactions could actually be causing what psychologists refer to as "chronic loneliness," which can lead to serious health issues like depression and a raised risk for disease.
But we can't blame all our problems on social media. When it comes to building relationships that are tied to a physical place, these online tools can have major benefits. Keith Hampton, a professor of communication and public policy at Rutgers University who researches relationships between new communication technologies and social networks, says his work shows that, in general, people who use social media tend to be more civically engaged and involved with a more diverse range of others.
"In response to the general feeling that as people became engaged online they were more isolated in their homes and engaging in more distant relationships at the expense of local ones, we have done a series of studies over time on how the Internet might be used locally to create social ties," Hampton says. "We found typically people made a number of new, local social ties per year relating to Internet use, and they were more likely to call them and see them in person."
Humans still have a strong desire to find their place in the physical community in which they live. The Internet age may have allowed some of us to sit back passively under the guise that we're participating in society, but it's also helped spread awareness that there are all kinds of groups active in physical communities that can incite meaningful and lasting social connections.
MOM TO MOM
It was all thanks to a Google search that Jennifer Putt, a 33-year-old working mother of two, found her place.
"Then someone called me about an open house for this moms club at a church, and I thought, 'Sure, I'll go,'" she recalls of her decision almost two years ago, when her daughter, now 3, was still a baby.
In her current term as president of the MOMS Club of North Spokane, a local chapter of the international nonprofit that unites and supports mothers of all backgrounds (not solely at-home mothers), Putt now runs monthly board meetings, organizes kids' play groups and activities and socializes with other mothers around the area. Yet the connections she's made through the club stretch much deeper than age-based play groups and messy kids' crafts.
"I started off as a totally shy, hidden person, and now I'm president," Putt says. "It really helped me grow as a person. I've made amazing friends, and we hang out outside of moms club, even," she says during a rare lull in the club's recent board meeting.
Putt and the five other board members are gathered around a table in the basement of Sunrise Church in the Shadle neighborhood while their squealing children excitedly chase each other around the room.
The casual meeting on a snowy Monday morning is indicative of most MOMS Club events, informally structured with a focus on socializing and bonding with fellow mothers, while their children — mostly toddlers but ranging from infants to pre-teens — also form friendships and develop their own social skills.
"It's just 'Let's get together and hang out,'" she explains. "We hang out and have coffee, hang out and do crafts."
As with any first-time mom, when Putt's son Skyler was born six years ago, everything changed. Before Skyler, she could go out with friends at a moment's notice. As one of the first in her circle of friends to become a mother, making that adjustment was not easy. While she didn't find the MOMS Club until after her daughter Savannah was born, Putt was driven to make new connections with other women at a similar place in life — motherhood.
The club's name is actually an acronym for "mothers offering mothers support." While Putt grew up in the area and now lives just outside of town, a significant number of members in the North Spokane chapter are newer to the region.
"I'm not from Spokane — my husband's family lives here, and we came here to have kids. After our first child, I didn't know anyone and I thought, 'This sucks, I don't know where to go,'" recalls MOMS Club secretary Asia Chapman. "So I started Googling for moms clubs and came to an event. That was about two and a half years ago."
On any given week, Putt and small groups of other moms — the chapter's numbers are steady at around 40 members — might meet up two to three times, loading up their kids to head to the church that offers use of its basement for club gatherings, to the NorthTown Mall play zone or to each other's homes for events like sledding and movies.
"I would call a majority of the women here some of my best friends," Putt says. "I know if I needed something, I could call and get help from everyone. Anyone could — that is my goal for the club."
CENTURIES OF BROTHERHOOD
In 1924, amid the cultural shift of the Roaring Twenties, membership in Spokane's Masonic Lodge No. 34 reached a peak, with more than 1,200 men on its roster. Chartered on June 3, 1880, the lodge became one of the largest in the state, making its headquarters in the stately, columned Masonic Temple on the south bank of the Spokane River.
More than 90 years later, Lodge 34 now has a membership of 88. Its downtown architectural masterpiece — too big and expensive to maintain — was sold a few years ago. The men now borrow space at the Audubon Park Lodge, No. 272, in North Spokane, along with those in the North Hill Lodge, No. 210.
Though the Masons' membership across the U.S. has dwindled to the lowest it's ever been at around 1.2 million members, compared to a peak of 4.1 million members in 1959, the men in Lodge No. 34 are finding a spark of passion from their youngest members; men in their 20s and 30s who regularly attend functions, take interest in leadership roles and commit their time toward philanthropic efforts like volunteering at St. Margaret's Shelter for women and children.
Carson Gorst, 34, who joined eight years ago while still attending Eastern Washington University, is a husband and father of two little girls, and like many of his brothers in the lodge, Masonry provides a calm oasis in the barrage of work, family and the chaos of modern life.
"I guess that's what makes this group special," he says. "We all understand what kind of sacrifice and effort it takes to come here and spend an evening. There is something really comforting about coming here and being around people you know and trust. Even if you don't know them that well, you know they're at least on the same page as you."
Of all civic groups that exist today, the Masons are undoubtedly one of the oldest. Believed to have been founded among men who worked in stonemason guilds during the Middle Ages, the group set down roots in England during the 1700s, and later in colonial America. Many of our founding fathers were Masons. Although misconceptions about Masonic rituals and purpose have persisted in popular culture, the fraternity's ideals emphasize character development, self-reflection and the betterment of society through philanthropy. Today, Masons support children's hospitals and a number of other causes.
Becoming a Freemason was something Gorst was drawn to mainly because of his personal interest in history. But once he decided he was serious about joining, getting any information about local Masonic opportunities proved difficult.
"There was no lodge website," he recalls. "You could call the downtown temple and get routed to an old answering machine, and you could find information on the Masons online in general, but it was harder to pinpoint what was going on here."
Gorst eventually found a mentor who helped steer him toward joining. It's in the nature of most Masons, he adds, not to openly discuss their membership. The fraternity also doesn't actively recruit members — interested parties must take the initiative to reach out first.
"The time when I came in was kind of a rough patch," he says. "I think there were years where a lot of the older guys, World War II vets, who were thinking, 'Hey, we don't have the manpower,' and they were considering merging lodges because of the low numbers. When I first started, there was definitely a lack of guys."
When he joined, Gorst recalls older members taking him under their wing, grooming him to become a leader. Now serving as the lodge's secretary, one of his duties is running its Facebook page and website. Yet Gorst admits he's "old-fashioned" when it comes to connecting online. He doesn't personally use Facebook, preferring frequent email to stay in touch with friends and relatives.
"Online interaction makes it easier to get into an echo chamber of you go to hear what you want to hear specifically, so maybe it makes us socially lazy," he reflects. "The interesting thing about Masonry is that we have a basic set of principles we all agree on, but all the guys come from completely different walks of life. You meet a lot of interesting people you otherwise wouldn't be able to online, or walking down the street in Spokane."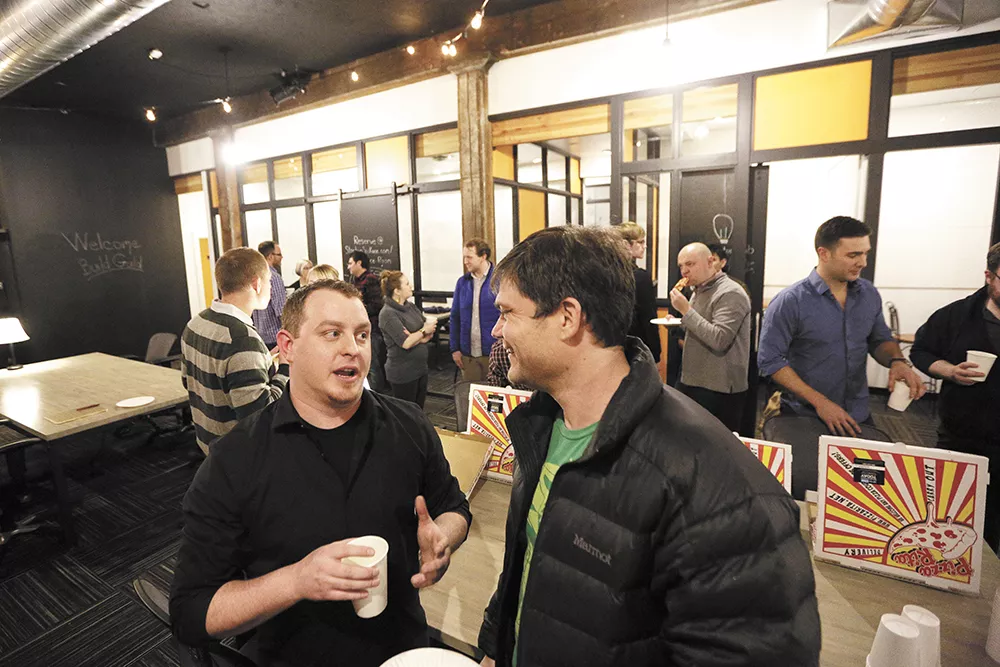 GOING OFFLINE
For those in the tech industry, it's imperative to be at the forefront of digital communication. If you're not using, or at least aware of, the latest program, app, device, programming language — you're probably falling behind. To keep up with the latest innovations, even the savviest technologists have got to keep in touch with other industry contacts; people adapting to and creating these new tools of modern communication.
That's largely why Zach Shallbetter, a local front-end developer (tech-speak for a person who creates the parts of a website that users interact with) launched the Spokane Frontend Developers group on Meetup.com back in 2013, and also took over leadership of another local networking session called Build Guild about a year ago.
"There wasn't an event that we could go to that was related to this segment of a big field of work," he says. "The impetus of running these is to allow people to meet professionally and train professionally, and to see the work of those around them."
As a self-trained website developer, Shallbetter, 32, may be more of an exception to the rule of what drives us to socialize with others in our career fields. While leading the two groups, he's also continually looking at ways to unite the minds and ideas of those in the Inland Northwest technology community.
Most recently, Shallbetter has found a new home for Build Guild — the group used to meet at bars and restaurants, but since some people felt inclined to spend money to attend the free meetups, events moved to the newly opened Startup Spokane Central entrepreneurial center on Second Avenue in downtown Spokane. Shallbetter and several colleagues are also readying to launch a related initiative called Inland Northwest Technologists (INT), to serve as an umbrella to connect the multitude of area tech groups, like Build Guild, in one place. This will help each group better share updates of their events and projects of interest to more than just industry folk.
During January's Build Guild meetup, about three dozen local developers and designers from around the area mingle over slices of Pizza Rita and waxed paper cups of beer from a mini keg. The conversation around the room shifts from JavaScript and server administration tools to the popular Star Wars X-Wing board game.
"You can't do this work and be an island unto yourself," says Will Jacobs, a local freelance web developer who's been attending Build Guild events for several years. Many of his closest friends were first introduced to him through the group.
"People don't just like talking shop, but also about ideas as they relate to other things," Jacobs continues. "We come from different backgrounds, but being in the tech world and dealing with that culture, you understand each other on that level. It's being able to talk about life with people of like mind."
It's arguable that introverts are especially drawn to a career that takes place mostly behind a computer screen, Jacobs says, adding that he considers himself extroverted. But he's observed that those shy types still recognize the importance of networking and sharing ideas and expertise with their colleagues in a face-to-face setting.
Shallbetter echoes his thoughts.
"With Build Guild you're making friends and being a part of [the tech community]. And as we bring people out of their shells, local businesses benefit because eventually they have success with one of these people working for them," Shallbetter says. "It's a big positive for me, because I try to invest in things I think are useful for the world and society as a whole. This is one of those." ♦