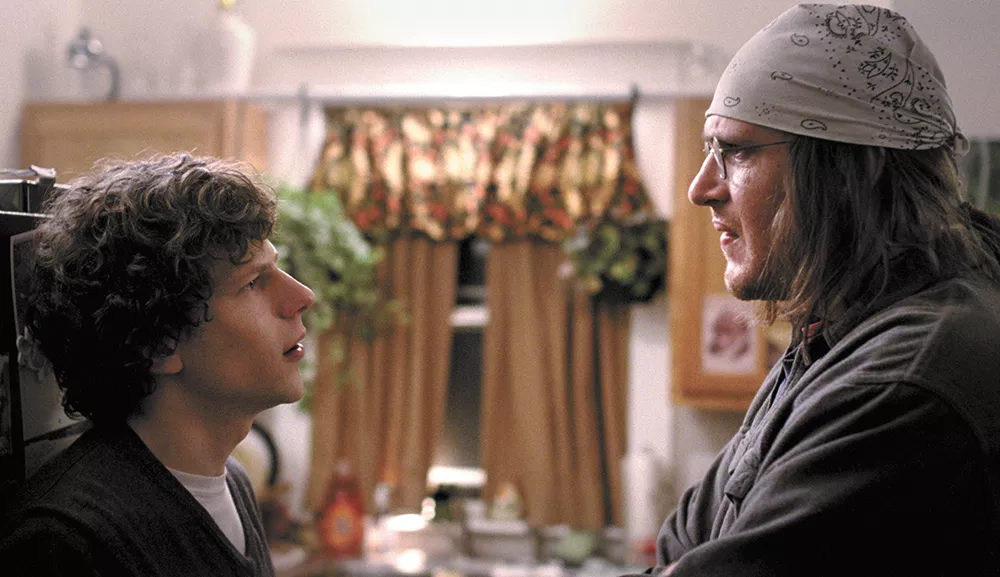 EDITOR'S NOTE: The schedule for The End of the Tour's arrival in the Inland Northwest changed after The Inlander went to press. It is now scheduled to open on Friday, Aug. 21.
There's a moment in The End of the Tour where writer and Rolling Stone reporter David Lipsky (Jesse Eisenberg) — sitting across a table from his interview subject, Infinite Jest author David Foster Wallace (Jason Segel) — posits, "If they're responding to your work, and your work is really personal, than reading you is another way of meeting you, isn't that right?"
If that idea transcends literature, then the personal filmmaking on display in The End of the Tour (based on Lipsky's book Although of Course You End Up Becoming Yourself) offers a way to meet both Wallace and Lipsky. And while billed as "the David Foster Wallace movie," one needn't have read a word of his prose in order to connect with the conversational profundity the film offers.
As the pair travels the Midwest on the final days of Infinite Jest's 1996 book tour, they engage in stirringly deep conversation about the nature of writing, relationships and depression. The 1,079-page magnum opus centers the back-and-forth on the theme of the emptiness of the American experience in the lives of young men, and the way they fill the void with hollow pleasure and entertainment.
Wallace's struggles manifest in a brilliantly grounded way thanks to the subtleties of Segel's performance. Despite being the most talked-about writer in the country, Wallace is a man desperately seeking connection. He always internally battles the smartest guy in the room, while still treasuring his "normal guy-ness."
Eisenberg adeptly brings a bit of the "Do I sympathize with this guy or loathe him?" dynamic of his Mark Zuckerberg in The Social Network to the role of Lipsky. While it's easy to empathize with Lipsky as towers of Wallace's books surround his guest room mattress, the underhandedness of some of his questions and dealings with Wallace's female friends cast him in an unbecoming light. Director James Ponsoldt does a superb job of keeping a movie that's just two guys talking to each other gripping throughout, in part by weaving in moments of arresting visual beauty — like the washed-out snowy fields or sun-drenched hotel rooms — that serve as brief cinematic breaks in the conversation.
But there's a grand dodge to The End of the Tour: It's not a movie about Wallace. It's about Lipsky. He's the one struggling to validate his own place as a writer, using Wallace as a contextualizing lens. He wants the acclaim and adulation Wallace possesses. But instead of connecting with the literary giant, he lets his own ego and the pursuit of the story overwhelm the situation. His steadfast drive to prove himself ends up derailing the best conversation he'll ever have. ♦