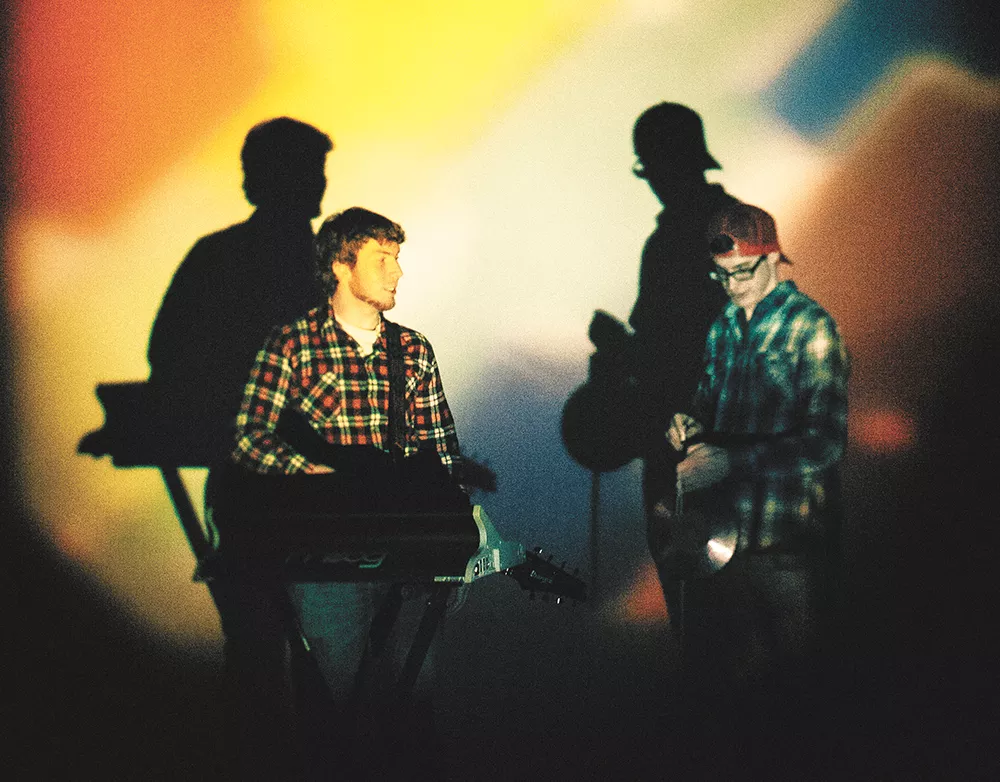 Before the mid-afternoon practice can begin, they stuff clear silicone earplugs into their ears.
"Are you sure you don't want a pair?" Nick Palmieri and Bradley Spracklin of Flannel Math Animal each ask.
The acoustics in their low-ceilinged Logan-neighborhood concrete basement are unforgiving, and five seconds into their vigorous instrumental set, it's clear that I should have accepted their offer.
And yet the volume isn't the most distinctive aspect of Flannel Math Animal's instrumental music — that would be its complexity.
"Most of the fun of our music is that it's such a challenge to play," says Spracklin, the drummer for the two-piece.
Both graduated from the Spokane Falls Community College audio engineering program last spring, where they met. After realizing they had mutual acquaintances from their home state of Montana, they bonded quickly.
"A lot of those first practices were just alcohol-addled jam sessions," recalls guitarist Palmieri.
But as jamming turned into writing full-fledged songs, they took a gig at Carr's Corner in December 2013, one of the last shows at the now-defunct venue.
"People probably didn't know what to make of us then," Palmieri says.
Wanting to perform as much as possible, there was one point last year when they had a gig every weekend. Now they're down to a more manageable twice a month. Friday night, the band releases its debut full-length, self-produced album, Steve the Dog, at Hamilton Studio, where Palmieri is an audio engineer.
Each of the 11 songs (seven of which made the record) in the band's arsenal is a salute to never taking the easy way out musically. Often, their math-rock-tinged tunes includes a different time signature every other measure. Key signatures shift at a moment's notice.
Adding to the difficulty is Palmieri's eight-string guitar, featuring both guitar and bass strings. He plays the instrument using a method called tapping, running both hands up and down the fingerboard rather than using one to strum. It's more akin to piano technique, especially when hands take on opposing rhythms, as Palmieri's often do. As proficient as he is, he practices at least two to three hours a day to stay on top of his game.
"It's all about muscle memory," Palmieri, 22, says. "I play each line over and over until it's memorized."
Spracklin, 27, charts out his drum parts to keep everything straight. He's played drums since he was 12, mostly delighting in jazz music. Now his drumming is based heavily in linear groove funk, but always complements Palmieri's guitar and sometimes Moog lines. He also takes on experimental technique, like dragging a violin bow across a cymbal.
"I'm constantly trying to use all of my limbs," Spracklin explains.
For all of its theory-based technicality, Flannel Math Animal's music is never a chore to listen to. Often, parts of songs (when beats level out at basic 4/4) can get people up and dancing. Only solos are improvised, and that's where the guys let loose.
"We definitely can't drink before a Flannel Math Animal set," Spracklin says with a laugh. "We're too busy focusing on what's coming next. We'll have a drink after in celebration of getting through it."
These are the type of dudes who geek out late into the night discussing the idiosyncrasies of Miles Davis or Frank Zappa's form.
"We're so sick of what's happening in mainstream music," Palmieri says. "With this music, you can do just about anything."
Today in their chilly, bachelor-pad basement, they're preparing for Friday's upcoming performance. Each in a flannel shirt — part of their onstage uniform, they explain — they show off some of their choice licks with serious determination. Palmieri stands still as his fingers fly around the neck of his guitar while Spracklin keeps the tunes together with loud yet nuanced beats.
"We're trying to remember to smile more," Spracklin says. "Music is our life obsession. We want to show how much fun we're having." ♦
Flannel Math Animal CD release party • Fri, Jan. 16, at 9 pm • Free • 18+ • Hamilton Studio • 1427 W. Dean • Join the concert guest list at facebook.com/flannelmathanimal or call 327-9501