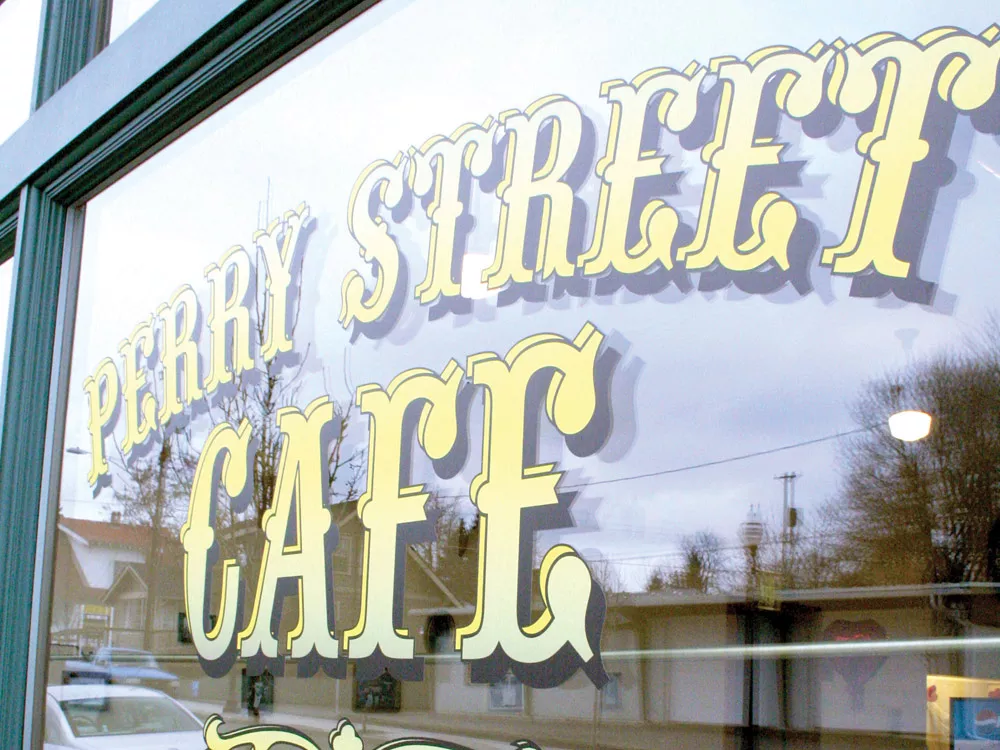 Six years ago, the Perry District was on the verge of a turnaround and the Perry Street Café was one of the first restaurants to open its doors. Owners Geoffrey and Debbie White have been serving breakfast and lunch in this clean, well-lit place since 2006 and the café has become something of a neighborhood institution. But for the past three months, after the omelets have been eaten and signature lunch sandwiches consumed, the restaurant has begun to re-open for dinner Thursday through Saturday.
Everything is made from scratch, or made from scratch as much as possible. It seems that only grandmas and the Perry Street Café staff have the patience to slow-cook a pot roast till the meat breaks with a fork, or to spend the late afternoon basting a meatloaf in au jus.
The menu is simple and no entrée is more than $16. You can choose between beef (steak, meatloaf, pot roast), pork (baby-back ribs, pork tenderloin), chicken (fettuccine, teriyaki, mango) or seafood (fettuccine, trout) entrees.
We chose the meatloaf with mashed potatoes, the pot roast and the seafood fettuccine. The tender fettuccine noodles are made in house and complemented the light cream sauce, firm scallops and succulent shrimp.
Two hunks of tender pot roast and a double mound of potatoes arrived with brown gravy and asparagus, the fresh vegetable of the day. This is no-guilt comfort food. The meal is not drenched in gravy, cream, butter or grease. The true flavor of beef and earthy potatoes are not compromised. And the meatloaf? Amazing.
Chef Geoffrey White measures ingredients in increments like handfuls, pinches, touches and dashes, but doesn't divulge the family's recipe secrets. After I tried to determine what provided the meatloaf's beefy kick and slightly smoked flavor, he kindly offered up a few hints: A-1 and au jus sauce.
If you have yet to indulge in the Perry Street Café's breakfast cinnamon rolls, pancakes or omelets or if you have never ventured in for a noontime bowl of homemade soup, then stop denying yourself. But also keep the dinner menu in mind.

Perry Street Café 1002 S. Perry St. Open Tue-Sun 7 am to 2:30 pm, Thu-Sat 4:30 pm-8:30 pm. 535-4949. perrystreetcafe.com