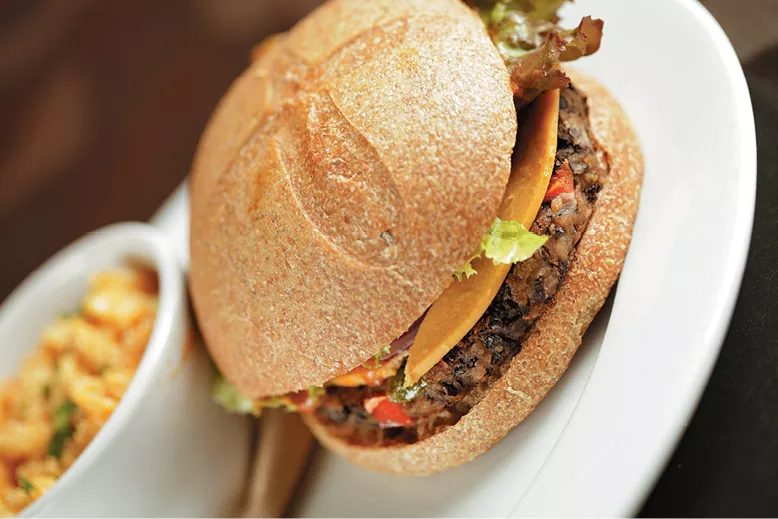 RECIPE: Vegan Black Bean Burger
1¼ pound black beans (dry)
¾ teaspoon kosher salt
7 cups water
5 ounce green pepper, diced
5 ounce red pepper, diced
5 ounce onion, diced
1 jalapeno, diced
2 tablespoon olive oil
1¼ tablespoon minced garlic
1 teaspoon chili powder
2 teaspoon cumin
1 teaspoon cayenne pepper
¾ teaspoon kosher salt
¾ teaspoon black pepper
2½ cups vegan panko breadcrumbs
2 tablespoon egg replacer (Saranac uses Ener-G brand)
½ cup water
DIRECTIONS:
1. Rinse beans and add to small stockpot with kosher salt and water.
2. Bring to a boil, reduce to simmer, and cook until tender, approximately 1 hour and 45 minutes.
3. When done, drain and cool.
4. Sauté diced onion, peppers and jalapeno in olive oil until onions are translucent.
5. Add garlic and sauté a few minutes to aromatic.
6. Remove from heat and cool completely.
7. Using a food processor, pulse cooled black beans until fairly well blended, then place in a mixing bowl.
8. Add cooled vegetables to beans.
9. In a small cup, mix spices together until well blended. Add to bean/vegetable mixture.
10. In a small cup, mix egg replacer and water until frothy.
11. Add panko breadcrumbs and egg replacer to bean/vegetable mixture and mix together by hand until everything is incorporated and you can make a ball out of the mixture. Add a bit more water if it's too dry.
12. Weigh each ball to 4 ounces, place between two pieces of wax paper and hand-press to form patties. NOTE: These work best if you make them ahead and chill until ready to cook. These also freeze well. Makes 10-12 patties.
To cook, add oil to hot, non-stick sauté pan or flat griddle and sear until a light crust forms. Flip over to cook the other side. Cheese optional. Serve on grilled bun with mayo (plain, vegan or spicy variation on either). Add lettuce, tomato and onion.